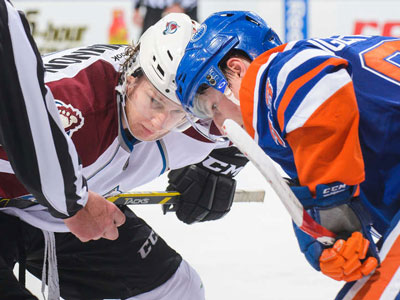 Edmonton - April 9, 2014 - Heading into the 2013-14 NHL season, many felt there were more than a few similarities between the Edmonton Oilers and Colorado Avalanche.

However, when you fast forward six months to the present day, the two teams could not be further apart when it comes to each side's respective rebuild and their place in the NHL's overall standings.

There are those who will point to last night's 4-1 loss to the visiting Avalanche as some sort of disappointment, when in reality it was nothing of the sort.

The Oilers have always managed to hold their own against the Avs but let's be serious here.

While Edmonton may have played well over their last handful of games, Patrick Roy's squad are currently battling for top spot in the entire Western Conference.

They currently sit just two points back of the St. Louis Blues and one behind the Anaheim Ducks but find themselves two points clear of the San Jose Sharks and four in front of Chicago Blackhawks with two games remaining on their schedule. Whereas Edmonton is firmly entrenched in a battle for second last place in the overall standings with the Florida Panthers. Is it really just that simple?

If you take a step back and just think about it for a minute, those early season comparisons do seem almost laughable. After yesterday's win over at Rexall Place, the Avs have now won fifty-one games on the year. Over at the other end of the spectrum, Edmonton has won a total forty-seven games combined over the past two seasons.

Outside of what was just a dreadful second period of hockey, from both teams, the Avalanche were in complete control. They came in waves all night long, leaving the Oilers on their heel s for much of the evening. They may have been missing their leading scorer in Matt Duchene, who is currently out of with a knee injury, but that did not slow them down one bit.

The duo of Gabriel Landeskog and Nate MacKinnon were scary good for the visitors, while defenceman Erik Johnson delivered what was arguably the finest game I have ever seen the former 2006 first overall pick play. Johnson was every bit as dominant from the backend as Landeskog and MacKinnon were upfront. While the two youngsters used their size and speed to make life hell for Ben Scrivens and his teammates, the American blueliner did a masterful job of shutting Taylor Hall down.

The Oilers top line of Jordan Eberle, Hall and Ryan Nugent-Hopkins have been on absolute fire of late but the Avs managed to do what few have been able to accomplish this season...take #4 out of the equation. Despite their record being what it is, the former 2010 first overall pick has been the one player who has been able to make life difficult for the opposition on an almost nightly basis but last night was not one of those nights.

There are those who seem to think Colorado are doing what they are doing with some sort of smoke and mirrors routine and with their record being what it is in both overtime and the shootout, there may be a certain validity to that line of thinking. The core of their forward group have all had tremendous seasons, their defence has been surprisingly good and scored a ton, while Semyon Varlamov has pretty much been outstanding from start to finish.

Patrick Roy has had a lot go right during his rookie campaign behind an NHL bench but let's not lose sight of the fact this is a damn good hockey team, with some extremely gifted players littered throughout its lineup. While 2013-14 may have been a perfect storm of sorts, don't kid yourselves, this team is only going to get better over the next number of years….not go in the other direction.

In his pre-game comments Taylor Hall came out and openly admitted he and his teammates are jealous of what the Colorado Avalanche have been able to accomplish this season. In my mind, that is a good thing. These players want to win but in order for that to occur, three things have to happen. The roster needs to improve, Dallas Eakins has to allow his top players the opportunity to play their game and they need to commit to doing whatever is necessary to try and win hockey games.

Never mind all these comparsions to the Chicago Blackhawks or Pittsburgh Penguins. At this stage of the game, the Oilers need to take a page out of the Avalanche playbook and build from there.