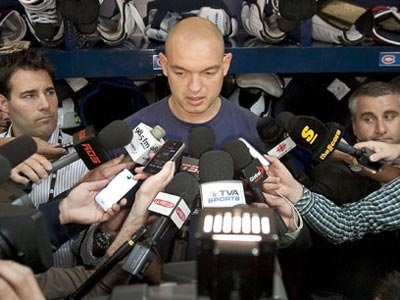 Edmonton - April 10, 2014 - Heading into this year's NHL Trade Deadline, there were many a rumour surrounding the Edmonton Oilers and Montreal Canadiens defenceman Andrei Markov.

While such a deal would have made little to no sense for either team to even consider, the Oilers interest in the veteran blueliner was quite real and will likely be revisited this summer.

The question then becomes, how long is too long? Like most players, Markov will be seeking a long term deal via unrestricted free agency but considering he will be turning 36 in late December and has a bad knee, the chances of that a high ticket offer coming his way seems iffy.

That said, one has to wonder if a short-term deal at some sort of ridiculous number could be enough to convince the talented rearguard to sign on the dotted line.

In my mind, Markov has been underappreciated for much of his career and was among the very best defencemen in the league from 2005-06 to 2008-09. Unfortunately for both him and the Canadiens, he suffered a lacerated ankle courtesy of Carey Price's skate on October 1st, 2009 and played just 45 games in 2009-10. The talented Russian rebounded with a fantastic finish to the season but blew out his right knee during the playoffs.

That knee would cost Markov the next two seasons of his career, as he played a total of just ten games over that time frame. To his credit, he has bounced back with an impressive run in 2013 and has been every bit as good in 2013-14. He continues to play a big part in helping develop young defencemen in Montreal and the Oilers would be hoping he could do the same for Justin Schultz or maybe even Jeff Petry…should the American blueliner still be around come next October.

While Craig MacTavish hinted at the need for more patience when it comes to his young blueline in an interview with Sportsnet's Gene Principe during the intermission of the Oilers vs Avalanche game on Tuesday night, don't think for a minute the Oilers GM won't do everything in his power to upgrade his backend prior to the start of the 2014-15 campaign. If this team goes into next year with Oscar Klefbom, Martin Marincin, Petry and Schultz as their top four, they would be hard-pressed to not finish out of the bottom three in the Western Conference.

Even at his advanced age and recent injury history, Markov remains a minute eating machine for the Habs. He has averaged just over twenty-five minutes a night in'13-'14, playing in all situations and continuing to be a force on man advantage. As a transitional player Markov would be a nice fit for the Orange and Blue but in order to bring a guy with his pedigree on board, the organization would have to make it worth his while.

Markov is in the final year of a deal that is paying him $5.75 million and Montreal has apparently already offered him a one year deal at $6 million. According to all reports, he wants a three year deal but the Canadiens are already in a bit of a pickle, as they still have to sign P.K. Subban to what will be a rather lengthy and costly extension.

With Andrew Ference already on the books for another three years at $3.25 million and the club looking to improve its overall roster both in the immediate future and over the next handful of years, how much extra money would MacTavish have at his disposal to use on another older defenceman? They could probably offer him a one year deal at $7 or $8 million but that would seem rather absurd.

From an Oilers standpoint bringing a guy like Markov in for one year would seem almost pointless and could prove to be counterproductive. Whereas as a two year deal at the number Montreal offered, might be worth considering. It would certainly be a risky move to make and one that becomes harder to digest with the Ference and Matt Hendricks deals already on the books.

In all likelihood, Craig MacTavish will take a serious run at signing Andrei Markov this summer and one can't help but wonder if it would be the right move for this organization. The heart says yes but the mind isn't quite so sure.