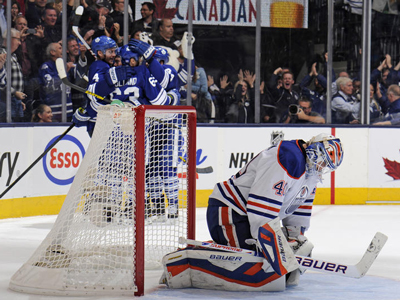 Edmonton - April 15, 2014 - It wasn't supposed to go like this. 2013-14 was the year the Edmonton Oilers were going to play meaningful games deep into the season.

While few had them slated to qualify for post-season play for the first time since 2006, almost everyone felt this team was good enough to compete for a spot.

Unfortunately, that is not how things played out during Dallas Eakins rookie year behind an NHL bench.

Contrary to what those inside the organization would like fans to believe, this group did not take a step forward in '13-'14.

On the whole, one could argue Edmonton didn't really gone in the other direction but by showing no marked improvement in what is supposed to be a rebuild on the way up, this year cannot be viewed as anything other than a complete and utter disaster.

The Oilers not only finished 28th in the league's overall standings but failed to win at least thirty games for the fourth time in five years. Their season ending total of 29 victories was good enough for a .409 winning percentage, the sixth worst total in team history and third worst since the NHL started deciding games via the shootout in 2005-06. Can you say ugly?

From a production standpoint, it is next to impossible to be disappointed with the numbers Taylor Hall (27-53-80), Jordan Eberle (28-37-65) and David Perron (28-29-57) put up, whereas the opposite could be said of Sam Gagner (10-27-37), Nail Yakupov (11-13-24) and to a lesser degree Ryan Nugent-Hopkins (19-37-56). While the Oilers top two lines had their moments, as a collective unit, they were far too inconsistent and more than just a bit of a train wreck in their own end of the rink.

Centre Boyd Gordon broke down late in the year but the thirty old came as advertised during year one of his three year deal. The thirty year old was once again among the very best faceoff men in the game, until the injury bug hit and saw him fall to eighth among league leaders in the dot. From Day One, he was the head coach's go-to-guy in the defensive zone and was easily the Oilers finest penalty killing forward.

Outside of Gordon, the rest of the bottom six forward group left a lot to be desired. While the likes of Luke Gazdic and Matt Hendricks filled the roles they were brought in for, Edmonton's third and fourth lines continued to be an issue. Finding that perfect balance between having enough players who are willing to engage physically, be defensively responsible and still be capable of contributing offence from time to time is a problem this organization has been unable to address for some time.

There are those who look at Andrew Ference and feel his first year in Oilers silks was a complete failure. While the veteran rearguard had his fair share of bumps in the road, the former Stanley Cup champ was put into a no-win situation from the moment he arrived in town. Like the rest of his fellow blueliners, the thirty-five year old was forced into playing a role he was ill-suited for and the results were, not surprisingly, less than favourable.

Same goes for Jeff Petry, who is easily Eakins' best defenceman but not necessarily a top pairing guy. By having the former second round pick take on more than he could handle, the twenty-six year old has quickly become the fans new favourite whipping boy. The trio of Oscar Klefbom, Martin Marincin and Justin Schultz improved as the year progressed but have played a grand total of 183 NHL games between them. Enough said.

Bringing us to what was by far and away the most disappointing part of the season…goaltending. Craig MacTavish was never sold on Devan Dubnyk being the answer in between the pipes and nor was I. That said, no one could have expected Dubnyk to be as bad as he was during his first season as a true #1. The goaltending was so bad that it essentially ended Edmonton's season by mid-October.

There is no question that acquiring Ilya Bryzgalov, Viktor Fasth and Ben Scrivens improved the netminding for the remainder of the season but simply assuming either Fasth or Scrivens are the answer moving forward is not only a stretch but an awfully big risk. Neither one has proven to be capable of carrying the mail at the NHL level, though many inside the local media and a large portion of the Oilers fan base seem more than willing to hand over the reins to the Spruce Grove native.

Funny considering the thirty-one year old Swede was the better of the two from a statistical standpoint, despite playing fewer games. In all honesty, once you take Scrivens record-setting 59 save performance against the San Jose Sharks for what it was, his numbers and overall game start to look even more pedestrian. With that said, the Oilers goaltending will once again be a major question mark in 2014-15.

No matter how you slice it, this roster was never good enough to earn a playoff spot but it was certainly a far better collection of talent than either Tom Renney or Ralph Krueger had at their disposal. There is no question Mr. Eakins came into this gig thinking he could turn things around quickly but his unwillingness to adapt his game plan made things that much worse.

To be fair, his goaltending did put this team behind the eight-ball but the continual chaos in their own end of the rink, dip in their special teams and the fact Yakupov looked lost for much of his sophomore campaign, doesn't look good on the rookie coach or his staff.

Craig MacTavish is obviously sold on Dallas Eakins being his guy but the leash on the former Toronto Marlies bench boss will be much shorter in year two of his four year deal. However, it will be up to the GM to give his coach a puncher's chance of turning this ship around. The time to step up and make it happen has arrived. Enough is enough already.