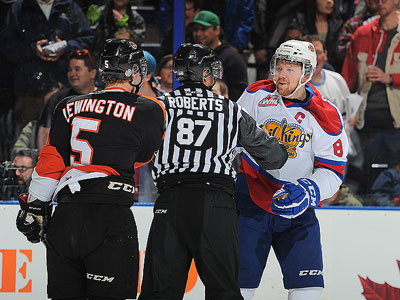 Edmonton - April 18, 2014 - Well…so much for coming out of the gate a little rusty.

After making quick work of the Prince Albert Raiders and Brandon Wheat Kings in the opening two rounds of the WHL Playoffs, the Edmonton Oil Kings look poised to make it three consecutive post-season blowouts after pounding the Medicine Hat Tigers 8-3 in opener of their Eastern Conference Final.

From the drop of the puck, the Oil Kings came out with one purpose in mind and it took Curtis Lazar all of thirty-two seconds to set the tone…scoring on a great individual effort with both teams playing four aside.

Defenceman Cody Corbett would make it two goals in ninety-six seconds, taping home a lovely feed from Henrik Samuelsson and in the blink of an eye, the Oil Kings had burst the Tigers Marek Langhamer's bubble.

After carrying the load against the Kootenay Ice and Swift Current Broncos during rounds one and two, Derek Laxdal's side needed mere seconds to slide their first two shots on goal behind the Western Hockey League's top post-season puckstopper and Rexall Place was jumping. If not for a brilliant pad stop by Langhamer late the frame, robbing Corbett of what looked to be his second of the period, Edmonton would have taken a three goal advantage into the intermission.

That shot clock may have read 13-11 for Medicine Hat after one but it was all Oil Kings and they would take it to another level in period two. Netminder Tristan Jarry was called upon to make a trio of big stops early on, denying Jacob Doty on an odd man rush and a turning aside back-to-back chances by Curtis Valk from the lip of the crease, but it was an all out Oil Kings onslaught from that point on.

Dysin Mayo would bring the fans out of their seats with a brilliant rush, beating Langhamer on the blockerside to make 3-0 at the 2:41 mark and suddenly the floodgates were open. Brett Pollock would chase the Tiger starting goalie just over a minute and a half later with his sixth of the playoffs and Corbett would needed all of twelve seconds to slip home his second of the night behind backup Nick Schneider.

Griffin Reinhart and Luke Bertolucci would make it five goals in 6:22 and ultimately force Tigers bench boss Shaun Clouston into bringing his #1 goalie back for the final thirty-one minutes of what was a lost cause. Far from an ideal situation but allowing what was an all out beating to continue in the series opener wasn't really an option.

Valk would break Jarry's shutout bid before the period was out and add a power play marker in the third to cut the lead to 7-2 but outside of their captain's outstanding post-season run continuing, as the diminutive pivot currently leads all Western Hockey League skaters with twelve playoff tallies, it was a night to forget for the underdog Tigers.

Brandon Baddock and Alex Mowbray would exchange late goals to closeout the scoring but for Medicine Hat's sake, hopefully they can chalk this one up to being a little worn down from their seven game set with the Ice and first game jitters. If not, this is going to be another walk in the park for the defending Eastern Conference Champions, while they sit and watch the Kelowna Rockets and Portland Winterhawks beat the hell out of one another in the Western Conference Final.