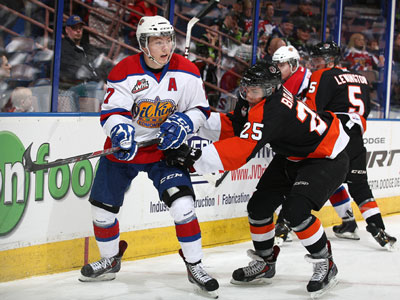 Edmonton - April 21, 2014 - While the Edmonton Oil Kings were nowhere near as dominant in Game Two of their Western Hockey League Eastern Conference Final against the Medicine Hat Tigers yesterday afternoon, they were still plenty good enough to grab themselves a commanding 2-0 series lead with a 3-1 victory over at Rexall Place.

After being lambasted 8-3 in opener, Medicine Hat rebounded with a rather gutsy effort against Derek Laxdal's side and while the Oil Kings bench boss may not have been over thrilled with his team's overall game, much of that could be attributed to the visitors finding their legs following their grueling second round battle with the Kootenay Ice.

Tigers starting netminder Marek Langhamer returned to form after having a night to forget in the third round curtain raiser, stopping forty-three of the forty-five pucks fired his way and giving his team a shot at earning a split on the road.

Unfortunately for them, Tristan Jarry was every bit as good down at the other end of rink, making thirty-two saves of his own and more than a few were of the timely variety.

For the second consecutive game, Curtis Lazar led the way upfront for the defending Eastern Conference champs, potting a pair of second period markers to opening the scoring. After setting the tone with an absolute beauty in the opening seconds of Game One, the 2013 first round pick would leave his mark on this one via special teams.

Thirty-four seconds into period two, he would poke home a loose puck for his fifth of the post-season during what was a mad scramble in the Tigers crease and with Edmonton on an early man advantage. Lazar would notch his third of the series just over ten minutes later, beating Langhamer with a nifty little move in tight with the home team down a man.

Edgars Kulda did all the leg work on the forecheck before forcing Tigers defenceman Tommy Vannelli into what turned out to be a rather costly miscue and then finding a streaking #27 for what amounted to a clear cut break away. The goal not only gave the Oil Kings a crucial insurance marker but it also moved the Ottawa Senators draftee into a tie with former teammate Michael St. Croix for top spot on the Oil Kings all-time playoff scoring list, at least in their most recent reincarnation, with 46 points.

To their credit, Medicine Hat wasted little time in responding, scoring a power play goal of their own before that same penalty was up, as Chad Butcher beat Jarry from the slot with a perfect shot to cut the lead back down to one. However that would be as close as Shaun Clouston's bunch would get, as Kulda closed out the scoring with an empty netter in the final minute to secure the win and keep Edmonton a perfect 7-0 on home ice for the post-season.

The series will now shift to the Medicine Hat Arena with a pair of mid-week games on Tuesday and Wednesday evening, as the Tigers look to get back on level terms. That said, perhaps the goal should be to just get on the board before thinking of holding serve in their own rink. Oil Kings captain Griffin Reinhart brought up a valid point during his post-game comments following yesterday afternoon's win. "We've had times where we've been playing good hockey but we haven't played a full sixty yet". Very true and a scary thought indeed.