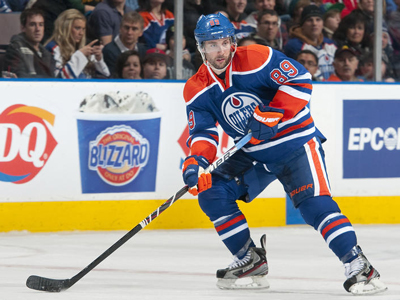 Edmonton - April 28, 2014 - Does he stay or does he go? That is ultimately the question when it comes to Edmonton Oilers centre Sam Gagner.

After seven years in the National Hockey League it appears as though the former sixth overall pick and the organization have reached a crossroads in their relationship.

It has become painfully obvious, even to the staunchest of Gagner supporters, that a one-two punch of #89 and Ryan Nugent-Hopkins is one that simply doesn't work in today's NHL.

There is no question that Craig MacTavish needs to improve his depth down the middle but at this stage of the game, focusing on solely swapping out third and fourth line role players would be nothing more than an organizational smokescreen.

Before they drop the puck to start their 2014-15 season, the Oilers must have a legitimate top end centre on the roster that can help Nugent-Hopkins do the necessary heavy lifting.

Be it a pending free agent like Colorado Avalanche centre Paul Stastny or someone along the lines of Ottawa's Jason Spezza or the Devils Travis Zajac, something has to give.

Considering the contract situation of the last two, MacTavish may be able to swing some sort of deal without parting with the club's third overall pick at this summer's Entry Draft in Philadelphia. However if the second year GM could somehow convince the Flyers Paul Holmgren to part ways with youngster Sean Couturier, which seems highly unlikely, moving the pick would make perfect sense.

There will likely be other options for MacT to seriously consider heading into draft day but standing pat cannot be one of them. If this team has either Mark Arcobello or Gagner as their second line centre come next October or even worse, one of Sam Bennett, Leon Draisaitl or Sam Reinhart in such a role, the Oilers general manager may as well go ahead and fire Dallas Eakins now and save everyone a whole lot of aggravation.

We keep hearing about this team moving forward but unless they address their shortcomings down the middle, they will continue to do nothing but spin their wheels. Some will point to Gagner's broken jaw as the main reason his year was as awful as it was and those people would be doing nothing but lying to themselves. There is no doubt the kid can put up points in this league but there is more to the game than just posting solid box-car numbers.

If the twenty-four year old were among the league's elite point producers, you could work with the deficiencies in his game and put him in situation he could excel. Unfortunately, that isn't the case for the former London Knights standout and because of it… he needs to be moved. While his trade value may not be at its highest, is it honestly that far off?

If Gagner had not signed a three year extension with the Oilers last summer and instead tested the UFA market, I have zero doubt that teams would have been lining up to take a run at him in free agency. Then why wouldn't they want to trade for him? The answer is obvious…cost. Most GM's have no problem taking a risk on a player in the open market by throwing money at them but giving up assets on top of the cash, is generally a non-starter.

Contrary to what many Oiler fans will tell you, the warts on Sam's game have been there for quite some time but the masses decided to ignore…until this season. Instead of focusing on his scoring inconsistencies, regular defensive zone brain-cramps, lack of urgency in his own end of the rink or his tendency to take abnormally long shifts at the worst possible time, fans would go back to his magical eight point night against the Chicago Blackhawks in 2012 or his countless number of secondary assists he has registered over the previous two seasons.

His flaws are what they are but the fact they are as obvious as they are, seven years into his career, speaks volumes. In the right situation, Gagner would be a very useful complimentary piece but this is not that situation. In my opinion, he still has some value and because of that, the Oilers shouldn't have to eat any of his salary in any sort of deal, depending of course on the potential return.

Do I think he could get Edmonton a couple of draft picks, say a second and third round pick, probably but to most that would seem like they would be selling low. Really? Using Gagner as a piece to help acquire a guy like Zajac would be ideal but if that isn't in the cards, would a couple of picks not be a better return than rumoured names like the Kings Kyle Clifford or New York Islanders forward Josh Bailey? Take the damn picks and turn the page already…the clock is ticking.