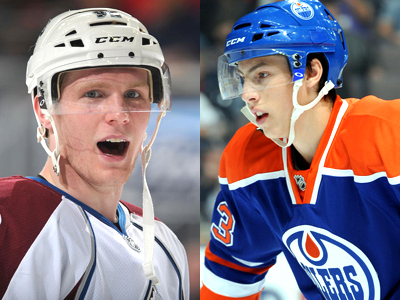 Edmonton - April 29, 2014 - We are now three seasons into the career of Edmonton Oilers centre Ryan Nugent-Hopkins and the doubters have started to come out of the woodwork when it comes to the former first overall pick.

With the Oilers seemingly doing nothing but continually spinning their wheels and the Colorado Avalanche and Gabriel Landeskog enjoying what has been an absolutely dream campaign for Patrick Roy's crew, fans and critics alike are calling out the organization for selecting the wrong player in Minnesota back in 2011.

Now there is no question Landeskog is one hell of a player but suggesting Edmonton somehow "got it wrong" in taking RNH at #1 tells me two things about the people who are making those comments.

They are either frustrated Oiler fans who have reached the end of their rope with all the losing and are not happy unless they are complaining about everything this management group has done since reaching the Stanley Cup Final in 2006 or they have rarely if ever watched this team play and are basing their opinions on where the club currently sits in the overall league standings.

From a production standpoint, the Avs young captain has actually been less productive over his first three years in the league than the Oilers top centre and has done so while playing a far easier position. To this point in their careers, Landeskog has been the healthier of the two, 199 games played to 182, as the Nuge has battled shoulder problems for much his time in the NHL.

Despite missing time and playing a good chunk of those games with a bad wing, Nugent-Hopkins has posted 132 points. Whereas the big Swede has collected 134 points in seventeen more games and as good as Landeskog's 2013-14 campaign has been, 26 goals & 65 points, it was only marginally better than what RNH produced, 19 goals and 56 points, during what many felt was a disappointing year.

People tend to forget just how young the former Red Deer Rebel standout is. He just turned 21 years old in early April and obviously still has a long way to go in finding his "man-strength". While at the other end of the spectrum, Landeskog could handle himself physically from the outset but is roughly five months older than Nugent-Hopkins. Some may look at that and say what's five months but at this stage of their development and taking into account the Nuge's shoulder woes, it surely does matter.

In my mind, the one big disadvantage the Oilers #93 has had compared to his Colorado counterpart has been roster depth. While the Avs still have their fair share of weaknesses, their collection of talent upfront is far deeper and more diverse than anything Nugent-Hopkins has had the pleasure of playing with during his brief tenure in the big show. Colorado has always had a solid group of centres, which has allowed them to slowly break-in a youngster like Nathan MacKinnon on the wing and we have all seen the results of that patience during this year's post-season.

With Taylor Hall already in the house, drafting Gabriel Landeskog was likely never a real option for Stu MacGregor and company in 2011. Now there are those who will tell you the Oilers should have selected Tyler Seguin and Landeskog instead of Hall and Ryan Nugent-Hopkins and in my opinion, those people are out to lunch. All four are good young players but as a duo Hall and RNH were and still are the better bet and in a couple of year's time...everyone else will be back on board and we can look back at this so-called debate and have a good chuckle.