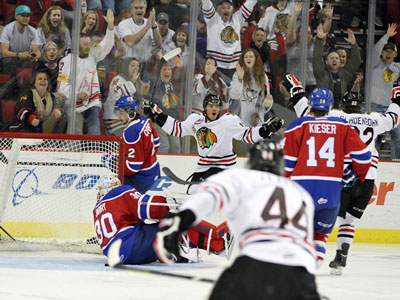 Edmonton - May 4, 2014 - Heading into last night's opener between the Edmonton Oil Kings and Portland Winterhawks, there were two things Derek Lexdal needed from his players in order to have any hope of knocking off the defending Western Hockey League Champions…top notch goaltending and a productive power play.

Unfortunately for the Oil Kings bench boss, he received neither in Game One of the WHL Final and not surprisingly the Winterhawks walked away with a 5-2 victory on Saturday night.

A three goal first period outburst from the home side coupled with a rather anemic looking Oil Kings power play put this one to bed early.

While the Oil Kings made life easy on Portland starter Corbin Boes, the man down at the other end of the rink was a shadow of himself.

As good as netminder Tristan Jarry has been this season, he was downright brutal during what was an opening twenty minutes to forget for the second pick of the Pittsburgh Penguins.

After watching his teammates waste an opportunity on the man advantage, all of eleven seconds after the drop of the puck, Jarry decided to make things even worse by kicking out an ugly rebound to Keegan Iverson who promptly pounced on the gift to fire home his third of the post-season at the 2:50 mark.

Tough start for sure but not all was lost. Despite going zero-for-three on the power play, it looked as though Edmonton would head into the intermission just a shot away from getting back on level terms. So much for looks…as the Winterhawks would score twice in fifty-seven seconds to blow this one out of the water.

Paul Bittner beat Jarry from the slot with a quick wrist shot with less than two minutes to go and Chase De Leo would bring the roof off the Moda Center, banging home his eighth of the playoffs from the lip of the crease as the Oil Kings starter came off his near post to allow goal number three to trickle across the line. While neither one of the late goals were as ugly as the rebound he kicked out leading up to the series icebreaker, as a goaltender, you have to find a way to make a stop for your teammates and Jarry didn't have it in him on Saturday evening.

Edmonton tried making a game of it with a pair of early second period markers courtesy of Brett Pollock and Henrik Samuelsson but against a team as powerful as the Winterhawks, the mountain was simply too high to climb. To his credit, Jarry bounced back with an outstanding middle frame as he managed to keep the Oil Kings within one until Matt Dumba hammered an absolute bomb past him with thirty-seven seconds to secure Portland's two goal cushion. It was a tough pill to swallow but an ill-timed slashing minor from Pollock behind the Winterhawks net, and the teams playing four aside, would prove to be rather costly.

Bittner would seal the deal with his second of the night early in the third on a another shot Jarry would love to have back and just like that, any notion of a comeback was done. It may just be one game but Edmonton has to bounce back with their "A" game on Sunday night and earn a split in Portland because heading back to Rexall Place with a 2-0 deficit would be playing with fire and in my mind a recipe for disaster.