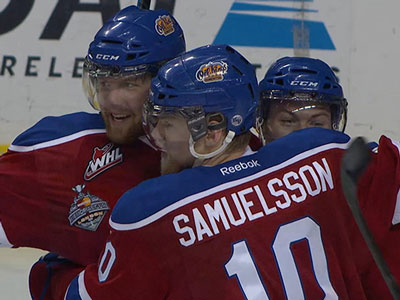 Edmonton - May 10, 2014 - In what has seemingly felt like nothing more than a blink of an eye, the Edmonton Oil Kings have moved to within one win of earning their second Western Hockey League Championship in three years.

After dropping the opening two games to the Portland Winterhawks and falling down 2-0 early in Game Three, it looked as though Edmonton had met their match in what has been somewhat of a surprising campaign from the now back-to-back-to-back Easter Conference champs.

Fast forward just over 72 hours and the Oil Kings have pushed the mighty Winterhawks to the brink of elimination.

After fighting their way back into the series with a pair of workman like performances at Rexall Place, Derek Laxdal's crew took it to another level on Friday evening in Portland, Oregon.

While the importance of last night's 3-2 victory cannot be overstated…it was the manner in which the Oil Kings won that was so impressive.

As good as they played on Wednesday night in Edmonton, this was different. Teams simply do not come into the Moda Center and dictate terms to the Winterhawks. It just doesn't happen. However, that is exactly what the Oil Kings did. It was a clinical performance…the perfect road game.

There are those who will point to Portland's thirty-nine shots on goal and argue they were in fact the better team and those people are either out to lunch or watched an entirely different hockey game. Mike Johnston's side is so skilled and plays such a high octane style that completely shutting them down is nearly impossible. All you can hope to do is contain them and limit their chances…especially in their own barn.

After struggling mightily through the first seven periods of the series, netminder Tristan Jarry has been "wall-like" over the last eight. The ill-timed soft goals against and awful rebound control are but a thing of the past. Instead, the first round pick of the Pittsburgh Penguins has delivered one monster save after another…none bigger than a pair of brilliant pad stops off Paul Bittner with the Winterhawks up 1-0 in the first period and pressing for that insurance marker.

While Jarry has been outstanding in between the pipes, it has been the play of the entire team that has turned this WHL Final around. Their defensive zone coverage and puck support has improved with each and every game, which has allowed Edmonton to create chances on the counter attack. Be it the likes of top six forwards Edgars Kulda, Curtis Lazar, Mitch Moroz and Henrik Samuelsson or the third line of Luke Bertolucci, Mads Eller and Riley Kieser. Everyone is doing their part and as of this moment, Portland simply has no answer.

Bringing us to the guy who stirs the drink…that being defenceman Griffin Reinhart. In a series that features as many talented players as this one, it has been the fourth overall pick of the New York Islanders that has stood out above everyone else. At this moment, there isn't anything the Oil Kings captain can't do. He continues to be an absolute rock in his own end of the rink, making life for the Winterhawks highly skilled forwards far more difficult than they are accustomed to.

Add to that the fact Reinhart seemingly never leaves the ice, playing in all situations for his head coach, and suddenly you realize why Edmonton has been able to turn this thing around so quickly. While the towering blueliner has always played a key role in their offensive attack, not surprisingly, he came up huge when it mattered most on Friday night.

Reinhart not only scored the 2-1 goal to give the visitors their first lead of the series on the road, thanks in large part to a herculean effort from Lazar to gain the zone and keep the play alive, but also made an absolutely brilliant read in the defensive zone to break up a Portland rush and start the play up ice that would ultimately lead to Samuelsson's eventual game-winner and sending this series back to Edmonton with the Oil Kings now firmly in driver's seat.

When two teams as good as the Edmonton Oil Kings and Portland Winterhawks meet in a best-on-best setting, the one who has their top players firing on all cylinders is usually the one that comes out victorious. The Oil Kings best responded when they had their collective backs up against the wall and now the shoe is on the other foot. Game Six should be a beauty and it can't come soon enough.