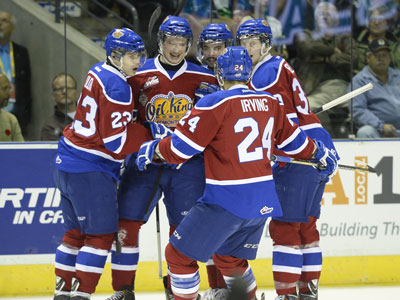 Edmonton - May 19, 2014 - While the opening weekend of the 2014 Memorial Cup may not have gone exactly how the Edmonton Oil Kings had envisioned, head coach Derek Laxdal had to be more than satisfied with the resilience his players showed over their first two games of the tournament.

After allowing the opener to slip through their fingers on Saturday afternoon,, dropping a 5-2 decision to the Guelph Storm, the WHL champs bounced back in style on Sunday evening with a 5-2 victory of their own over the host London Knights.

Despite getting off to a decent start against the Storm, the Oil Kings were ultimately done in by four things: some questionable officiating, a couple of bad bounces, some iffy goaltending from Tristan Jarry and a downright awful power play. Outside of that, Edmonton more than held their own against the pre-tournament favourites.

It may have looked rather one-sided on the scoreboard but it was a game that was there for taking. It was a one goal game that simply got away from the Oil Kings over the final twenty minutes of play, thanks to a pair of third period goals from Guelph's Tyler Bertuzzi. Edmonton had actually grabbed a 2-1 lead early in period two, as Henrik Samuelsson and Ashton Sautner scored just twenty-seven seconds apart, but a poor decision from forward Mads Eller and one of those aforementioned bad bounces handed Kerby Rychel his second power play marker of the afternoon and it all went downhill from there.

To their credit, coach Laxdal's side bounced back with one hell of a performance in what was as close to a must win situation as two teams could face in just their second game of a tournament. From top to bottom, the Oil Kings looked like an entirely different side against Dale Hunter's squad but on this night, one player stood out above the rest and that player was none other than Edgars Kulda.

As good as the young Latvian has been through Edmonton's most recent run through the Western Hockey League Playoffs, he kicked it up a notch or two on one of Junior Hockey's biggest stages. Kulda not only led the way upfront with a three point/two goal effort but the kid was a force each and every time he hit the ice. Be it creating chances upfront or putting a physical pounding on one Knights player after another, the draft eligible twenty year old was a one man wrecking ball on Sunday evening.

When you add his performance to solid showing from Jarry, albeit one with yet another soft goal against but a clutch first period penalty shot stop off London's Ryan Rupert, and your typical strong showings from the likes of Curtis Lazar, Samuelsson and captain Griffin Reinhart, the Oil Kings suddenly started to resemble the team who dismissed the mighty Portland Winterhawks in what was another classic WHL Final.

Coming off what was truly a series changing performance against the Winterhawks, Edmonton's third line of Luke Bertolucci, Eller and Reily Keiser were simply fantastic against the Knights. The trio was arguably the Oil Kings best line on the night and managed to chip in on the scoresheet for good measure, as Bertolucci potted a pair of third period markers to put this one to bed and also end the Oil Kings draught on the man advantage.

We are now two games into the Edmonton Oil Kings 2014 Memorial Cup adventure and they find themselves with the exact same 1-1 record they did two years earlier in Shawinigan. While the situation facing Derek Laxdal's squad heading into their final round robin game against Anthony Manta and the Val-d'Or Foreurs on Tuesday evening may be very similar…this feels a whole lot different.

In 2012 Edmonton almost seemed to be out of their element in a best-on-best setting against other top teams in Canadian Hockey League but that clearly hasn't been the case this time around. They appear to be far more relaxed and comfortable in their own skin and not surprisingly…it has shown in their play.