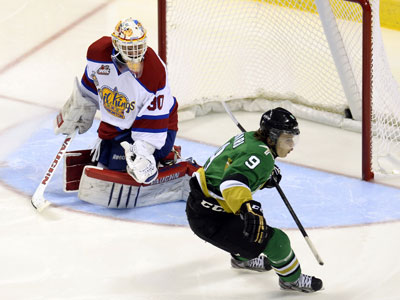 Edmonton - May 21, 2014 - In the grand scheme of things, the Edmonton Oil Kings 4-3 double OT loss to the Val d'Or Foreurs at the 2014 Memorial Cup may not turn out to be that big of a deal.

If the Guelph Storm can manage to knock off the host London Knights in Wednesday's round-robin finale, in what is truly a nothing game for the OHL Champs, than Edmonton's inability to closeout Val d'Or was ultimately meaningless.

That said, thinking the Knights' will go quietly on their home ice in a game that would keep their Memorial Cup dream alive is simply foolish.

With that being the case, there is a very real possibility that Derek Laxdal's side will be taking part in a one game playoff against London on Thursday evening to earn the right to face the Foreurs in a winner take all semi-final matchup on Friday night.

All this because they could not closeout a game in which they were by far and away the better team. Unfortunately for them, when it came to the battle in between the pipes, they clearly had the second best netminder. While Tristan Jarry came into this tournament with the best numbers of any of the four starting goaltenders, the Oil Kings starter has had the same sort of experience at this year's Memorial Cup as his predecessor Laurent Brossoit did back in 2012.

Both played huge roles in helping Edmonton take home the Ed Chynoweth Cup as Western Hockey League Champions in two of the last three years and both have struggled mightily when given the shot to do their thing on Junior Hockey's biggest stage. Brossoit was inconsistent at best in 2012, coughing up a number of soft goals against and more often than not, at the worst possible moment.

He was the second best goaltender on the ice in nearly every game and Jarry has followed suit with an eerily similar performance this time around. He wasn't very good in the Oil Kings 5-2 loss in their opener against the Storm but did bounce back with a better showing against London but he was nowhere near his best. To that point in the tournament, it didn't really matter but that all changed last night.

After watching his teammates jump out to an early 2-0 lead, thanks to goals from Reid Petryk and Curtis Lazar, all Jarry needed to do was make the odd stop when called upon. While Edmonton continued to fire pucks towards Antoine Bibeau, who has easily been the best goaltender to this point in the tournament, they were unable to get that next one to bury the QMJHL champs. Bibeau did what he had to do to give his team a shot at coming back and they repaid him for his efforts with the next two goals to get him back on level terms.

After two periods of play, Edmonton had a huge territorial advantage and had badly outshot Val d'Or to the tune of 29-14. It was arguably the Oil Kings finest performance in two years' worth of games at the Memorial Cup and all they had to show for it was a tie game. To their credit, they came out and dominated the opening ten minutes of the third period and regained the lead at the 5:46 mark, courtesy Henrik Samuelsson's second goal of the tournament.

That should have been the final nail in the coffin but it wasn't. Val d'Or used a late blown icing call and a horrible turnover from Griffin Reinhart to their advantage, as Samuel Henley snapped home the equalizer with just over four minutes to go. The entire sequence was a tough one for Jarry but the young netminder did himself no favours. While the Oil Kings seemed rather perplexed at the lack of a whistle for what was obviously icing, their goaltender seemed to almost give up on the play and it cost them.

Both teams had their chances in overtime and each one hit a goal post but it was Anthony Richard who would play the role of hero, slipping a shot between Jarry's legs on what was essentially a clear-cut breakaway from the blueline in. Hard to lay the blame at your goaltender's feet when he's beat on a breakaway but sometimes you need your goalie to step-up and shut the door. Bibeau did it all night long and actually stoned Edgars Kulda on a first period penalty shot that would have given Edmonton a three goal lead.

At the end of the day, in order for a team to have a shot at winning a tournament like this one, they generally need to have a goaltender that is on his game. Through the round robin portion of the 2014 Memorial Cup Tristan Jarry hasn't been on his but lucky for him and the Edmonton Oil Kings, he still has a shot at redemption.