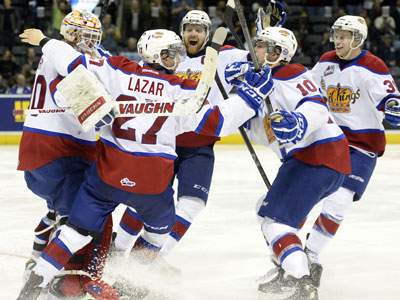 Edmonton - May 24, 2014 - To say the Edmonton Oil Kings have had a rather eventful week in reaching the 2014 Memorial Cup Final would be understatement.

After opening the tournament with a disappointing 5-2 loss at the hands of the Guelph Storm, everyone inside their dressing knew reaching Sunday's finale wasn't going to be easy.

To their credit, they never stopped believing in one another and that was never more evident than during their thrilling triple overtime 4-3 semi-final victory over the Val-d'Or Foreurs.

While Edgars Kulda continued on his scoring ways, potting his team leading third of tourney, and netminder Tristan Jarry bounced back with a solid showing in OT after allowing just a dreadful goal late in the second to give Val-d'Or life, it was the Oil Kings core veteran group that carried the mail in London on Friday night.

Not surprisingly, the quartet of Mitch Moroz, Henrik Samulesson, Griffin Reinhart and Curtis Lazar stepped up when it mattered most. From top to bottom, Edmonton played well but after five periods of hockey, they needed someone to find a way to get another puck in behind netminder Antoine Bibeau and it was their best all-around player who would deliver.

Lazar has always been a guy who would gladly do whatever is necessary for the betterment of the team. It has never about the name on the back of the jersey with him but rather the logo on the front of it. With that said, when this team needs a big goal, the first round pick of the Ottawa Senators has generally been the one who comes through and last night was no different. While the Oil Kings #27 was undoubtedly the 'hero" of the night, he was not alone.

Moroz played what was easily his finest game of the tournament, picking up an assist on Mads Eller's first period equalizer and later gave the Oil Kings their first lead of the night with a huge second period power play marker. The Edmonton Oilers second round pick was a physical presence form start to finish, teaming with Henrik Samuelsson to make life difficult for the team in green.

Same goes for Samuelsson, who was his usual agitating self while creating chances throughout the night. He targeted Anthony Mantha for much of the evening, trying to get the Val-d'Or sniper off his game, and despite being held pointless was arguably Derek Laxdal's best forward on the night.

Defenceman Griffin Reinhart continued to log an absurd amount of ice-time, playing in every situation and doing what he does best…as hard as that might be for some to accept. One has to wonder if those who continually focus on the big blueliner's lack of "flash" have ever really watched him play. On this team, his role is to shutdown the opposition's top players and that is exactly what he has done throughout the season, playoffs and Memorial Cup.

He held London's Max Domi to a meaningless third period helper in what was a must-win situation for the Western Hockey League Champions and in Edmonton's two games against the QMJHL champs, the aforementioned Anthony Mantha registered a single assist over nearly ten periods of hockey in his head-to-head battle against the Oil Kings captain. The guy wearing #8 may not be overly "sexy" to watch but he continues to be damn effective.

In what has been a post-season run for the ages, one has to wonder if this year's edition of the Edmonton Oil Kings is a team of destiny. Outside of the coaching staff and kids in that dressing room, no one could have seen this season going as it has and they now find themselves just one win away from earning the holy grail of junior hockey.

Now there is no guarantee this group will walk away from Sunday afternoon's final as Memorial Cup Champions but don't be surprised if they do. One thing is clear, the veterans on this team will be ready to go and my guess is so will everyone else. Enjoy the ride boys…you have earned it.