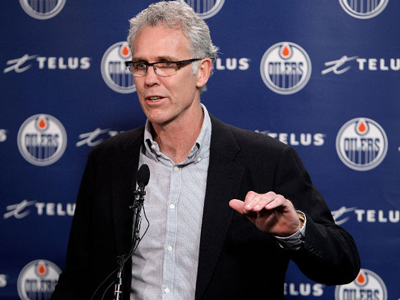 Edmonton - May 29, 2014 - So how much longer do fans of the Edmonton Oilers need to wait?

Whether you believe this club started the rebuild in 2006, 2010 or somewhere in between, it is fair to say the time to start moving up the National Hockey League standings is long overdue.

Craig MacTavish will have another opportunity to reshape his roster over the coming months but the chances of him making enough change to significantly impact his team's overall point total appears to be very unlikely.

Now that may not be what this fan base wants to hear but it is the reality of the situation.

With this organization's unwillingness to move any of their top young players to help address other holes within the lineup, expecting anything but more of the same would be foolish.

All of us have watched the Stanley Cup Playoffs over the last number of weeks and we have all seen the same thing. Nearly every playoff team out west has the same thing going for them…depth, size and skill…and unfortunately the Oilers are lacking on all three fronts. From the goal crease out, this team is in need of a desperate facelift and I don't foresee it happening in one off-season.

With that being the case, what would be realistic expectations for this team in 2014-15? The answer everyone wants to hear revolves around a playoff spot or at the very least battling for one until the final weekend of the season. While that may seem fair, let's not forget the Edmonton Oilers earned a grand total of 67 points in 2013-14…exactly 24 points shy of the eighth place Dallas Stars.

Let's think about that for a minute. How on earth is this team going to close that gap? The lack of depth on the blueline and down the middle of the rink won't be addressed to the level it needs to be for Dallas Eakins' side to compete with big boys in the Pacific Division and the rest of the Western Conference.

Despite what some would have you believe, size remains a major issue with this lineup and as much as MacT and his head coach would love to add some bigger bodies into the current mix, that doesn't mean it is going to happen. If the plan is to simply continue bringing in bottom pairing defencemen and depth forwards with size, they might as well save their money and not bother.

We have all seen that song and dance before and it doesn't work. The change has to be felt throughout the lineup, top to bottom, or it's pointless. It may not be easy to find players who are tough to play against and possess a decent skill-set but it is far from impossible. Other teams have them so they do exist.

Should Craig MacTavish accomplish all of that, the Edmonton Oilers could legitimately challenge for a playoff spot in 2014-15. Problem being, anything short of that won't be good enough and the chances of that occurring are quite good. For the sake of Oiler fans everywhere, let's hope that isn't the case because things could get real ugly if that ends up being the case.