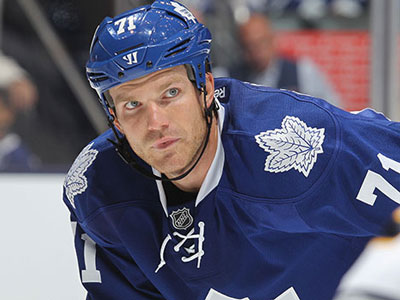 Edmonton - June 1, 2014 - It is no secret that Edmonton Oilers general manager Craig MacTavish was devastated by David Clarkson's decision to sign with the Toronto Maple Leafs last summer.

Instead of taking up Edmonton on their obscene 7 year/$42 million offer, the former New Jersey Devil decided to take a little bit less to play in his hometown.

While "settling" for $36.75 million may not seem like much of a sacrifice to most, Clarkson did leave over $5 million on the table to stay out east and play for the team he rooted for as a kid.

In hindsight, it was arguably the best thing in the world for the Oilers and the absolute worst of moves for the team in Blue and White.

To be perfectly honest, as far as debut season's go, it is hard to imagine a year going much worse for a professional athlete.

After posting career-lows across the board, (five goals, six assists and eleven points), missing twelve games due to suspension and another ten via injury, 2013-14 could not have ended soon enough for the tough as nails winger. It was a disaster form the get-go and it only got worse with each passing day. It was truly a season to forget.

With Toronto collapsing down the stretch and coughing up what looked to be a guaranteed playoff spot, the pressure to turn things around quickly will be immense in good ol' Leafs Nation. Much like Edmonton, the Maple Leafs have more than a few holes in their current lineup and will be hard-pressed to change over their roster in one off-season but than again, they do play in the far weaker Eastern Conference.

One would have to think general manager Dave Nonis would love nothing more than to undo as much of the long term damage Clarkson's signing has done to the Leafs payroll but his hands are somewhat tied. The Globe and Mail's James Mirtle was nice enough to breakdown the ins and outs of the veteran's deal back in early April and frankly Toronto would be insane to even consider going the buyout route.

Which truly leaves Nonis all of two options...keep him and hope last season was a one-off or eat half of the remaining salary and try to trade him. While the line likely won't be long for a thirty year old coming off an eleven point season with six years and a ton of cash left on his deal, albeit at half price, my guess is MacTavish would still have time for a guy he was simply gushing over less than a calendar year ago and Oilers fans should be more than a little worried.

In my mind, what we saw from the former Devil last year has to be looked upon for what was...a god awful season. After scoring forty-five goals in his final one hundred and twenty-eight games in New Jersey, dropping to a "five-goal" man overnight doesn't seem realistic. That said, anyone who believes he is a lock to score 20-30 goals a year are completely out to lunch.

In the right situation, Clarkson can still be a very useful player in a top nine role with an occasional stint inside the top six. He proved to be an effective power play guy with the Devils and while that may not have been the case in Toronto, expecting him to bounce back in place like Edmonton would not be that far fetched.

Could Clarkson still play his usual rugged style and chip in with 15-20 goals? In the short-term I would probably say yes but expecting anything close to that sort of production over the next six years would be one hell of a stretch. Even at roughly $2.6 million season, which is what he would cost if the Leafs were to eat half his salary, it would still be a mighty big risk for MacT or any other general manager to take on.

Now some have hinted at the possibility of a Sam Gagner for David Clarkson swap but that would make zero sense from an Oilers standpoint. While Gagner may not have near the value many Oiler fans think he does, if Edmonton were to even consider making such a move...everyone within the front office should be shown the door. End of discussion.

With the Clarkson's contract status being what it is, the best Brendan Shanahan and company could possibly hope for in return would be a late-round pick or the ever popular "future considerations". Let's be honest here, if a team were to come calling and were willing to take part of that burden off the Leafs hands for the next six years Toronto would be jumping for joy.

While the risk in taking on a player with Clarkson's ticket appears to be quite obvious, I am not so sure that is how the Oilers management team views the situation. He is the exact sort of player this GM wants to add into the mix and one who would almost instantly become a Dallas Eakins' favourite. In my opinion, his addition would probably help this club improve next season but would that be enough to off-set the black-hole his contract will become in probably two to three years time?

Maybe it does and maybe it does not but one thing is clear, Craig MacTavish had better not get this one wrong. He was already saved from himself on one occasion when it comes to David Clarkson so maybe taking another kick at the can should not be high on his priority list. That said, do not be surprised to see Clarkson in Orange and Blue come next October. Desperation can make smart people do curious things, which is exactly why Oiler fans should be more than little uncomfortable with this whole scenario.