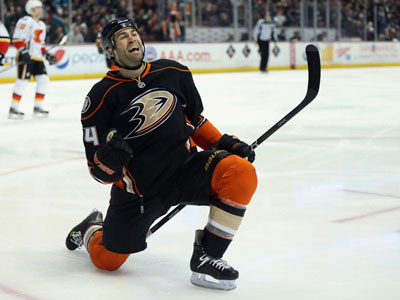 Edmonton - June 2, 2014 - There has always been a certain amount of sexiness that comes with trying to go out and acquire players via unrestricted free agency in the National Hockey League.

Unfortunately, when it comes to the 2014 free agent crop there really isn't a whole hell of a lot to get excited about

Outside of Colorado Avalanche centre Paul Stastny, every other high profile forward available on the open market is thirty year's of age or older.

With that being the case, the chances of a team like the Edmonton Oilers targeting and successfully bringing in a top flight UFA would appear to be highly unlikely.

Edmonton may still take a run at a guy like Stastny come July 1st but my guess would be Craig MacTavish will be setting his sights firmly on a player like Anaheim Ducks forward Daniel Winnik.

While he may not have the notoriety of your typical free agent, the veteran forward would be a very nice addition to a lineup starving for his skill-set but it would certainly be a risky move for the Oilers GM to make.

At 6' 2" and 215 pounds Winnik has the sort of body type this organization will most certainly be looking to add to their current mix this summer and is solid in his own end of the rink too boot. While he is coming off a career high 30 point season in 2013-14, thanks to a brief stint playing alongside the Ducks super duo of Ryan Getzlaf and Cory Perry, the former ninth round pick of the Phoenix Coyotes has settled into being a twenty to twenty-five point guy at this level.

Not exactly a "sexy" player but definitely one that successful teams tend to have on their rosters. Edmonton were lucky enough to already acquire one of these guys last summer when they signed Boyd Gordon to a 3 year/$9 million deal and adding what amounts to the "winger version" of the Oilers #27 wouldn't be such a bad idea.

Winnik inked a two year pact with Anaheim in the summer of 2012 for $1.8 million a season and while he has been solid during his time with the Pacific Division winners, the chances of him re-signing appear to be highly unlikely. One of the knocks against the pending free agent has always been his unwillingness to consistently use his size to his advantage and it ultimately led to him being scratched for the first three games of their second round series against the Los Angeles Kings.

However with the vast majority of teams looking to add bigger bodies to their respective lineups, you can bet the twenty-nine year old will be on more than a handful of shopping lists during the NHL's "Free Agent Frenzy". With that said, one would have to think Winnik would likely garner a multi-year offer in the neighbourhood of $2.5 million a season from potential suitors.

So my question than becomes, can the Oilers really afford to add another near $3 million bottom six forward to their cap? Just as he did with Gordon last year, MacT would have to overpay to convince a guy like Winnik to sign any sort of deal to come to the Alberta capital, meaning we are likely talking about a number closer to $3 million than $2.5 million.

While the need for a player with Gordon's skill-set made his deal very palatable, this one could be a little more difficult to stomach. Don't get me wrong, the Toronto native would be a good fit but how many 5-10 goal scorers can one team be paying top dollar too?

Now if he had the potential to put fifteen pucks in the net on a yearly basis it would be a different story but nothing we have seen tells us he has that ability. Winnik has scored a grand total of twenty goals over the last three years...which is the exact same total as Boyd Gordon.

Over the last number of weeks, many have suggested the Oilers would be wise to construct a third line that could contribute offence on a more consistent basis and bump Gordon down to a fourth line role. So how exactly would bringing a perennial twenty point guy on board address that? It does not.

Expectations need to be realistic. These are players that play a certain role on a team and expecting them to be something they are not, is a recipe for disaster. That is not to say a potential duo of Boyd Gordon and Daniel Winnik wouldn't be a nice fit in the Edmonton Oilers bottom six because they would but it has to make sense...especially on a roster that has as many holes as this one does.