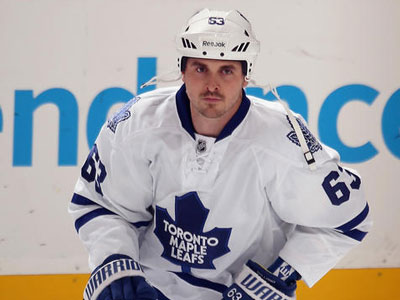 Edmonton - June 6, 2014 - With the 2014 UFA market set to open in roughly three and a half weeks, Edmonton Oilers general manager Craig MacTavish is likely in the midst of putting together what has to be a rather lengthy shopping list.

Unfortunately for him, this year's crop of free agents is arguably the weakest we have seen in some time and his roster still needs more than a little tweaking.

With literally no top flight defencemen available on the open market, MacT will likely have to set his sights on trying to land a legitimate second line centre come July 1st.

While the obvious target would appear to be Paul Stastny, Edmonton will have more than a little competition when it comes to trying to ink the talented Colorado Avalanche pivot.

With that being the case, MacTavish may be forced into seeing if he can convince a guy like Dave Bolland to sign on the dotted line and find his way over to good ol' Oil Country.

Now is the former second round pick of the Chicago Blackhawks a bona fide top two centre? From a statistical standpoint probably not but his overall game might just be what this lineup needs to start finding their way out of the Western Conference basement.

Bolland has not only shown the ability to play with highly skilled linemates during his time in Chicago but also brings that in-your-face style of play which is currently absent from the Oilers top six forwards, with the exception of David Perron. Add to that Edmonton's top young forwards all being somewhat defensively inept and suddenly the twenty-eight year old starts to look like an even better option.

The two-time Stanley Cup winner saw limited time on the man advantage during an injury-plagued 2013-14 campaign with the Toronto Maple Leafs but was a regular fixture on the Blackhawks power play as a net front presence. One would think he would be used in a similar fashion in Edmonton, while becoming a regular fixture on one of Dallas Eakins' penalty killing units.

The native of Mimico, Ontario has always been a player coaches have never shied away from using in multiple situations and with Boyd Gordon and Ryan Nugent-Hopkins forced to do all the heavy lifting for the Oilers, bringing in a guy who could assist with taking on some of those hard minutes has to be high on MacTavish's to-do list.

Again, he may be a stretch as a second line centre and there are those who will rightly argue a potential Bolland-Gordon duo are far better suited to be used as third/fourth line guys on a good team, the fact is, the Edmonton Oilers are not a very good team. While he may have certain limitations in his game, would the three-time thirty-five point man not be a massive upgrade on Sam Gagner in the two-hole? On this team, the answer to that question is a resounding yes.

If anything, having a guy like Bolland in the fold should help immensely with allowing a youngster like Leon Draisaitl, who the organization has clearly set their sights on drafting with their first round pick at this year's draft, time to find his way in the league without being rushed into an immediate top six role. What a concept...surrounding youngsters with quality veteran help.

Now his injury history has to be a bit of a red flag but if the term made sense and the dollar value wasn't too crazy, maybe exploring such a move would not be such a bad idea for Craig MacTavish. Improving this roster is an absolute must and adding actual NHL players into the mix is the only way that can occur.