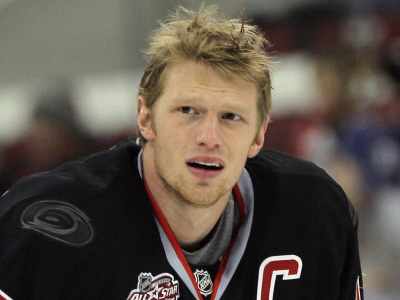 Edmonton - June 6, 2014 - This is a unique time of year for fans across the NHL. This is a time where two fan-bases are able to proudly display their team's colours for the world to see, and of course the time when the rest of the league watches the games; without a favourite, just hoping for a good contest.

Thankfully if the Stanley Cup Final will prove to be anything like the rounds leading up to it, we as hockey fans are in for a treat, but what about on those days without hockey? Those 2-3 day intervals between games as teams travel from coast to coast are a real downer. Especially considering it seems we have ALWAYS had some kind of hockey to watch since the early days of October. What are we to do when there is no hockey to be had?

Talk. That's all Oilers fans do anyways right? They go on facebook and twitter and throw out their opinions or potential game-changing moves. They do everything they can to show one another that they have the solution to fix the current state of the organization. They start campaigns and hashtags like #firelowe or #JordanEberleIsSexy. No agenda, no preference, no real meaning. Just talking.

One of the more common talking points this offseason for Oilers fans have been what to do with the 3rd overall pick come June 27th. Most people seem to think that Barrie Colts defenceman, Aaron Ekblad will be off the board by then, and they are probably right. If that is the case, the next common likelihood is that Prince Albert Raiders star, Leon Draisaitl will pull an Oilers sweater over his head. Also a good a possibility. But some are talking about the prospect of trading the pick, and moving away from it all.

In fact yesterday, my good friend, Rob Soria of HometownHockey/FrozenInOil wrote a piece on that very idea. He mentioned the fact that the Oilers could use the pick to answer one or more of their bigger questions in the lineup. Below, I have listed 3 players that could be the very type of targets that Mr. Soria was referring to, as well as the exact type of "bold" moves that Craig MacTavish promised when he took over as GM over a year ago.


Kris Letang-


Okay, put the pitchforks down, and step away from your torches, folks. I know this is not the best way to start a blog about realistic trade targets, but hear me out for a second. Kris Letang signed his new deal last year with the Penguins that gives him a fancy NTC starting July 1st, and a hefty $7.25 million contract through 2022. It is because of these accessories that a new Penguins GM that already finds himself against the cap, would see him as a prime-movable target.

The Oilers would absolutely benefit from a guy like Letang who has spent his entire career in the Norris trophy conversation, but there are some risks associated with him. Everyone remembers that last year, at 26 years old, Letang suffered a stroke that took him out of the lineup for 2 months. As anyone familiar with strokes will tell you, the risk for them increases after the first one. The Oilers would be signing on for a potentially wild ride if God forbid something health-related were to once again keep him out of the lineup.

Of course, the Penguins are facing that as well, and it may allow them all the more reason to move on from the French-Canadian blue-liner. The fact is, with his health, his salary, and the promise of young and expensive talent on the horizon in the steel city, there will be less and less of a reason to keep Letang, and more and more of a priority to deal him.

So what would the Oilers have to give for Letang to make his debut at Rexall? Probably not as much as you may think. The Penguins will likely be looking to fill his spot on defence, acquire some more goal scoring, or maybe even some positioning in the draft. The other target could be one of the Oilers new goaltenders, Viktor Fasth or Ben Scrivens.

I, having no connections to either team other than my television and computer, would not be able to say what the Penguins would accept for Letang, or what the Oilers would even offer, but I can give an idea based on comments made by MacTavish regarding the state of the team. If MacT offered up Jeff Petry, the 3rd overall pick and a young prospective blue-liner like Brandon Davidson or a late round pick, to the penguins for Kris Letang, I would think the trade would benefit both sides enough to move forward.

One would think that the Penguins would be happy to select one of the 3 centers available to them, as they will be able to let them develop as well as learn from some of the best in the world. And Petry on a 2nd or 3rd pairing in Pittsburgh just seems to be a good fit. The prospective blue-liner/late pick would be up for debate, but the Pens, looking to add depth to defence, would benefit from it either way.
br>
Eric Staal-


Well, I see you have picked up the pitchforks again, let me explain. Carolina has had Staal in the lineup for the last decade, and in that time, only once has he played less than 70 games. Still they have seen the playoffs one time since beating the Oilers for the Cup in 06.

A consistent goal-scorer, and a guy who makes everyone else better around him, Staal would be able to sit in at the top line Center as Ryan Nugent-Hopkins grows as a player, or sit in at 2nd line center as he excels as an elite talent.

Staal has 2 years left on his contract, and looking at his production, there is a possibility that he will not be re-signed, if it continues to drop. The Hurricanes need to find success, they need some sort of help on defence, and they need more goal-scoring, even with a guy like Staal in the lineup.

Staal also has a NTC that he would have to waive in order to accept a trade, but being a Canadian boy who spent a lot of some of the best nights of his career in Edmonton may see himself as a missing piece on the roster. He has spoken fondly of the city, spent time visiting fellow players in the offseason, and I don't think it would be completely out of the question.

Of course, the other drawback facing a trade of Eric Staal is that his brother and fellow 2nd overall pick, Jordan, would be left behind on the Hurricanes roster. One would have to speculate that Jordan would directly benefit from this, however. Spending all last year shifting between the 2nd and 3rd lines, Jordan Staal would be given the opportunity to for the first time in his career be "the guy" on a NHL team, and his brother being traded may give him that opportunity.

As with Letang, it ultimately comes down to price. With Staal the asking price will be fairly high, and the Oilers would probably be forced to give up something that they may not have wanted to, but sticking with the notion that MacT wants to stick with his core group of young talent, this is the offer that makes sense for both sides (in my opinion). The Oilers send the 3rd overall pick in this draft, Martin Marincin, and more than likely a high pick in next year's draft (I would say a 2nd round, maybe even a first) in exchange for Staal.

I know that is a hefty price to pay for an aging veteran like Eric Staal, but for a guy that is a proven leader, goal-scorer and ideal teammate; the Oilers will have to pony up if they want to improve size and depth down the middle in such an emphatic way.


Kevin Shattenkirk-


This one has made the rounds in the media across the city, but I'm going to leave Berglund out of it. What would it take for the Oilers to get Kevin Shattenkirk, a quality NHL defenseman into an orange and blue sweater? Well, here are the pros. Shattenkirk does not have any sort of NTC or NMC, so a deal would be strictly up to the blues management. Shattenkirk is an offensive defenceman with hard shot and good vision, and he knows how to quarterback a powerplay successfully.

The cons would have to consistent of his $4.2 Million dollar cap hit over the next 4 years, and the asking price that St. Louis would likely pose for a deal to be made. As a long time believer that defence does in fact win hockey games, I would do everything in my power to bring a player like Shattenkirk in, without losing any of the current defensive core. But I'm not sure that would even be possible.

The deal that makes me think both sides would be able to benefit enough to agree would be: the 3rd overall pick and Martin Marincin for Kevin Shattenkirk. It gives the Blues an opportunity to draft a big bodied forward to round out the top 9, as well as young developing stud on defence. It frees up cap space so the Blues can get to re-signing guys like Patrick Berglund, and Vladamir Tarasenko, and It gives the Oilers an ever important top 2 defenceman that they can build around as the young defensive prospects continue to prepare for the NHL.

And there you have it, 3 players that would fit the "BOLD" description of moves that MacTavish promised Oilers fans and media 15 months ago, while also helping to fill some of the voids that this Oilers team needs to fill. These voids need to be addressed if they are to win games in the National Hockey League and quench the fans' thirst for success.

As always, feel free to disagree with me on twitter @Jthompson2380