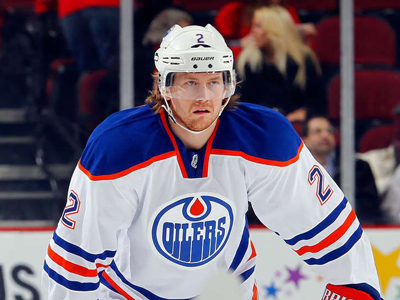 Edmonton - June 18, 2014 - With the both the NHL Entry Draft and Unrestricted Free Agency just around the corner, Edmonton Oilers general manager Craig MacTavish will have some very tough decisions to make over the next couple of weeks.

He will undoubtedly be trying his very best to improve this club for the upcoming 2014-15 season and you can bet his primary focus will be on the Oilers blueline.

While he may have hinted at the possibility of going "young" on the backend during his year end presser back in early April, in my mind, that was nothing more than a little window dressing in case he comes up empty-handed this summer.

If anyone honestly believes that either MacT or Dallas Eakins are comfortable going into next season with the quintet of Andrew Ference, Oscar Klefbom, Martin Marincin, Jeff Petry and Justin Schultz all seeing major minutes...you simply haven't been paying attention.

As they are currently structured, Edmonton has had one hell of time trying to get the puck out of their own end despite having four guys who have shown the ability to do exactly that. Now does some of that fall onto the shoulders of the coaching staff and their system play, as well as the forward who do little to help their D core out? You bet but there is one thing people seem to be forgetting...they simply are not very good.

As individual players they all have something to offer, no matter how many in the analytic community would like to have you believe that the likes of Ference, Schultz and whomever is in the #6 role are the issue. Problem is, much like their forward group, the collective unit is flawed. Of the five players already mentioned, how many of them are (A) defensively sound in their own end, (B) difficult for the opposition to play against or (C) capable of effectively eating major minutes game in and game out?

In my mind, on this team and being used in the manner they are, not one of those players could honestly check-off two of those boxes. Yet there are those who are calling for the second year GM to consider bringing Tom Gilbert back into the mix. Really? While the former Oiler may not be everyone's cup of tea, he has still managed to carve out a fairly solid NHL career for himself.

That said, how on earth does adding a player him to this group make any sense? Make no mistake, he is certainly an improvement on the likes of Anton Belov, Mark Fraser and Phillip Larsen but that doesn't make him a solid option in any way shape or form. Adding a carbon copy of Jeff Petry to this blueline would improve them on paper but it would accomplish little else. In perfect world, bringing in a stud defenceman would be fantastic but in reality, it appears unlikely. As disappointing as they may be to stomach, bringing in another vanilla player in hopes of finding lightning in bottle isn't the way to go.

Now going big-game hunting via the UFA market may not be the way to go either but I would much rather see the Oilers general manager offer the likes of Dan Boyle or Andrei Markov a gross overpay on a two year deal as opposed to going out and grabbing a Gilbert. While both are past their prime, either one would instantly improve Edmonton's power play and give Eakins a legit twenty-minute a night option on the backend and in the case of Markov, it is more like a twenty-five minute a night option.

Rumour has it the long-time Montreal Canadiens rearguard is searching for a three year deal in the neighbourhood of $18 million, which could turn off more than a few potential suitors for the soon to be thirty-six year old. While the term wouldn't make much sense for the Oilers, if it makes sense from a cap standpoint, what is to stop MacTavish from offering up a two year deal in the $15-$16 million dollar range?

If Markov were committed to coming to Edmonton and helping this team take the next step in their development, it should turn out to be a win-win for everyone involved. The player would get his money, the team would get the veteran presence they so desperately need on the backend and if the Oilers aren't where they hope to be by the Trade Deadline of 2015-16, they move veteran blueliner to a contender to give him a shot at the Stanley Cup and get an asset in return to boot.

Same goes for Boyle, though the fact he will be turning thirty-eight in less than month would likely make him even less of a candidate to sign with a team like Edmonton. With that said, doesn't mean you don't take a serious run at him if a potential deal with Markov isn't in the cards. While there may not be a ton of viable options out there that could impact this roster, there are a few.

New York Rangers defenceman Anton Stralman has become the "target of the day" for many in the blogging world but considering there will be more than a few teams willing to pony up to sign the soon to be twenty-eight year old, throwing major coin and term at a guy who brings next to no offence to the table wouldn't be the smartest of moves for a team like the Oilers...who would undoubtedly feed him top pairing minutes in a role he is ill-equipped to cope with, which is something this organization tends to do on a far too many occasions.

If Craig MacTavish can't find that true #1 defenceman than he had better bring in someone who can add something to what he already has in place and not just more of the same. In case you haven't noticed, the same old song and dance isn't working. The time for hoping marginal bets pan out has to be a thing of the past or this team will accomplish nothing more than fighting to stay out of the Western Conference basement.