| | |
| --- | --- |
| | |
Oilers: Nikitin would help but it has to make sense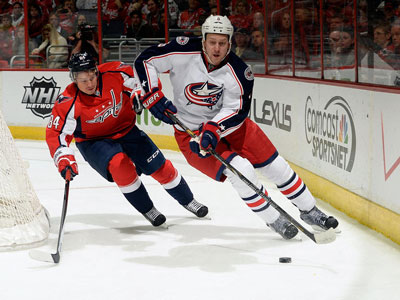 Edmonton - June 20, 2014 - When news broke of the Edmonton Oilers obtaining the rights of Columbus Blue Jackets defenceman Nikita Nikitin the two words that immediately came to mind were "how long".

Clearly the Oilers have interest in signing the player but at what cost? After all, we are talking about a third pairing guy who would likely be asked to play top four minutes along Dallas Eakins' blueline in 2014-15.

That's right, another player being asked to likely take on more minutes than he should but one who could probably handle the role of a #4 in the short term...should general manager Craig MacTavish be able to acquire a legitimate top pairing guy over the course of the summer.

While Nikitin would definitely help the Oilers backend it doesn't necessarily make him a lock to get a long term deal out of the organization.

With unrestricted free agency staring the twenty-eight year-old squarely in the face and an paper thin UFA market for defencemen, this would be the time for him to cash in. With that said, if Edmonton is serious about inking him to a deal prior to July 1st, it is going to likely cost them somewhere in the neighbourhood of $3 - $4 million a season over a three or four year term.

Coming off a two year pact that saw him earn $2.1 million, you can expect the towering Russian defender would be looking for a healthy increase. The fact he stands 6' 4" tall and weighs 225 pounds, can play both sides on the blueline and continues to be a solid puckmover are all positives in his favour. However, there are a couple of red flags when it comes to the former fifth round pick of the St. Louis Blues.

Nikitin has rarely used his big frame to his advantage during his four years in the National Hockey League and has seen his ice-time gradually decrease over the last couple of seasons in Columbus. He averaged just seventeen minutes a night in 2013-14 and saw his time on special teams drastically cutback. Not exactly good signs but Edmonton's backend is nowhere near as good as the Blue Jackets.

With Andrew Ference already set to make $3.4 million over each of the next three seasons, perhaps giving a lengthy extension to a player who is ultimately another third pairing defenceman may not be the smartest route for this organization to go. The Edmonton Oilers obviously need to improve their backend and the idea of bringing in a guy like Nikita Nikitin is all well and good but it has to make to make sense.


3,468 Stories & Growing Daily...

To date HometownHockey.ca has posted a total of 3,468 hockey stories!

Be sure to check out our Columnists archives or, why not Contribute a Story yourself!



HometownHockey.ca

offers a very generous revenue sharing opportunity for our Columnists. If you are interested in learning more details about writing for us, please send us an

EMAIL.
The Greatest Edmonton Oilers of All Time