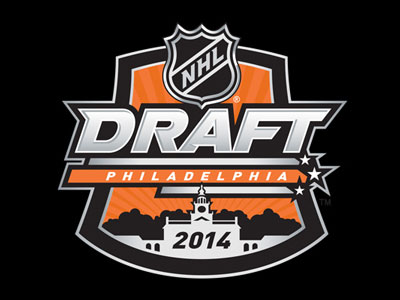 Edmonton - June 26, 2014 - With the 2014 NHL Entry Draft set to go tomorrow night in Philadelphia, myself and fellow Frozen In Oil contributor, the one and only, Beer League Hero decided to put our heads together and take a stab at this Mock Draft thing.

Difference being, our picks are not based on who we think the thirty NHL teams will actually take on Friday night but rather who we would want if we were running the show in each of those markets.

While there are no right or wrong answers, putting together our lists was far more difficult than either of us had anticipated it would be. With that said, here is what we came up with and fans of the Edmonton Oilers likely won't be surprised with who we selected with third overall selection.


1. Florida Panthers

Beer: Aaron Ekblad (D) -This team has got tons of young depth down the middle at center and their defense is lacking an Aaron Ekblad type. Size, maturity, and a right-handed monster of a slap shot give the panthers exactly what they could use. A Gudbranson/Ekblad pairing is frightening.

Oil Drop: Ekblad – In my mind, the Barrie Colts blueliner is too hard to pass up on in a draft where no forward stands out as a clear-cut first overall pick. While many were going on about Florida's need for another forward following the NHL Draft Lottery, I continue to stand by my original stance of Ekblad being an obvious choice for the Panthers. Book it.

2. Buffalo Sabres

Beer: Sam Reinhart (C) -Here's a team that could use a jump start in the scoring department. Sam Reinhart is the one that will provide it for them until Connor McDavid or Jack Eichel arrive... He'll improve the Sabres in all facets of the game. His superhuman IQ and competitiveness are off the charts and if he does move to the wing as some have suggested, the Sabres could double their goals for in a very short amount of time.

Oil Drop: Reinhart – Word is Sabres GM Tim Murray is big on Sam Bennett but my guess is come Draft Day, Buffalo will take Mr. Reinhart at #2. For me, he is the best offensive player in the draft and as Beer has already eluded to…his intangibles are simply off the charts.

3. Edmonton Oilers

Beer: Leon Draisaitl (C) - Well Ekblad is gone, so might as well go with size down the middle. Neon Leon will be selected by Oilers GM Craig MacTavish because they can't keep adding undersized players in the 1st round. It's time to add some size to that top 6! Draisaitl is the real deal. He's a dominant force in the WHL and widely considered to be physically mature enough to play in the NHL next season. Lastly, Yakupov needs someone to create space and pass him the puck... God knows Perron won't.

Oil Drop: Draisaitl – While I was originally not high on the idea of Edmonton taking the big Prince Albert Raiders centre with their first round pick, my stance has softened over the last number of weeks. Edmonton is loaded with smaller talented bodies upfront but are unwilling to move any of them to help address other needs on the roster. With that being the case, they have no choice but to take a run at the highly-skilled German and hope he pans out. His talent is obvious but can we please lay off the Anze Kopitar / Joe Thornton comparisons?

4. Calgary Flames

Beer: Sam Bennett (C) - It's gonna get ugly in the Battle of Alberta. Bennett's truculence and Toews-like game will have Burke and Treviling licking their chops if he's still available at #4. If the Flames are lucky enough to grab Bennett, he'll be revered in Calgary.

Oil Drop: Bennett – This is what makes the Draisaitl pick such risk for the Oilers. Of all the teams the kid they pass up on could have gone to, the Flames are without a doubt the worst possible destination for him. The long-term combination of Bennett and Sean Monahan should give Calgary a solid 1-2 punch down the middle for years to come.

5. New York Islanders

Beer: Michael Dal Colle (LW) - Dal Colle is the LW that the Islanders covet. I'm not sure if Anders Lee is going to cut in as 1st line LW next year. He's a clutch performer as illustrated in the OHL playoffs this past season with 20 points in 12 games. He'd fit in well on a line with Ryan Strome and John Tavares one day... Highly skilled big man. A Finisher.

Oil Drop: Dal Colle – Has all the necessary tools to be among the very best power forwards in the league for years to come. Could potentially turnout to be the best goal-scorer in the entire draft and playing alongside Mr. Tavares…the sky truly is the limit. Too bad the Islanders will be trading the pick away and ultimately get nothing out of both the 2014 and 2015 drafts.

6. Vancouver Canucks

Beer: William Nylander (RW) - Skills to Thrill. Nylander is considered the highest skill player available in the draft. A Patrick Kane type if you would or someone a bit more realistic might be Mikael Granlund. He plays all forward positions in dynamic fashion but prefers center.

Oil Drop: Brendan Perlini (LW) – Time to change things up!!! When it comes to your big hulking forward, much of the hype heading into Friday night is on Peterborough Petes' winger Nick Ritchie, the Canucks would be wise to ignore that and instead turn their attention towards Perlini. By all accounts, the two are very similar players but the Niagara IceDogs forward is far better away from the puck, is more responsible in his own end of the rink and skates extremely well for a big man...that pretty much seals it for me.

7. Carolina Hurricanes

Beer: Nick Ritchie (LW) - This big fella can move and he's quite a good puck handler. If the situation calls for it, he'll also use his hands to mash the opponents face in. Ritchie is a prototypical power forward and the Hurricanes are in dire need of a player with Ritchie's skill set on the wing.

Oil Drop: Nikolaj Ehlers (LW) – The talented Dane is the real deal and in the right situation, could turn into a star in this league. Coming off a 49 goal and 105 point campaign in what was his debut season with the Halifax Mooseheads in the QMJHL, Ehlers sky rocketed up the rankings and for my money…would make a perfect running mate for a guy like Eric Staal.

8. Toronto Maple Leafs

Beer: Ehlers - When's the last time the Leafs had this kind of skill and speed? Someone that could bring the fans out of their seat? It has been said Ehlers has got Pavel Bure-like speed and Patrick Kane-like hands in tight spaces.

Oil Drop: Hayden Fleury (D) – When it comes to the Maple Leafs, many seem to believe they need to draft a centre but with the big three off the table, upgrading the backend would be the way to go and Fleury is a solid pick. The Rebels blueliner can do it all, though he probably won't be a high-end point producer at the NHL level. However, what he will likely morph into is a #2 D man that can move the puck very effectively, skate extremely well, chip in offensively and play a shutdown style game in his own end of the rink.

9. Winnipeg Jets

Beer: Kasperi Kapanen (RW) - The Jets are lacking in high skill prospects and there's no way Kapanen would be ready for the NHL for at least 2 seasons. He's a wonderful puck handler with a lightning fast release on his wrist shot. Has above average speed and skating. Not only that he's defensively responsible.

Oil Drop: Nylander – The son of long-time NHLer Michael Nylander, is viewed by many as the most gifted player and would be a perfect fit on a team like the Jets. The limitations in his game are what you might expect – small in stature and lack of defensive awareness - but his talent is superb. Winnipeg could be the perfect fit for both the player and organization. .

10. Anaheim Ducks (via Ottawa Senators)

Beer: Perlini - Perlini is a sniper in the purest sense of the word. He knows where to position himself in order to get the best chance at scoring a goal. He's got the size and ability to protect the puck and he possesses an elite shot. Setting him up on the left wall with Ryan Getzlaf as center could be a recipe for goals galore.

Oil Drop: Ritchie – I agree whole heartedly with Beer, problem being, in my world Perlini is already gone so the Ducks well have to settle for Ritchie. In all honesty, having a guy like Getzlaf around to pattern his game after will likely do the kid a world of good and make him a better player. Another good fit for both parties.

11. Nashville Predators

Beer: Jake Virtanen (RW) - If he could get the mental aspect of his game to about where Jarome Iginla plays... He'll be a key piece in the Predators cog for some time. He's the best skater, has the best shot and could be the toughest fighter to boot.

Oil Drop: Adrian Kempe (LW) – The big Swede plays a solid two-way game and has absolutely no issue with engaging physically on regular basis. Kempe willingly goes to the dirty areas on the ice and will do whatever necessary to help his team win hockey games. Would be a very nice addition for the Preds.

12. Arizona Coyotes

Beer: Dylan Larkin (LW) - (Playing Style Comparable: Ryan Kesler) "Fearless" is how Larkin is described by scouts. He's a few inches short of being considered a power forward but he sure plays it. Has incredible work ethic, determination and grit and with Shane Doan sure to retire in the near future, Dylan Larkin could surely step in and fill that void for the Coyotes.

Oil Drop: Vladislav Kamenev (C) – Another talented two-way European centre with good size and skill but the fact he is Russian will undoubtedly turn certain organizations off. However, for a team like the Coyotes who generally tend to struggle to put pucks in the opposing teams net and with not a whole hell of lot coming down the ol' production line, adding a gifted and responsible centre into the mix would be an absolute godsend.

13. Washington Capitals

Beer: Fleury - (Playing Style Comparable: Jay Bouwmeester) His skating is so smooth and he's so fast. Mike Green is going to be on his way if not this season then definitely next and Washington will be looking for an offensive puck moving defenceman, it will be Hadyn Fleury. He'll quarterback the Caps PP for years.

Oil Drop: Travis Sanheim (D) – With the Caps starving for more help on D and the kid who has quite likely been the biggest raiser in this year's rankings sitting there for the taking, it seems like a match made in heaven. Not many have this kid going this high but he could end up being the steal of the draft when it comes to defencemen.

14. Dallas Stars

Beer: Robby Fabbri (C) - The Stars are becoming one of those teams everyone hates playing against. Their top line of Benn-Seguin-Nichuskin is top notch while the supporting cast is full of skilled buzz saws. Robby Fabbri would fit in perfectly will this group and in my opinion would jump to the top of the Stars' prospect cupboard in terms of skill.

Oil Drop: Virtanen – Most seem to think the Hitmen winger is a lock to go in the top ten and they are probably right but he is a little lower on my list. The kid can do it all and plays a mean game to boot. Coming into a situation with the likes of Jamie Benn already in place and established should allow him to come in and not try and be the hero.

15. Detroit Red Wings

Beer: Kevin Fiala (LW) - (Playing Style Comparable: Henrik Zetterberg) The Red Wings are renown for the patient development of their prospects. Fiala's hands are silky smooth and his passing is pin point. He's got speed to burn and can turn on a dime. His defensive game is lacking but Detroit will no doubt change that and in return, they'll have the Swiss Zetterberg plying his trade on the LW for years to come.

Oil Drop: Larkin – From a Red Wings stand point this would be a dream pick. Some see Larkin going higher but I think he will still be around for his hometown team to pick him up. Has that never say die attitude with the ability to be a difference maker on the scoresheet. Probably won't end up being a 1st line guy but will be one hell of a second line player.

16. Columbus Blue Jackets

Beer: Alex Tuch (RW) - His name rhymes with Truck and goodness me, he's a truck of a player. Big frame, big reach, big shot. Tuch has been described by scouts as a complimentary player letting his more creative teammates set up the play whilst he finishes it, usually in the slot or around the goalmouth. The lack of a high end scoring winger in the Columbus system makes this a no-brainer for the Blue Jackets.

Oil Drop: Fiala – Yet another highly skilled European forward with good speed and a nose for the net. While he may be a little on the smallish side and need a map at times in his own end, his talent is undeniable and would be a welcomed addition to the Blue Jackets prospect cupboard.

17. Philadelphia Flyers

Beer: Thatcher Demko (G) - (Playing Style Comparable - Cory Schneider) Plain and simple, Philadelphia do not have a goalie in the system that's worthy of a future spot in the NHL. New Flyers GM Ron Hextall (and former Conn Smythe winning goalie) will go a little off the board to address a hole in their pipeline that desperately needs to be filled.

Oil Drop: Kapanen – Is apparently on par with Reinhart when it comes to his overall hockey sense and while he may not be on the same level as a scorer, the talented Finn has shown the capability to produce when his teams need it most. Is comfortable playing in all situations and on a team like the Flyers, his smallish frame will not be an issue.

18. Minnesota Wild

Beer: Jared McCann (C) - Barring injury or trade, the top 6 in Minnesota is forged in steel. I believe they'll be looking to solidify their bottom 6. McCann can offer a solid two-way game as a 2C or 3C. He's not electrifying like Sonny Milano or Josh Ho-Sang but he's effective at both ends of the ice. He thrives in a shut-down role for the Sault Ste. Marie Greyhounds of the OHL and he's the owner of probably the most accurate shot in the draft.

Oil Drop: Sonny Milano (LW) – Another impressive young American forward with a ton of skill and a sick set of hands around the net. Seems like a decent fit for the Wild, as they continue to stockpile talent upfront.

19. Tampa Bay Lightning

Beer: Roland McKeown (D) - Tampa is chalked full of prospects at every position but their depth on the blue line is the weakest. McKeown is a great all-round dman. He does a lot of things great but not amazing. Amongst the things he does great is his skating, his ability to read the play and his first pass.

Oil Drop: McCann – Don't see the same sort of offensive upside that some do but it is the rest of his game that makes McCann a can't miss prospect. Be it as a #2 or #3 centre, this kid is going to be a real useful NHL player for years to come and one that opposing teams are going to wish they had on their side.

20. San Jose Sharks

Beer: David Pastrnak (RW) - Flash and dash! Pastrnak would join Tomas Hertl as the future of the Sharks offense likely flanking either Logan Couture or Joe Pavelski. The Sharks are lacking in high end skill and this young Czech has got skill in spades. Pastrnak has a big shot off the wing and he's a very creative playmaker. A shifty and agile winger who loves to take defenders head on.

Oil Drop: Anthony DeAngelo (D) – He is definitely going to be a bit of a project in his own end of the ice but his offensive talent is undeniable. DeAngelo has seen his point totals increase during his three years in Sarnia from 23 to 58 to last year's total of 71 in just fifty-one games. Is an excellent skater and moves the puck with ease.

21. St. Louis Blues

Beer: Nikita Scherbak (LW) - The left wing depth coming down the pipeline in St.Louis is dreadful and needs a name. A big bodied highly skilled Russian playing out of Saskatoon, Scherbak has great hands and has the ability to make great passes under pressure. He possesses the power to hold onto the puck and the stick handling skills to take the puck into traffic.

Oil Drop: Scherbak – After agreeing on the first five picks of the draft, the two of us decided to go in different directions…until now. The Russian winger is the perfect fit for the Blues.

22. Pittsburgh Penguins

Beer: Jakub Vrana (W) - The Pens need major help on the wings. They rely on Crosby and Malkin for the offense and with Kunitz not far from retirement, James Neal apparently on his way out, Jussi Jokinen a free agent and Pascal Dupuis coming off of major knee surgery, scoring on the wing is the sole job of Beau Bennett. Eeeeesh! Enter Jakub Vrana. He's got the sniper's touch. He'll do whatever it takes to get a goal.

Oil Drop: Vrana – Mr. Beer League Hero hit the mark yet again!!!

23. Colorado Avalanche

Beer: Eric Cornel (C) - Colorado could use some beefing up in it's forward prospect corps. Cornel plays both wing and center and he's able to take care of both ends of the rink. He's a wonderful passer with great acceleration and top end speed. The Peterborough Pete has excellent anticipation and zonal awareness that would best be served alongside a Nathan MacKinnon-type player.

Oil Drop: Ivan Barbashev (C) – Has all the necessary tools to be the perfect complimentary piece to an Avs lineup that is stacked upfront. Barbashev is sound away from the puck and in his own end of the rink, though his play making abilities will be his calling card at the NHL level.

24. Anaheim Ducks

Beer: Kamenev - For the Ducks 2nd pick in the first round, they can afford to take a risk on a player that could turn out to reward them greatly. Vladislav Kamenev is a playmaking center playing out of Metallurg Magnitogorsk in the KHL. He's already physically mature and is the owner of a complete game. He's more known for his passing abilities and hockey sense in both zones.

Oil Drop: Pastrnak – There is no denying this kid's talent but the fact he still weighs under 170 pounds will keep him from going higher in the draft. That said, the Ducks are a team that could definitely use his skill-set and keep him from getting killed at the same time.

25. Boston Bruins

Beer: Nikolai Goldobin (RW) - The Bruins have a cupboard full of those hard-nosed two way forwards but not enough skillers. At the moment Brad Marchand and David Krejci are holding down the fort in the skill department. Adding Goldobin to the Bruins roster would up the quotient a tad. Consistency issues aside, the young Russian is an outstanding playmaker with a penchant for the no-look pass.

Oil Drop: Fabbri – He was simply fantastic for the Guelph Storm this season but like Pastrnak, his tiny frame doesn't generally translate into a successful NHL career. However, the Bruins are a team where a kid like Fabbri could excel and his willingness to play a little dirty would make him an instant hit in good ol' Beantown

26. Montreal Canadiens

Beer: Barbashev - The Habs are not getting bigger at forward anytime soon. Barbeshev (6'1" 190lbs) would add a gritty North American game to the Canadiens forward group. He's not flashy but he's versatile and has a pro-level shot. He would add more sandpaper and defensive responsibility to a team that could surely use it.

Oil Drop: Tuch – The Canadiens badly need to add some size to their forward ranks, making Tuch the perfect guy to take a flyer on at #26. Most have the hulking winger pegged as a top twenty pick but the chances of all these "big guys" panning out into quality NHLers seems iffy at best.

27. Chicago Blackhawks

Beer: Connor Bleackley (C) - Bleackley will not be known for his scoring abilities in Chicago. He's a warrior through and through. Not sure if you'll notice him a lot during the regular season but surely he'll be front and center in the playoffs. A very Don Cherry-like player. He keeps it simple and is possibly the best board player in the draft.

Oil Drop: Alex Nedeljkovic (G) – While he may not be the 6' 4" netminder scouts tend to drool over, Nedeljkovic is the real deal. The American puckstopper is fundamentally sound from a technical standpoint and rarely if ever gets rattled. With Corey Crawford and Antti Raanta currently in the Windy City, Chicago could take their time developing him into their goalie of the future.

28. Tampa Bay Lightning (via New York Rangers)

Beer: Julius Honka (D) - He's a smooth skater with great playmaking skills. He's most effective on the PP where he is afforded the patience to distribute the puck at will. He's not a physical defender nor does he have a lot of intensity but he's got hockey sense, patience, poise and he reads the play well.

Oil Drop: Honka - With their second pick of the first round and a forward already in their back pocket, targeting the offensively gifted Finnish blueliner. Could be stretch as a regular even strength guy but there is nothing wrong with having a power play specialist in today's game.

29. Los Angeles Kings

Beer: Kempe - He's a battler and won't shy away from an after-the-whistle scrum. In fact, he's more likely to start it. With that said, he's no 4th line plugger. He plays a strong two-way game and uses his strength to protect the puck down low in order to create time to make an effective pass. The Kings could use a player like Kempe as their depth at center apart from the pro team is waning.

Oil Drop:Brayden Point (C) – The chances he actually goes inside the first round are slim to none but for my money, the Moose Jaw Warriors centre would be worth taking a flyer on for the Stanley Cup champs. While he may be tiny in stature, Point does everything well and simply refuses to give up.

30. New Jersey Devils

Beer: Brendan Lemieux (LW) - An agitator and a buzz saw on the ice. He's at his best when the game means the most. He's hard-nosed and loves the physical game. Lemieux has a good shot in tight and the determination to do what it takes to get a goal. New Jersey would greatly benefit from a player like Brendan Lemieux in that they literally have no one that plays the type of game Lemieux does.

Oil Drop: Nick Schmaltz (C) – He may be small but this guy has New Jersey Devil written all over him.