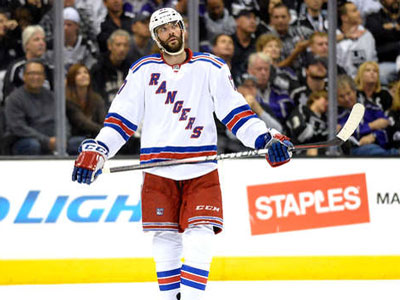 Edmonton - July 2, 2014 - Edmonton Oilers general manager Craig MacTavish wasted little time in making his mark during the opening day of the NHL's annual Free Agent Frenzy, inking former New Jersey Devils blueliner Mark Fayne and New York Rangers winger Benoit Pouliot to long-term extensions, as well as depth defenceman Keith Aulie to a one year pact.

While all three moves added depth to the Oilers current roster, MacT has yet to make a move that will truly impact the top half of this lineup.

Just like Nikita Nikitin and Teddy Purcell before them, neither Fayne nor Pouliot are a top pairing defenceman or top six forward but could very well be employed as such by head coach Dallas Eakins during the upcoming 2014-15 campaign.

As far as the Oilers blueline goes, I wrote a piece less than a week ago about their current predicament coming to fruition, see here, and absolutely nothing has changed. Fayne is a good defenceman and definitely an upgrade on what Edmonton threw over the boards in 2013-14 but the situation remains the same…too many guys playing in situations they are ill-suited for.

There is little doubt that Eakins will be expecting Fayne to take on major minutes, despite receiving the sixth most minutes in ice-time among New Jersey defencemen last season…both at even strength and overall time on ice. So he can't consistently crack the top four on a non-playoff team in the Eastern Conference but will be expected to take on an even bigger role in the Alberta capital.

When you add that to Nikitin already being pencilled in as a second pairing guy come next October and it is truly just more of the same. The blueline by committee approach rarely if ever works in the National Hockey League and it has already failed miserably in Edmonton for the last number of years. Again, make no mistake…as a collective group the backend will be better but all these moves will accomplish is lightening the load on the likes of Jeff Petry and Justin Schultz.

While that clearly isn't a bad thing, the fact none of the four guys mentioned are any better than #4 defencemen is major issue. Sharing the load is all well and good but if you don't have the horses, you don't have the horses...regardless of how the organization trys to dress it up.

In Pouliot's case, he was a player the Oilers apparently had on their short list heading into July 1st and one they badly overpaid for. That said, unrestricted free agency and overspending go hand and hand and MacT sure did his part in handing over a five year $20 million deal to the former fourth overall pick.

While the twenty-seven year old is coming off a rather solid 2013-14 campaign with the New York Rangers, in which he scored 15 goals and collected another 21 assists in a third line role for Alan Vigneault, one can't help but wonder if coughing up $4 million a year for a bottom six forward was the wisest of decisions.

The former Minnesota Wild draftee is certainly the sort of player the Oilers were hoping to add to their forward group, an established bigger bodied player who is better suited to play lower in the lineup but with the ability to chip in from time to time on offence. While he may be a near perfect fit as a depth forward, at that ticket and term...he is nothing of the sort.

Now Pouliot may be asked to occasionally play up in the lineup as a top six forward but just like Purcell, unless it is a short-term injury replacement, neither one should really be used in that role. Could that pair make-up two-thirds of a rather solid, albeit it an expensive, third line? Certainly but as of this moment, the Oilers GM has done nothing to change the mix or improve his top two lines.

Showing Sam Gagner the door was the right move for the organization to make and my guess is MacTavish will bring someone in prior to the start of next season but will that one move ultimately be enough to make a difference? Especially when all signs are pointing to them likely starting the year with Purcell and his $4.2 million ticket inside the top six and Nail Yakupov seeing third line duty, quite possibly with Pouliot and youngster Leon Draisaitl.

The hope may be to create better scoring balance throughout the top three lines but unless they are bringing in a big second line centre, which seems highly unlikely, the issue upfront remains the same...too much of the same thing upfront. Combine that with a mediocre backend and so-so goaltending and this lineup is still far short from where it needs to be.

The roster is definitely improved but until we see one of those so-called "bold moves" it won't make much of a difference in a Western Conference that got that much better on July 1st.