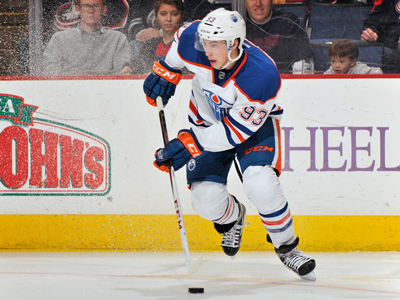 Edmonton - July 3, 2014 - As of this moment, it is clear to everyone the Edmonton Oilers are absent a second line centre, unless of course you are one of those souls who have fooled yourself into believing Mark Arcobello could fill the role on a short-term basis.

With all of the so-called big names on the free agent having already signed elsewhere, the chances of Craig MacTavish going out and finding a legit number two centre to play behind Ryan Nugent-Hopkins, be it via trade or free agency, seems to be highly unlikely.

That doesn't mean the Oilers general manager won't do his absolute best to try and address it without giving up anything of real value but at the end of the day, it has to make sense for the organization both in the short and long term. While he could certainly move the likes of a Jeff Petry in an attempt to shore up the club's needs upfront, the probable return for the American blueliner in any sort of one-for-one swap would make any such deal a foolish one to even consider.

MacTavish might still be able to go out and sign David Legwand but the longtime Nashville Predators pivot is likely no longer capable of handling top six minutes on a regular basis and his lack of foot speed is major red flag. His frame and veteran presence would be a welcome addition to the Oilers lineup but it would have to be in a bottom six role playing opposite Boyd Gordon and that is not the sort of money he is looking for.

Then there is good ol' Mike Ribeiro. Despite having what could only be described as a disastrous season in 2013-14, the thirty-four old has done nothing but produce points for much of his NHL career. He has proven time and time again to be capable of putting up 60 plus point seasons but has been an issue in more than a couple of dressing rooms across the league, the latest being in Phoenix with the Coyotes.

There is no question Ribeiro still possess top six skill and plays with the edge that is currently absent among the Oilers top young forwards but his track record for a being "a problem" has made him far less desirable for many a general manager. That said, if he hasn't found work by the end of the month…a team may be able to sign him to a one year deal for next to nothing.

Is that a risk Edmonton would be willing to take with their young impressionable roster? My guess is no, which would leave MacT with only one viable option and that is to make a trade. If the "right" opportunity presented itself, would he not seriously consider moving one of Petry, Martin Marincin or to a lesser degree Oscar Klefbom to acquire a centre?

At this stage of the game, you would have to say no. In my mind, the aforementioned players could all be in play in any potential move but it would have to be in a deal that would improve the blueline…not to bring another centre on board. Just think about it for a minute and it becomes rather obvious.

If this organization truly wanted a clear-cut #2 centre, they would have picked one up by now. Does anyone honestly believe for minute that the Oilers didn't contact Mikhail Grabovski or even Paul Stastny about coming to Edmonton? Obviously they were not fans of the term and/or money and decided to pass, though Stastny was never going to sign here without being wheeled over a boatload of cash.

As things currently sit, this management team has no interest in bringing in someone they feel will be their third line centre in 2015-16 and pay them obscene money to do so. They are sold on Leon Draisaitl being their guy and are banking he will be ready to help RNH do all that heavy lifting in about fifteen months' time.

By the time next October rolls around, Craig MacTavish will have brought someone in to play second line centre and help the Edmonton Oilers limp through what will most certainly be another difficult season in 2014-15 but the chances of that player being anything other than a stop-gap solution for one year is absolutely zero.