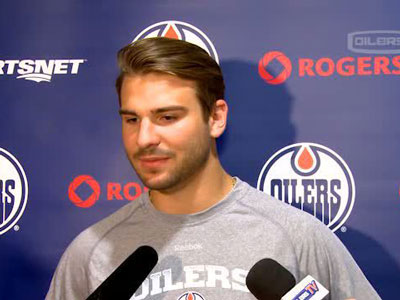 Edmonton - July 21, 2014 - When the Edmonton Oilers decided to use their second round pick of the 2012 NHL Entry Draft on Edmonton Oil Kings forward Mitch Moroz, it left many an Oiler fan scratching their head.

While no one should have been surprised to see the club take a chance on one of their so-called "homegrown" talents, the fact the organization used the thirty-second overall selection to grab the native of Calgary, Alberta is what confused so many.

There is no question Edmonton called his name far sooner than anyone had anticipated, as he was ranked seventy-second by Central Scouting heading into the draft, that can't be held against the player.

While the organization may have blundered in taking him when they did, the fact remains the kid has a shot at turning into a NHL player. That said, fans who are expecting to see the twenty-year old work his way into the Oilers lineup over the next couple of years are kidding themselves.

While Moroz showed the ability to put the puck in the net while playing a rather abrasive style during his time with the Oil Kings, the chances of him being able to have similar success during his first year in the American Hockey League isn't realistic. Players who play the game in the manner he has during his three years in the Western Hockey League, generally need more than a little bit of time to adjust to the pro game. It is one thing to go out and bang bodies in the WHL but quite another to try and do the same thing against fully grown men in the AHL.

Also, let's not forget he still needs to improve on his consistency with his overall game and his skating and those are things that simply don't happen over night. In all honesty, Moroz is likely going to need at least two full seasons in Oklahoma City before he has any shot of seeing any sort of time with the big club and yet some fans are already starting to talk about the Oilers using him by the end of the coming season and being a potential regular as early as 2015-16 campaign.

Anyone who watched Moroz with any sort of regularity during his time with the Oil Kings is well aware of the fact he is nowhere near ready for the National Hockey League. Why on earth people are in this rush to get more kids into Edmonton's lineup is beyond me. Bringing in the likes of Boyd Gordon, Matt Hendricks, Benoit Pouliot and Teddy Purcell over the last year were moves that were not only made to help improve their current roster but also keep the organization from rushing guys into the NHL.

While some will look at Tyler Pitlick and think the former thirty-first overall selection as nothing more than a wasted pick, if he becomes a regular in 2014-15 does it really matter that it took him an extra year or two to make it to the show? In my mind it doesn't and when it comes to the Oilers and their current prospect pool, patience has to become the word of the day. There is absolutely no rush to get any of these kids into the National Hockey League and that includes Leon Draisaitl.

Give these kids time to develop and you just might see a guy like Mitch Moroz turn into a solid bottom six NHL forward in three or four years' time. While there is no guarantee that will happen, putting him in a position to do exactly that is what this organization needs to do and fans need to keep their expectations in check. Having a player that is both hungry and ready to carve out his niche at the age of twenty-three or twenty-four years of age is fine by me.