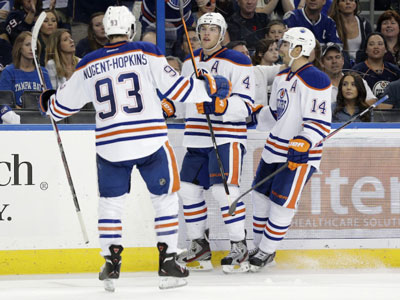 Edmonton - September 16, 2014 - With the Edmonton Oilers annual trip to Penticton and the Young Stars Tournament now in the books, the focus will shift to the start of their National Hockey League Training Camp. Come Friday morning/afternoon we will all get our first on ice look of what many are hoping will be a playoff team in 2014-15.

While we will see the likes of Greg Chase, Leon Draisaitl, Jujhar Khaira, Mitch Moroz, Darnell Nurse, Vladimir Tkachev and Bogdan Yakimov stick around for most if not all of camp, the former Prince Albert Raiders centre appears to be the only one with a real shot of making the big club to start the year....though Yakimov may give him a run for his money.

On a team which is already littered with a ton of kids in key roles, having none of the above start the year in Edmonton would be ideal but the chances of that happening are almost nil. We can all debate on just how big a role Draisaitl may or may not play but at the end of the day, his impact in the grand scheme of things will probably be minimal at best during his first season in the NHL.

Despite this roster still having more than a couple of glaring holes, the pressure will now squarely fall on the trio of Jordan Eberle, Taylor Hall and Ryan Nugent-Hopkins to carry this team to the promise land. Be it right or wrong, the time has come for the young core of this roster to carry the load and they will need to deliver from the moment the puck is dropped on the 2014-15 campaign.

Problem being, the roster general manager Craig MacTavish has put together is still lacking proven NHL talent upfront to help these kids along. The additions of Benoit Pouliot and Teddy Purcell will allow head coach Dallas Eakins to round out his top nine with the names already mentioned and those of David Perron and Nail Yakupov but is that truly enough? Not sure about all of you but in mind they still have a fair bit of work to do.

The Oilers current group of centres are frankly laughable, while their depth on the wing is easily the best we have seen since 2006. With that said, is there any chance of this coaching staff constructing a first and second line that could handle their own over the course of an 82 game schedule? Think about that for second and answer is painfully obvious.

Hall will take another step in his overall development and likely push the ninety point mark and despite being asked to take on what will probably turn out to be just a ridiculous workload, Nugent-Hopkins should also start showing signs of becoming the player many thought he could be when the organization selected him with the first overall pick of the 2011 NHL Entry Draft. Eberle will continue to be a 25-30 goal guy at the absolute worst and if given the chance, Yakupov probably rebounds nicely from what was a disastrous sophomore campaign.

All positive signs but not necessarily enough to see the club's total in the win column grow to the extent it needs to for this team to have any hope of reaching the post-season.In all honesty, expecting this group to push for a potential playoff spot seems like one heck of a stretch. The may have a nice group of talent inside their top nine but it is not necessarily a mix that will produce three solid NHL-calibre units.

By the sounds of it, the plan is to go with three scoring lines and a fourth that will be asked do take on much of the dirty work in their own end. While the idea of building a so-called "soft minutes" line is all well and good, the reality of the situation is it would be almost unusable on the road and possibly become a hindrance on home ice. The only way that sort setup works, is if you have two lines that can go toe-to-toe with elite level competition at both end of the ice.

One could argue, Edmonton might still struggle to even have one of those on a game to game basis but they sure as heck won't have two. Even if they were to leave Eberle, Hall and RNH together, does a potential trio of Mark Arcobello, Perron and one of Pouliot or Purcell excite anyone? One thing I do know is it sure won't scare any of the opposing teams they will be facing. Now they could go the route of using Arcobello and Perron with Yakupov and insulate Draisaitl with a pair of vets in Pouliot and Purcell but in my opinion, both of those units look like solid candidates for the aforementioned "soft minutes" line.

Again, the overall forward depth is better but it still missing the necessary pieces to help the kids do the heavy-lifting. While the Oilers defence looks to be far deeper, they still have no real stallion to the lead the way on the backend. Whereas the forward group already has its thoroughbred and necessary add on parts in place but that secondary running mate that every successful team has is nowhere to be found.

Until MacTavish can find those additional pieces to the puzzle, this group will continue to accomplish little more than taking baby steps in the Western Conference standings over the next couple of years. That may not be what this fan base wants to hear but barring some sort of out of body experience from either one or both of Viktor Fasth and Ben Scrivens, it will be almost impossible for the Edmonton Oilers to compete for a playoff spot as they are currently constructed.

Make no mistake, they will surely be better than they were in 2013-14 but expecting much more than that would be nothing more than wishful thinking. This is something we should all keep in mind when the masses start taking shots at this young core when it becomes apparent that there will be no post-season hockey in the Alberta capital for ninth consecutive season.