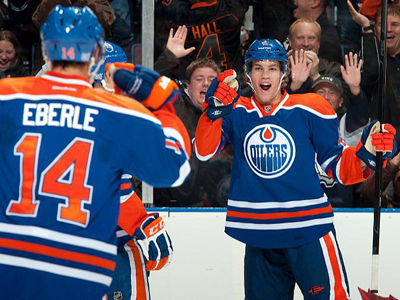 Edmonton - September 21, 2014 - The Edmonton Oilers kick off the 2014-15 NHL Preseason against the Calgary Flames tonight with a double matchup consisting of split squads for both organizations. Tonight we will get the first look at Leon Draisaitl in an Oiler's uniform lining up against actual NHL players and the need for success has never been higher in Edmonton.

Leon Draisaitl needs to have an immediate impact not only to build confidence for himself but also for his coaches and teammates as well as to establish himself on a path towards success as a second line center this season for the Oilers. Leon has been given the opportunity of a lifetime to make an immediate impact as a rookie in the NHL and the big German born player has all the tools to succeed.

In 2010-11 the Oilers brought three high profile rookies into the fold of the team; Taylor Hall, Jordan Eberle and Magnus Paajarvi. These three young men all made the team straight out of the gate, but how did they perform in their rookie preseasons and was that an influencing factor in them making the Oilers?

Taylor Hall 2010 Preseason

Hall came to camp as the Number one overall Pick in the 2010 NHL Entry Draft and after back to abck Memorial Cup MVP awards the expectations were sky high. Hall came into camp and produced three points in three preseason games. Not bad for a rookie but in reality Hall was a lock regardless as he had accomplished all he would ever accomplish at the Junior level with the Windsor Spitfires.

Jordan Eberle 2010 Preseason

Eberle was a famous prospect thanks in part to his success at the World Junior Hockey Championships for Team Canada. He was the man who scored some of the most famous goals for Team Canada and became adored by Oiler fans and Canadian fans alike long before stepping on the ice in an NHL game. Eberle came out of the preseason with three points in four games and earned a spot alongside Hall. He would go on to score an incredible first career goal in his very first game and has been a mainstay in Edmonton ever since.

Magnus Paajarvi 2010 Preseason

Paajarvi was far from a lock to make the roster out of training camp in 2010. Picked 10th overall by the Oilers in the 2009 NHL Entry Draft and was touted as a speedster who could develop into a very strong two-way player. He made the most of the 2010 Preseason scoring a hat-trick and four points in three games. His performance and speed at the NHL level helped him to make the Oilers out of camp. This was a decision that was maybe rushed, but his performance in preseason had a significant impact on the decision.

Leon Draisaitl 2014 Preseason

Draisaitl has the Taylor Hall opportunity here, in other words his success is vital to the Oilers upcoming season. The hole at center is huge in Edmonton and Leon brings a size and skill combination down the middle that the Oilers haven't seen in quite some time. He will be lining up alongside two veteran players in David Perron and Benoit Pouliot, a strong push from Dallas Eakins and indication that the Oilers need him to succeed and prove he can play at an NHL level. Leon has all the opportunity in the world and he needs to prove he can have a positive impact on the ice. Being lights out offensively is not the most important aspect as his skill level is undeniable. What Leon needs to do is show a willingness to play a strong defensive game and work hard in both ends of the ice. Leon will surely be on the opening night roster either way, the need is that big, but if he struggles in his 9-game audition the Oilers would do well to send the youngster back to the Prince Albert Raiders for one more year of seasoning.

Tyler Pitlick and Anton Lander

The other two players I will be keeping a close eye on are Tyler Pitlick and Anton Lander. The Oilers badly need both of these players to take the next step from the AHL to the NHL.

Lander is going to be counted on for his defensive play and penalty killing abilities, but if he cannot show an ability to produce offensively he will once again and for the final time find himself on the outside looking in. He has worked hard and dedicated himself to improve his play in all areas of the game, but he has never found success in the NHL offensively. He needs to finally show the creativity he has displayed in the AHL in order to establish himself on this Oiler team.

Tyler Pitlick is another guy on his last chance in this organization. He has struggled with injuries since being drafted, which has had a significant impact on his development. This year he is healthy and has an opening waiting for him if he cans tep up to the plate and win the day. He is fast, gritty and has shown offensive flashes, specifically with his ability to fire the puck. If he hopes to make the Oilers out of camp he needs to show willingness to battle and help drive the possession on the bottom line using his size and skill. I like this player, and I hope he can take the next step as he brings far more versatility as a player than the likes of Luke Gazdic.

Wrap Up

After a long long summer the NHL Preseason kicks off tonight and for Oiler fans it is one of the most intriguing in years! The off-season was characterized by some significant signings meant to increase the size of the top 9 and to create a stronger possession team. Tonight we will see many players who may never wear an NHL jersey, but we will also get our first glimpse of Draisaitl playing against NHLers and with the need at center so significant, the Oilers are praying he shows well. There are many battles taking place internally for Edmonton and tonight the guys on the verge need to make an immediate and great first impact. Expect both squads to come out flying.