| | |
| --- | --- |
| | |
The Edmonton Oilers and Vladimir Tkachev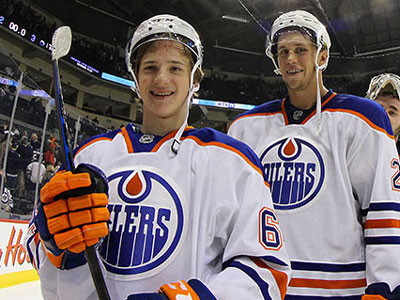 Edmonton - October 1, 2014 - Yesterday was not a great day for the Edmonton Oilers organization.

After announcing the signing of Vladimir Tkachev to a three-year entry level contract, which was something most fans had been calling for since the start of training camp, a release later in the day stated the eighteen year old Russian was in fact ineligible to be penned to a such a deal by any National Hockey League franchise.

From an optics standpoint, this could not have played out any worse than it did and it frankly makes the Oilers management team look a tad ridiculous, especially considering the Washington Capitals went through a similar sort of situation with Nathan Walker all of a year ago. Having said all of that, in the grand scheme of things, there is absolutely no reason for Oilers fans to get on their high horses over yesterday's debacle.

Sure it would have been great for the organization to ink a kid with as much talent as Tkachev appears to have but clearly that was never going to happen. Some will suggest the Oilers essentially did nothing more than hand the diminutive winger a platform for other organizations to see what he could do and while that might be true, the kid still needs to be drafted and they will have the opportunity to do exactly that if they so choose.

After collecting thirty points in just twenty games with the Moncton Wildcats in 2013-14 and showing as well as he has during camp in Edmonton, there is no doubt that there will be number of teams across the NHL who will keep their eye on Tkachev over the next year but at 5' 9 and 140 pounds, the chances of him going high in the 2015 Entry Draft is highly unlikely. Especially when one takes into consideration not a single club took a shot at him in 2014.

It may not have worked out how either player or organization had hoped, after working on and ultimately agreeing to the pact they did, but something tells me this kid enjoyed his time in camp and truly appreciates the opportunity he was afforded by Craig MacTavish and his team.

Finding that "diamond in the rough" would have been fantastic but at the very least, the Edmonton Oilers misstep has all but guaranteed Vladimir Tkachev will get his shot at earning a job in the National Hockey League and that in itself is pretty darn cool.


---

---
---

---
3,468 Stories & Growing Daily...

To date HometownHockey.ca has posted a total of 3,468 hockey stories!

Be sure to check out our Columnists archives or, why not Contribute a Story yourself!



HometownHockey.ca

offers a very generous revenue sharing opportunity for our Columnists. If you are interested in learning more details about writing for us, please send us an

EMAIL.
The Greatest Edmonton Oilers of All Time