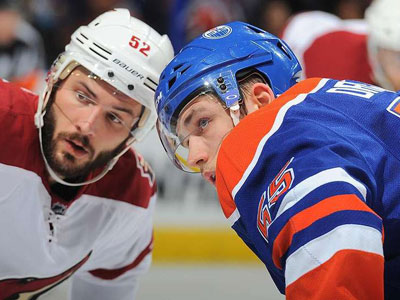 Edmonton - October 7, 2014 - So here we are. The Edmonton Oilers are just over forty-eight hours away from the start of their 2014-15 season and they are about to embark on that journey with the quartet of Mark Arcobello, Leon Draisaitl, Boyd Gordon and Ryan Nugent-Hopkins at centre.

While there were some who felt it would just be a matter of time before Craig MacTavish would go out and acquire a veteran pivot to add to his starting lineup, that was nothing more than pipe dream. The moment this organization decided to use the third overall pick in the 2014 NHL Entry Draft on Draisaitl and made no real effort to sign a centre via free agency, was the very moment this starting foursome became "Plan A" for the Oilers general manager.

With that being the case, the expectations on the former Prince Albert Raiders standout have to be kept realistic for the upcoming season. Considering the quality of centres at this year's training camp, no one should have been surprised to see the kid show as well as he did. While he might still be only eighteen, Draisaitl clearly has the necessary skill-set to play in the National Hockey League.

In my mind, the organization would have been wise to send him back to the Western Hockey League for another season but that option was obviously never part of the equation. Some have argued that if a guy "as small as" Nugent-Hopkins could not only play but actually excel in his first year of eligibility, than there is no reason why Draisaitl cannot be expected to do the same exact thing.

Now that point of view is all well and good but there is one major difference. Back in 2011-12, Nugent-Hopkins had the trio of Eric Belanger, Sam Gagner and Shawn Horcoff insulating him within the starting lineup. While many an Oilers fan will argue the actual effectiveness of those three players, the fact of the matter remains, they were able to help soften the load on the former Red Deer Rebels standout during his rookie year.

Draisaitl will not be so fortunate during his first kick at the can and because of that, we should be expecting more than a few bumps along the way. While the likes of Belanger, Horcoff and even Gagner were able to take some potential ugly looking matchups off Nugent-Hopkins' plate in '11-12, the only ones capable of doing so on this year's roster are Gordon and Nugent-Hopkins himself…and both already have far too much on their own plates to deal with.

Now could Arcobello take step forward and allow head coach Dallas Eakins to use whatever line Draisaitl centres in some sort of "soft minutes" role? Anything is possible but there is no reason to expect that will actually happen. In order for the Oilers bench boss to have the option of picking his spots with the big German, he will need his other three lines to produce offence at some sort of reasonable clip.

That should not be much of an issue for the line of Jordan Eberle, Taylor Hall and Nugent-Hopkins but expecting those other two lines to regularly chip in on the scoresheet, in my opinion, is massive stretch. Which means, at some point during this season, this coaching staff will have to lean far too heavily on Draisaitl and basically hope that an eighteen year old kid and twenty-one year old running mate can start carrying the load when they are nowhere near ready for the challenge.

Again, seeing Leon Draisaitl in Edmonton Oilers silks to start the 2014-15 season is what most fans wanted but let's not put the cart before the horse here. This has the potential of getting ugly and blowing up in this organization's face. In a perfect world, that won't happen and this group will find a way to take a step forward and keep themselves afloat, while allowing this kid the necessary time to grow into his NHL skin.

For everyone's sake, let's hope that is how it will eventually play out because heading into this season with the roster they currently have…it could be asking a little much.