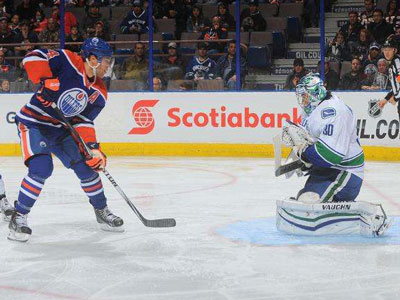 Edmonton - October 18, 2014 - While one certainly could not complain about the Edmonton Oilers effort or overall play during last night's 2-0 loss to the Vancouver Canucks, this team is well past the point of celebrating any sort of moral victory.

Ben Scrivens delivered what was by far and away his finest performance of season, stopping twenty-eight of the twenty-nine pucks that were fired his way including a handful of timely stops which gave his team a chance to even things up but unfortunately for the team wearing Orange and Blue, the guy down at the other end of the rink was that much better and that ultimately proved to be the difference.

With the win, Ryan Miller improved to 9-0 against Edmonton in his career and moved the Canucks five points clear of their Pacific Division Rival, despite having played two fewer games. We can sit here and talk all we want about how much better the Oilers looked compared to their previous two outings but at the end of the day, they have earned one point from their first five games and appear to be well on their way to being buried in the basement of the Western Conference standings.

If you remove Matt Hendricks meaningless goal during the dying seconds of the Los Angeles Kings 6-1 thrashing of the Oilers, this team has essentially been shut out twice in their first five games and as usual, have shown zero capability of earning points on home-ice. The combination of being unable to put the puck in the net and finding ways to win games in their own barn is a recipe for disaster and that is exactly what this season has become.

Under the tutelage of Dallas Eakins, this group has been unable to score a single goal in eleven of the eighty-seven games they have played and scored all of one in seventeen others. Just do the math and you see how ugly it has truly been. Since the former Toronto Marlies bench boss has been given the keys to car, this group has scored one of fewer goals in 32% of their games and when expand the search to two goals or less, the total you get is 58.6%.

Of those fifty-one games, Edmonton has managed to win a grand total of three. That works out to a winning percentage of .059. Obviously their inability to play a sound defensive game greatly hinders their chances of putting the puck in the opposing team's goal but that number is downright staggering. Even for a team with next to no offensive ability on it, that number is absurd and that is not the case with this group and yet the numbers are what they are.

While the head coach may want to continue to talk about "the process" it has become painfully obvious the status quo isn't working. While this is a lineup that is poorly constructed, it is also one which is loaded with talent upfront but still can't score goals. Be it the system Dallas Eakins is having them play, the players themselves or a combination of the two, something has to give because this simply cannot continue to go on.