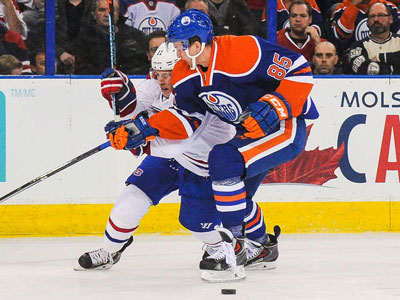 Edmonton - November 6, 2014 - With the Edmonton Oilers in the midst of a three game losing skid, it appears as though Dallas Eakins has decided to push the panic button heading into tonight's matchup against the Boston Bruins.

Following what was yet another disappointing performance from the Oilers in Philadelphia, especially with the Flyers being as banged up as they were along their blueline, the head coach has decided to take defenceman Martin Marincin out of his starting lineup in favour of Keith Aulie.

While Marincin did not have a particularly strong game in Philly, one could make the argument the only blueliner who actually played well was Jeff Petry. With that being the case, the move to scratch the twenty-two year old in favour of a guy who was downright awful during training camp and not much better in his brief stint with the Oklahoma City Barons is a rather peculiar one.

Clearly the fact Aulie is both willing and able to play a physical style of game, something which the Slovakian defender has shown little to no interest in doing at this level, has a lot to do with the coach's decision but let's not be silly here. Obviously the coaching staff is trying to send Marincin a message, just like they did at the start of the season by sending him to the American Hockey League, and one can certainly respect and even understand that line of thinking.

Problem being, this team's blueline is not exactly one of its strengths and with Andrew Ference already out of the lineup due to suspension, it is hard to fathom how making such a move makes any sense whatsoever. At the best of times the Oilers have no real depth on defence and yet Eakins has somehow convinced himself into weakening it even further as being some sort of good idea.

As much as people like to go on about the club's decision to keep Brad Hunt around to start the 2014-15 campaign, and understandably so, at least he served a purpose on the power play. What exactly is Aulie going to bring to the table? The one thing it guarantees, is the other five guys will be asked to do that much more, which is already far too much to begin with, against the Bruins.

You would have thought the failed Mark Fraser experiment would have still been fresh in the organization's mind but apparently is has been wiped from the memory banks. In my mind, the fact Marincin started the year in the AHL was not nearly as big a deal as some made it out to be because Oscar Klefbom and Darnell Nurse earned their shot on the strength of having a better training camp and a showing a willingness to use their massive frames to their advantage.

However when both found themselves in the pressbox to start the season and Jeff Petry joined them shortly thereafter, that all changed. Same goes for this decision. Why a coach would go out of his way to further weaken his already paper thin backend is truly beyond me but this is starting to be become a bit of trend when it comes to Dallas Eakins and frankly…it is not a very good look.