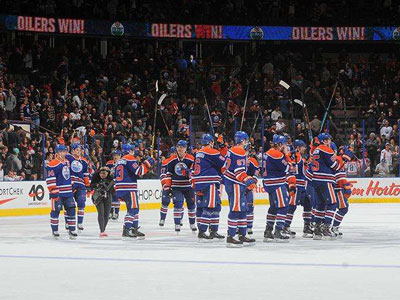 Edmonton - November 17, 2014 - While the Edmonton Oilers have not exactly got off to the sort of start they were hoping for to open the 2014-15 National Hockey League campaign, it is a start that should surprise absolutely no one. The problems with this roster are plentiful and have been obvious for some time and have yet to be addressed in any meaningful way by Craig MacTavish and his management team.

With that being the case, expecting this group to magically snap their fingers and start winning hockey games was never really a realistic way of looking at things. The Oilers are just two games away from reaching the quarter pole of their year and have yet to beat a single team in the Western Conference and have frankly had a fairly easy schedule over the opening month and a half of their season.

We are now 100 games into the Craig MacTavish - Dallas Eakins era and Edmonton are the "proud" owners of a 35-54-11 record, which thanks to the Buffalo Sabres, is only good enough for the second worst mark in all of hockey over that timeframe. Something tells me this wasn't exactly what the organization had in mind when it decided to make the changes it did heading into the 2013-14 campaign.

With eighteen of their next twenty games coming against teams in the West, their current mark of 6-10-2 could look much worse before the end of the calendar year but to their credit, they have finally started to show signs of improvement when it comes to trying to find ways to win games on home ice. It may still be early but when you consider just how bad their goaltending has been, the fact they sit with a 4-5-1 record at Rexall Place has to be looked upon as a very good thing.

From the start of the 2010-11 season up to the conclusion of 2013-14, Edmonton owned the worst home record in the entire NHL at 56-72-19. Again, it is still early but with the Oilers sitting just a game under .500 at home and having held their own in nearly all of their ten home dates, the exception being their 4-1 loss to the Nashville Predators on October 29th, it is hard to not at least be somewhat optimistic about the what we have seen to this point.

Half of their wins have come against the top two teams in the Eastern Conference in the Montreal Canadiens and Tampa Bay Lightning and of the six games they dropped at Rexall Place, you could point to Ben Scrivens for being the main culprit in three of those losses. For the first time in ages, this team has not looked completely out of their element in front of their own fans and that in itself is massive step in the right direction.

However, as previously mentioned, their schedule is about to get a whole lot tougher over the coming weeks and Eakins must ensure this group finds a way to remain competitive in their own building. After getting off to a strong start, the Oilers have now lost four straight at home and it simply cannot continue. Ten of the aforementioned next twenty games will be played at Rexall and against the following opponents:

Vancouver Canucks, New Jersey Devils, Chicago Blackhawks, Arizona Coyotes, San Jose Sharks, Anaheim Ducks, New York Rangers, Dallas Stars, Arizona Coyotes and Los Angeles Kings

While not exactly a list of out and out world beaters, it will still prove to be a jump in overall competition from what they have faced to this point. At the end of the day, it is all about winning hockey games but let's not kid ourselves here.

As much as fans don't want to hear it, the 2014-15 edition of the Edmonton Oilers never had a realistic shot of making the playoffs. None…zero, zip, zilch, nada. It was never going to happen and if you somehow convinced yourself into believing that it could…you need to give your head a shake.

Considering this team regressed to the degree it did during their first year under the Craig MacTavish - Dallas Eakins regime, the goal for this season should have always been for them starting to show signs of improvement. From a fundamentals standpoint they appear to be improving in certain areas, while continuing to struggle others. Again, this should come as absolutely no surprise to any of us.

With that said, this group was always going to need something positive to happen for them when it comes to the standings and while they most certainly will finish below the post-season cut-line for the ninth consecutive season, perhaps we could finally start seeing improvement when it comes to winning games on home ice.

It may not be much but at this stage of the game, expecting anything other than the smallest of baby steps would be nothing more than an exercise in futility.