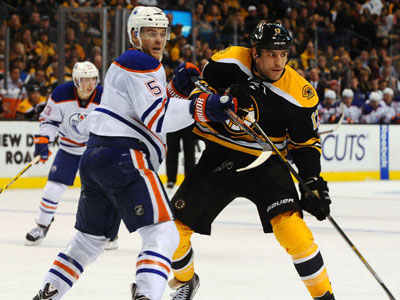 Edmonton - November 21, 2014 - When Craig MacTavish decided to "upgrade" his blueline during the off-season, a large portion of the Edmonton Oilers fan base bought into the illusion that this team's backend was going to be drastically improved over the mess we saw on a nightly basis during what truly was a disastrous 2013-14 campaign.

Quick question for all of you...how is that working out for you? We are now nineteen games into 2014-15 season and not surprisingly, little has changed when it comes to the Oilers defence. Head coach Dallas Eakins has already used ten different players along his blueline and while they have struggled mightily in their own end of the rink, it is the collective unit's inability to chip in on the offence that is most puzzling of all.

As Edmonton continues to struggle to find their way, their neighbours down south have become the talk of the NHL. Obviously, the fact the Calgary Flames have a legitimate starting netminder in Jonas Hiller has played a fairly big part in them getting off to the kind of start they have but let's not kid ourselves…it has been the play of their blueline that has ultimately had the biggest impact on their ability to win games.

While the Oilers have managed to get a grand total of seven goals and twenty three points from their defence over the first nineteen games of the season, in contrast, Mark Giordano has collected twenty-two points on his own. Denis Wideman has already found the back of the opposing team's net on eight separate occasions to star the year. Go ahead and to the math…it is fairly straightforward.

To put things into perspective, Calgary has received a grand total of eighteen goals from the trio TJ Brodie, Giordano and Wideman since opening their year with a 5-2 win over their provincial rival. In fact, as a seven man unit, the Flames backend has combined for an eye-popping 18 goals and 61 points. That total nearly triples the output Edmonton has got out of their D and guess what…these two teams are currently miles apart when it comes to the Western Conference standings.

On top of Giordano's league leading point totals, Brodie has chipped in with four goals and twelve helpers, Wideman has a total of twelve points and Kris Russell has managed to slip in eight assists for good measure…leaving just three points that have come from the duo of Deryk Engelland and former Oiler Ladislav Smid.

In comparison, Justin Schultz leads the way for Edmonton with two goals and nine points, followed by four point each from the duo of newcomers in Mark Fayne and Nikita Nikitan, and a couple of points from Andrew Ference and Jeff Petry. Add in a goal for Brad Hunt and assist for Martin Marincin and that's about it when it comes to the offence being generated by the team wearing Orange and Blue in 2014-15.

Just sit back and think about that for a minute. As remarkable as those numbers are, the fact there is absolutely no question as to which team has the better supporting cast upfront, makes it even more perplexing. While the Flames have been red-hot to start the year, their forward depth pales in comparison to what the Oilers trot out on a nightly basis.

Outside of Schultz, who put together a strong rookie campaign with twenty-seven points in sixty games and followed that up with three-three point effort in his first full season, Edmonton have no one else on their backend who can put up points. We keep hearing about the team wanting to have more "puck-movers" but outside of Schultz, Petry and the occasional glimpse from Nikitin, this group is simply incapable of transitioning the puck up ice to the forwards.

As bad as this team continues to look in their own end of the rink, it is their lack of goaltending and inability to move that little black disc up the sheet of ice that continues to hamper them most. Yes they have holes upfront but something tells me if they can fix the backend, the rest it will start to fall in line.

Again, look at the Flames defence and what is the biggest difference between it and the Oilers current group? The answer is obvious and he happens to be the captain of that team. Giordano's presence and ability to play half the game is what makes that blueline tick and because of it the rest of them can be slotted into areas in which they are not asked to do more than they are capable of. It really is that simple.

Yes Brodie has taken some huge steps forward during his fourth season in the league, which has given Calgary a true top pairing, the remaining four guys are nothing more than solid National Hockey league players. Contrary to what many seem to think, the Edmonton Oilers also have a bunch of solid guys along their blueline but the thing they are missing is that horse and until they actually make an effort to address it…nothing will change.