| | |
| --- | --- |
| | |
Oilers drop tenth straight, fall 5-2 to Tobias Reider and Coyotes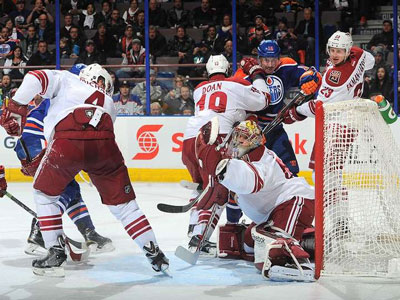 It may have looked promising early on but in the end, Monday night was your typical night for the Edmonton Oilers. While Dallas Eakins' crew played a decent period of hockey, it was not nearly enough to beat a very mediocre Arizona Coyotes side. The 5-2 loss extended Edmonton's losing skid to ten straight and to make matters worse, it was former Oilers draftee Tobias Rieder who led the way with a pair of short-handed goals. Can you say ugly?
Edmonton - December 1, 2014 - Twenty minutes into tonight's game with the Arizona Coyotes, the Edmonton Oilers found themselves in the unfamiliar position of carrying a lead into the first intermission. In the midst of a nine game losing streak and having yet to win a game against a Western Conference opponent, it was looking as though the team wearing Orange and Blue might finally catch a break and put an end to both streaks.

Unfortunately, it took Dallas Eakins' crew less than five minutes to turn that one goal lead into a two goal deficit, thanks in large part to former Oilers draft pick Tobias Rieder. The twenty-one year old needed all of fifty-eight seconds to score not one but two short-handed markers early in period two and his old team were simply unable to recover, dropping a 5-2 decision to the visiting Coyotes.

While Viktor Fatsh struggled in between the pipes, allowing five goals on twenty-four shots, Mike Smith had one of his better performances in what has been a nightmarish start to his season. The former fifth round pick of the Dallas Stars was rock solid from start to finish, making a number of timely stops early in the first to keep his team in it, helping Arizona put an end to a three game losing skid of their own.

With the loss Edmonton fell to 6-15-4 on the season and are now back in a position that has become a far too familiar for those across Oilers Nation…dead last in the National Hockey League standings. As tough as this is may be for fans to stomach, this has now got to the point where both the players and coaches seem to be at a complete loss of where to go from here.

This is no longer spiralling out of control...it has completely come off the rails. Their goaltending is not good enough. Their backend is not good enough and they do not score nearly enough goals to make up for either one of those shortcomings. Add those three things together and you have recipe for a team that will lose a lot of hockey games and not surprisingly…that is exactly what this team continues to do.

Sports & Games Lists on Ranker


---

---
---

---
3,468 Hockey Stories so far,
and Growing Daily!

#
PLAYER
GP
PTS
PPG
97&nbsp
McDavid, Connor&nbsp
80
123
1.54
29&nbsp
Draisaitl, Leon&nbsp
80
110
1.38
18&nbsp
Hyman, Zach&nbsp
76
54
0.71
93&nbsp
Nugent-Hopkins, Ryan&nbsp
63
50
0.79
75&nbsp
Bouchard, Evan&nbsp
81
43
0.53
22&nbsp
Barrie, Tyson&nbsp
73
41
0.56
56&nbsp
Yamamoto, Kailer&nbsp
81
41
0.51
91&nbsp
Kane, Evander&nbsp
43
39
0.91
13&nbsp
Puljujarvi, Jesse&nbsp
65
36
0.55
25&nbsp
Nurse, Darnell&nbsp
71
35
0.49
HH Stat Database Last Updated:
May. 02, 2022 @ 7:48 AM EDT