| | |
| --- | --- |
| | |
Time for the Oilers to give Anton Lander a real shot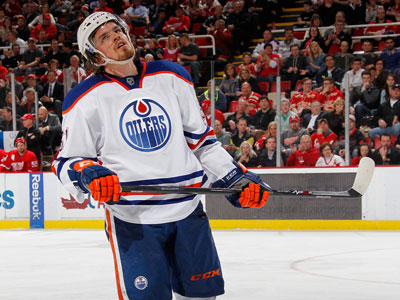 With news that the Edmonton Oilers had recalled centre Anton Lander from the Oklahoma City Barons for yet another shot at showing what he could do at the National Hockey League level, one can only hope he is afforded the opportunity to show what he might be able to accomplish in a situation that best suits his skill set. After spending much of the last three years in the American Hockey League, the former 2009 second round pick has certainly earned an extended look.
Edmonton - December 20, 2014 - Of all the Edmonton Oilers draft picks who have failed to meet expectations over the last number of years, the two that likely stand out above all the rest are Magnus Paajarvi and Anton Lander.

While the ninth of overall pick of the 2009 NHL Entry Draft has been unable to find his way since been shipped off to the St. Louis Blues in the summer of 2013, it is the play of his good friend that has many an Oilers fan scratching their head.

As poor as this organization's track record has been when it comes to developing players drafted outside of the first round, Lander appears to be one who was has benefited greatly from his extended stay in the American Hockey League.

While Edmonton made the mistake of rushing him into the National Hockey League to start the 2010-11 campaign, albeit due to injury, the youngster has spent the vast majority of the last three years as a member of the Oklahoma City Barons.

To his credit, the former second round pick has seen his role grow from that of a bottom six forward to a player who currently sits in a tie for fifth in league scoring and yet many seem more than ready for the Oilers to simply turn the page when it comes to the kid from Sundsvall, Sweden. For all the bitching and complaining that is done about this organization's unwillingness to develop players the "right way", is that not what they have done with Lander?

People tend to forget he is still twenty-three and trending in a positive direction. Instead of focusing on Lander's growth as an offensive player at the American Hockey League level, all anyone wants to talk about are is lack of "numbers" during his brief stints in the show. While he has mustered all of eight points during his previous ninety-four appearances in Edmonton, none of that truly matters.

Fifty-six straight without scoring a single solitary goal and again…it means absolutely nothing. In all honesty, all that truly matters is what happens from here on in. In fact, if Craig MacTavish hasn't completely lost his way, he would be wise to act as though those ninety-four games had never even taken place and simply see what this once highly regarded player has to offer.

Revisionist history can be a wonderful thing but if you actually think back to the day this club used the fortieth pick of the '09 draft on the kid from Sundsvall, Sweden, there were very few who took issue with the selection. If anything, some felt he had the necessary skill set to one day become a solid third line centre. Has he not shown enough to earn that shot?

If the plan is to have Lander to come in and play in a top six role or on the Oilers fourth line, they would be doing him a major disservice. This organization owes it to not only themselves but also the player to place him in a situation that is best suited and most likely to see him succeed. At this stage of the game, that has to be the primary focus.

One would think that after putting the necessary time and effort into developing Anton Lander, the Edmonton Oilers would surely be interested in giving him a real shot at showing what he could do before making up their mind on him as a player.

With Todd Nelson now firmly planted behind the bench, the chances of Lander being afforded that opportunity appear far more likely and at the end of the day, that is all any player could ever ask for.


---

---
---

---
3,468 Hockey Stories so far,
and Growing Daily!

#
PLAYER
GP
PTS
PPG
97&nbsp
McDavid, Connor&nbsp
80
123
1.54
29&nbsp
Draisaitl, Leon&nbsp
80
110
1.38
18&nbsp
Hyman, Zach&nbsp
76
54
0.71
93&nbsp
Nugent-Hopkins, Ryan&nbsp
63
50
0.79
75&nbsp
Bouchard, Evan&nbsp
81
43
0.53
22&nbsp
Barrie, Tyson&nbsp
73
41
0.56
56&nbsp
Yamamoto, Kailer&nbsp
81
41
0.51
91&nbsp
Kane, Evander&nbsp
43
39
0.91
13&nbsp
Puljujarvi, Jesse&nbsp
65
36
0.55
25&nbsp
Nurse, Darnell&nbsp
71
35
0.49
HH Stat Database Last Updated:
May. 02, 2022 @ 7:48 AM EDT