| | |
| --- | --- |
| | |
Oilers: The acceptance of reality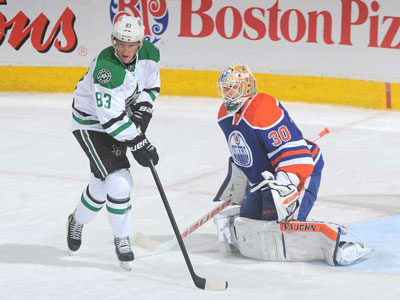 While tonight could be the night that Edmonton Oilers interim head coach Todd Nelson finally hits the win column as a National Hockey League bench boss, expecting anything but more disappointment from this lineup would likely be a mistake. They may not be as bad as their record indicates but the predicment this team currently find themselves in speaks volumes.
Edmonton - December 23, 2014 - With just over twenty-one minutes to play and a three goal advantage staring them squarely in the face during what was a rare Sunday afternoon tilt at Rexall Place, the Edmonton Oilers seemed poised to put an end to their most recent losing streak against the defensively challenged Dallas Stars.

That all changed in a span 65 seconds, as Jamie Benn made the Oilers pay following an ill-timed holding penalty from Boyd Gordon and just like that, the team wearing Orange and Blue became completely unglued on their way to 6-5 shootout loss. While some might suggest it was rather tough way to lose a game, it almost seemed fitting for this group to find yet another way to lose a hockey game.

As hard as last season was for all of Oilers Nation to have to endure, the 2014-15 campaign has truly become a season to forget. No matter what this team does, they always seem to find a way to end up on the wrong side of the final score. On those rare occasions when Edmonton actually manage to put some pucks behind the opposing teams netminder, just like this weekend's outburst against the Stars, their goaltender seems incapable of making that one stop to secure the two points.

With that being the case, should any of us really have been surprised to see things play out in the manner they did during the Oilers last time out? The moment Benn scored you just got that feeling this team was in trouble and when Tyler Seguin cut the lead to one inside the opening minute of period three, it was a matter of how not if Dallas would leave Rexall Place with those two points firmly planted inside their back pocket.

Now is this team truly as bad as their 7-20-7 might suggest? Probably not but that does not change the fact they are 7-20-7. The Oilers have now dropped seven straight and while their overall game has been better since firing former head coach Dallas Eakins, they remain winless under interim head coach Todd Nelson.

Their 7-4-7 record in one goal games is certainly a head scratcher and the 1-16-6 mark they have put together against Western Conference opponents is frankly mind boggling. Add to that the fact they have won just two times on home-ice and are 0-5-2 in games that have gone beyond the required sixty minutes and suddenly you realize just how bad things have gone for this group over the opening few months of the season.

Having said all of that, one has to think if this team was ever going to go out and get their new bench boss a win, it will be tonight against the Arizona Coyotes. As bad as the Oilers have been, Dave Tippett's squad has not been much better. While they have managed to go a perfect 4-0 against Edmonton, if you remove those wins out of the equation, the Coyotes have won the same amount of games as the team that currently finds themselves buried in the basement of the Western Conference.

However, with Scrivens expected to be back in between the pipes, despite coughing up yet another five goals against, maybe stretching this thing into the Christmas break is what this organizations deserves. While the laws of averages suggest the Edmonton Oilers are more than due to have a little something go there way, then again, dropping a third consecutive decision to Devan Dubnyk is a very real possibility.


---

---
---

---
3,468 Hockey Stories so far,
and Growing Daily!

#
PLAYER
GP
PTS
PPG
97&nbsp
McDavid, Connor&nbsp
80
123
1.54
29&nbsp
Draisaitl, Leon&nbsp
80
110
1.38
18&nbsp
Hyman, Zach&nbsp
76
54
0.71
93&nbsp
Nugent-Hopkins, Ryan&nbsp
63
50
0.79
75&nbsp
Bouchard, Evan&nbsp
81
43
0.53
22&nbsp
Barrie, Tyson&nbsp
73
41
0.56
56&nbsp
Yamamoto, Kailer&nbsp
81
41
0.51
91&nbsp
Kane, Evander&nbsp
43
39
0.91
13&nbsp
Puljujarvi, Jesse&nbsp
65
36
0.55
25&nbsp
Nurse, Darnell&nbsp
71
35
0.49
HH Stat Database Last Updated:
May. 02, 2022 @ 7:48 AM EDT