| | |
| --- | --- |
| | |
Oilers: Puck Luck and Goaltending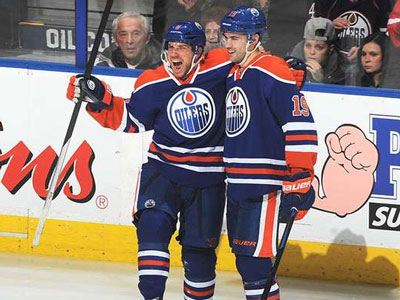 Thanks to an off night from netminder Jaroslav Halak, some timely bounces and a better all-around effort, the Edmonton Oilers managed to knock off the visiting New York Islanders by a score of 5-2 over at Rexall Place on Sunday evening. With the victory Todd Nelson's crew has now taken six of possible eight points from their last four games. Which begs the question, why the sudden change?
Edmonton - January 5, 2015 - After watching their goaltending cost them a number of points in the standings over the opening three months of the season, the Edmonton Oilers and their fans know exactly how the New York Islanders must be feeling following last night's 5-2 loss to Todd Nelson's crew.

Considering netminder Jarsolav Halak was in the midst of a seven game win streak and enjoying one heck of a start to his career in Islanders gear, his performance against the Oilers was hardly expected.

While the veteran tender allowed a couple of goals against that had no business going in and proved incapable of making that timely stop when his team needed it most, the man standing down at the other end of the rink managed to do exactly that.

Despite facing thirty-three shots on the night, Ben Scrivens was not called upon to be anything other than solid to ensure his team would be leaving Rexall Place with two points firmly planted in their back pocket. Edmonton was the better team over the entire sixty minutes of play and deserved the result they received.

With that said, the play of the two goaltenders ultimately decided what side would be leaving Rexall Place with the aforementioned two points and for one of the rare times this season, the Oilers actually won the battle in between the pipes. As Halak fumbled his way through a difficult outing, Scrivens simply did what he had to do and came up with a huge stop off John Tavares when the outcome was still in doubt during the third period.

Even at the best of times, the Oilers have been hard-pressed to score two goals a game during what truly has become a wasted year. However, the combination of this group playing better hockey of late and receiving more than a little help from the oppositions starting goalie, led to an offensive outburst. Despite having already found a way to lose a game in which they had let the lamp on five separate occasions, in today's National Hockey League, that is a difficult thing to do.

A pair of goals from Matt Hendricks and individual tallies from the trio of Jordan Eberle, Matt Fraser and Derek Roy proved to be more than enough and seemingly out of nowhere, Edmonton has now taken six of possible eight points from their last four games. So what gives?

Is this team really playing that much better of late or was it simply just a matter of time. Even with last night's win over New York, the Oilers have won three times over their last twenty-five games. From a winning percentage standpoint, they are running at a clip of .120 over that timeframe. The 1974-75 Washington Capitals own the lowest win total in league history with eight over an eighty game schedule. That works out to winning percentage of exactly .100. Think about that for minute. As bad as this season has gone for the Oilers, it was just a matter of when and not if they would start winning the odd game and collecting points from time to time. They have certainly played a far more discipline brand of hockey since Nelson took over behind the bench but again, it was bound to happen at some point.

Having said all of that, from the goal crease out the Edmonton Oilers have been better of late and the so-called puck luck that so many have referenced to as "not going their way", has started to turn in their favour of late. Not surprisingly, those two factors have led to this team earning more points but expecting it to continue over the long haul could be asking a little much.


---

---
---

---
3,468 Hockey Stories so far,
and Growing Daily!

#
PLAYER
GP
PTS
PPG
97&nbsp
McDavid, Connor&nbsp
80
123
1.54
29&nbsp
Draisaitl, Leon&nbsp
80
110
1.38
18&nbsp
Hyman, Zach&nbsp
76
54
0.71
93&nbsp
Nugent-Hopkins, Ryan&nbsp
63
50
0.79
75&nbsp
Bouchard, Evan&nbsp
81
43
0.53
22&nbsp
Barrie, Tyson&nbsp
73
41
0.56
56&nbsp
Yamamoto, Kailer&nbsp
81
41
0.51
91&nbsp
Kane, Evander&nbsp
43
39
0.91
13&nbsp
Puljujarvi, Jesse&nbsp
65
36
0.55
25&nbsp
Nurse, Darnell&nbsp
71
35
0.49
HH Stat Database Last Updated:
May. 02, 2022 @ 7:48 AM EDT