| | |
| --- | --- |
| | |
Oilers: Not as bad as one might think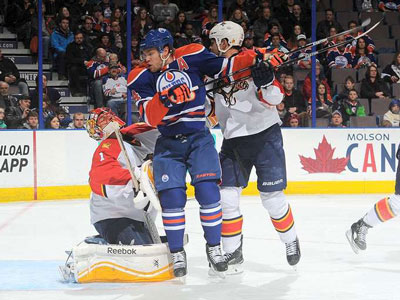 Contrary to popular opinion, the Edmonton Oilers did not play that bad of a game against the Florida Panthers on Sunday night at Rexall Place. Yes they made their fair share of mistakes but in the end, it was a 4-2 loss that had far more to do with the play of the visiting Panthers and not what the Oilers did or did not do.
Edmonton - January 12, 2015 - Isn't funny how a couple of wins against the Los Angeles Kings and Chicago Blackhawks can seemingly change the perception of what the Edmonton Oilers are.

Apparently knocking off a pair of Western Conference powerhouses is supposed to mean Todd Nelson's side should have next to no trouble with a team "like" the Florida Panthers.

The fact this Panthers squad has been battling for a playoff spot all season long is something that has obviously been lost on some of this fan base and much of the local media.

While last night's 4-2 loss to Roberto Luongo and company was certainly not the outcome the team wearing Orange and Blue was hoping for, it was far from the god awful effort some are making it out to be.

This notion that the Oilers did not show up or played a dumb game is frankly comical. They made their fair share of mistakes, as did their opponent, but that is a completely different matter. To think a team that currently sits in the basement of the National Hockey League standings can simply snap their fingers after a couple victories and start winning games on regular basis is just downright silly.

While Edmonton was guilty of turning the puck over on far too many occasions, the Panthers relentless forecheck had more than a little to do with that. Despite playing their third game in four nights, Florida was good enough to earn their fourth win in five games on what is a six game road trip. That is sort of game good teams find a way to win and that is exactly what the Panthers are.

Now does that mean Nail Yakupov's attempt to beat two forecheckers just outside his blueline late in the third period of a one goal game should be excused? Of course not but had Andrew Ference not fumbled the puck following the kid's blunder and Ben Scrivens not allowed what was just a terrible shortside goal, no one would have even mentioned it.

Instead, we have those in the media asking the head coach during his post-game availability about Yakupov and making the same mistakes "three years" into his career. Really? That is angle we are going to take. Come on now. In all honesty, Edmonton did not even play that poorly and actually were pretty darn good over the final forty-five minutes.

But again, this is a last place team. So expecting a mistake free game is not only unrealistic, it is idiotic. Mistakes happen and they do not always end up in the back of your net but on this night, it came back to bite the Oilers. Add to that a couple of defensive breakdowns on two other goals and a floater from the point that somehow found its way into the net and the outcome was rather predictable.

It was a tough finish for Scrivens, who played a fairly strong game, but he was unable to come up with a stop when his teammates needed it most. With that said, this loss wasn't on their goaltender or anyone else for that matter. These were two points Florida earned and not two that Edmonton handed them.

While many look at the Panthers and think of them as fairly young team, this is a roster that has ten players who are at least thirty years of age…many of which who are still more than capable of holding their own as NHL regulars. Add an all-star goaltender into the mix and suddenly that "young team" looks nothing like the one that calls Rexall Place their home and it shows in the standings.




---

---
---

---
3,468 Hockey Stories so far,
and Growing Daily!

#
PLAYER
GP
PTS
PPG
97&nbsp
McDavid, Connor&nbsp
80
123
1.54
29&nbsp
Draisaitl, Leon&nbsp
80
110
1.38
18&nbsp
Hyman, Zach&nbsp
76
54
0.71
93&nbsp
Nugent-Hopkins, Ryan&nbsp
63
50
0.79
75&nbsp
Bouchard, Evan&nbsp
81
43
0.53
22&nbsp
Barrie, Tyson&nbsp
73
41
0.56
56&nbsp
Yamamoto, Kailer&nbsp
81
41
0.51
91&nbsp
Kane, Evander&nbsp
43
39
0.91
13&nbsp
Puljujarvi, Jesse&nbsp
65
36
0.55
25&nbsp
Nurse, Darnell&nbsp
71
35
0.49
HH Stat Database Last Updated:
May. 02, 2022 @ 7:48 AM EDT