| | |
| --- | --- |
| | |
Oilers: Tough finish but a solid effort in Long Island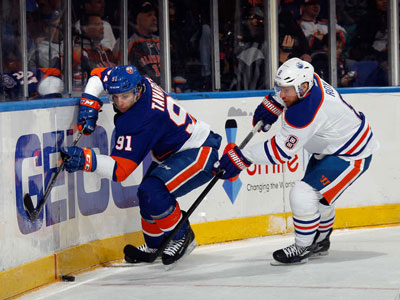 For the second consecutive evening, the Edmonton Oilers gave an Eastern Conference opponent all they could handle but unfortunately for them, it was not enough to get past the New York Islanders, While the 3-2 loss was likely a tough pill for Todd Nelson's side to stomach, it was a game in which many an Oiler not only held their own but in some cases, they continue to elevate their play on a nightly basis.
Edmonton - February 10, 2015 - Despite being severely hampered by the absence of Taylor Hall and Benoit Pouliot from their starting lineup and coming off what was just a dreadful performance in losing 5-1 to the Toronto Maple Leafs on Saturday night, the Edmonton Oilers have responded with a pair of splendid efforts against the New Jersey Devils and New York Islanders.

While it may have been good enough to earn a 2-1 win over a Devils side that are in the midst of a rather difficult campaign of their own, it was not good enough to get the job done against John Tavares and company in their second game in as many nights.

To their credit, Edmonton did manage to keep Tavares in check but it was a timely goal from Casey Cizikas and some clutch goaltending from Jaroslav Halak that proved to be the difference in what turned out to be a hard fought 3-2 loss to the Metropolitan Division leaders.

Clearly getting embarrassed on Hockey Night in Canada had the effect it should have on this group and it has shown in their performance over the last couple of nights. Be it a journeyman like Ryan Hamilton being called up and scoring his first-ever National Hockey League goal or yet another strong effort from centre Anton Lander.

The Oilers gave it their all from start to finish and likely deserved a better fate but it is a result teams who struggle to win hockey games generally find a way to lose and that is exactly what they did. With that said, it was the second consecutive evening in which all four lines contributed in a positive manner upfront and it another game in which the blueline, for the most part, held their own.

The duo of Oscar Klefbom and Justin Schultz continued to impress, logging over twenty-one minutes a piece in ice-time, while Jeff Petry was arguably Edmonton's best all-around player. While the plan may be for Craig MacTavish to move the pending unrestricted free agent prior to the March Trade Deadline, one would think the Oilers general manager could have a tough team finding his replacement in the off-season…be it via trade and/or free agency.

Unfortunately things will not get any easier for Todd Nelson's crew, as they prepare to pay a visit to the Bell Centre and the red-hot Montreal Canadiens. While the Habs have been able to ride the coattails of one Carey Price all the way to top spot in the Eastern Conference, the Oilers have always faired well against the Olympic Gold Medalist and will hope to continue that trend on Thursday night.




---

---
---

---
3,468 Hockey Stories so far,
and Growing Daily!

#
PLAYER
GP
PTS
PPG
97&nbsp
McDavid, Connor&nbsp
80
123
1.54
29&nbsp
Draisaitl, Leon&nbsp
80
110
1.38
18&nbsp
Hyman, Zach&nbsp
76
54
0.71
93&nbsp
Nugent-Hopkins, Ryan&nbsp
63
50
0.79
75&nbsp
Bouchard, Evan&nbsp
81
43
0.53
22&nbsp
Barrie, Tyson&nbsp
73
41
0.56
56&nbsp
Yamamoto, Kailer&nbsp
81
41
0.51
91&nbsp
Kane, Evander&nbsp
43
39
0.91
13&nbsp
Puljujarvi, Jesse&nbsp
65
36
0.55
25&nbsp
Nurse, Darnell&nbsp
71
35
0.49
HH Stat Database Last Updated:
May. 02, 2022 @ 7:48 AM EDT