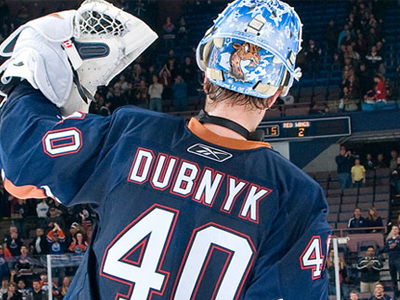 No matter what happens in his return to Rexall, when Dubnyk exits the ice that he once called home, amidst cheers or boos (they all sound the same) he will probably still be able to look up to the pressbox and see the egg dripping off of Craig MacTavish's face. Meanwhile the fans throughout Oil Country will be wondering if it was the wrong move to give up on the man who they so fondly remember by the giraffe on his mask.
Edmonton - February 20, 2015 - The Devan Dubnyk saga is a long one that spans over a ten year window. Selected in the first round of the 2004 draft, "The Big Easy" was regarded as the future of Oilers goaltending. There would still be some bumps along the way, as Dubnyk found himself at one point struggling in the developmental process.

His All Star performance with the Stockton Thunder of the ECHL in his first professional season (2006) allowed him to quickly make the transition to the Springfield Falcons of the AHL the very next year.

He would wait 2 years in the AHL before getting the call to replace injured goaltender Nikolai Khabibulin, and serve backup to Jeff Deslauriers to finish out a dreadful 2009-2010 Edmonton Oilers campaign. Although Dubnyk struggled in his first NHL action, the Oilers still found reason to sign him to a 2 year extension, and welcome him back to his first full season of NHL action.

The 2010-2011 season was one that many had hoped would be a year for Dubnyk to serve as a full-time backup. Thanks to injuries to Khabibulin and several good showings of his own, Dubnyk found himself starting over 30 games in his first full season behind an NHL bench.

Because of this, the Oilers felt that 2011-2012 would be his year to establish himself as a full-fledged NHL Starter. This would not be as easy as it was made to sound. Early on, Dubnyk found himself struggling and the aging, Nikolai Khabibulin was once again being referred to in Oil Country as "The Bulin Wall." This phenomenon didn't last, and come March of 2012 Devan Dubnyk was back on NHL track, and starting for the Edmonton Oilers.

This earned him another 2 year contract extension, allowing a full season to be mentored by Stanley Cup winning goaltender, Nikolai Khabibulin, who was in the final year of his tenure with the Oilers. The team as well of the rest of the NHL would have to wait on that, however as a dispute between the league and its players forced a lockout that saw the season cut in half.

During the lockout, Dubnyk was one of several NHLers to participate in the Spengler Cup in Davos, Switzerland. He was a force in net, greatly assisting team Canada in clinching the Gold Medal.

From the launch of the 2012-2013 NHL Campaign, to the very end, Dubnyk was consistently playing like a number 1 goalie. He eclipsed the league average in goaltending metrics even while playing behind what can only be described as a below average NHL defense. The Oilers would once again finish in the draft lottery, but they were rolling into 2013-2014 with a new head coach, a solidified standard of goaltending, and a lot of promise. But that would just be too easy. ..

After a rough stretch to end the 2012-2013 season that saw the playoffs slip away in an avalanche of losses, the Oilers management decided a change needed to be made. The Oilers fired general manager Steve Tambellini and replaced him with long-time Oiler, front office gold-card carrying member, Craig MacTavish.

This change would prove to be the beginning of the end for Devan Dubnyk, after so many, including himself saw a new horizon. The first thing Craig MacTavish did upon entering the Oilers fold was issue public comments that highlighted his big picture. In these comments, he alluded to a lack of confidence in Devan Dubnyk as a starter.

As If this wasn't enough of a punch in the gut, the entirety of Dubnyk's offseason was spent hearing of trade talks to bring in LA Kings standout goaltender, Jonathan Bernier, and Vancouver Canucks phenom, Corey Schneider, 2 guys with great starting potential.

The writing was on the wall for Dubnyk to once again to have to defend the job he thought he had so recently earned, and that surprised even him. As if it wasn't enough change for the Oilers locker room to experience, the head coach, whose schemes allowed a porous defense to somehow still support their exposed netminder; was fired via Skype in the offseason. His replacement was rookie head coach, Dallas Eakins whose love of advanced statistics and the use of a swarm style defensive scheme had some viewing him as a hockey visionary.

Craig MacTavish also turned over much of the roster in the offseason, specifically on the blueline, adding guys like Andrew Ference, Philip Larsen, Denis Grebeshkov, and Anton Belov. The top-pairing unit of Jeff Petry and Ladislav Smid would be broken up early in the season, as well, when MacTavish sent Smid to Calgary in a trade. In an off-season full of change, one thing would surprisingly remain constant.

Devan Dubnyk was still the Oilers starting goaltender. Craig MacTavish had failed to acquire Schneider or Bernier. Not for lack of trying, however. He even went as far as offering the pick that would be used to draft defensive prospect, Darnell Nurse in the first round to Vancouver, but to no avail. Because of this the Oilers had no choice but to proceed with Devan Dubnyk in net, despite an inexplicably overwhelming public lack of confidence in his ability as a starter.

They did so with rookie head coach, Dallas Eakins who ended up abandoning his swarm defense early in the season. It should also be noted that the Oilers started the 2013-2014 season with a defensive lineup of Petry, Smid, Nick and Justin Schultz, Ference and Belov. For the sake of reference, they would only carry 3 of them after the year had ended.

The season proved to be a disaster from the start with every single phase failing to produce. The early team struggles were also highlighted by poor performance after poor performance from Devan Dubnyk, who could not find any consistency to his game.

The times were somehow worse under the new regime of MacTavish and Eakins, and it seemed like the end was near for Devan Dubnyk. The first sign of change came when the Oilers signed Free Agent goaltender Ilya Bryzgalov to 1 year contract, and sent backup goalie, Jason Labarbera to the Chicago Blackhawks for a deep dish pizza.

The plan was for Bryzgalov to challenge Dubnyk for the starting job but injuries to "Mr. Universe" would delay things even further. On January 15th, 2014 Craig MacTavish traded Devan Dubnyk to the Nashville Predators for forward Matt Hendricks. He then traded a 3rd round pick to bring in local superstar Ben Scrivens to fill the hole that Dubnyk had left behind. And fill the hole he did.

Ben Scrivens would find himself starting the rest of the season, and although it did nothing to the overall standings, the Oilers netminding appeared back in order. Things looked even better when Craig MacTavish brought in Viktor Fasth from the Anaheim Ducks who many believed had real starting potential.

While things between the pipes in Edmonton were looking somewhat remedied, the struggles of Devan Dubnyk were well documented, and did not end in Nashville. An apparent difference in opinion in Nashville saw him sent back to the minors upon the return of Pekka Rinne. He was then traded to the Montreal Canadiens where he played for the Hamilton Bulldogs before eventually heading home early to take care of his wife, and newborn son.

Dubnyk would find hope in a job opportunity with the Arizona Coyotes when they offered him a one year contract in the offseason. This was the point in Devan Dubnyk's career where things were once again changing, only this time it was for the better. It was an opportunity that Dubnyk relished in. There was no outside pressure, there were no distractions. As he fondly remembers it, "It was an opportunity to go out and just play hockey."

He found himself on the bench to start the season, unsurprisingly behind Olympic goaltender Mike Smith. It was an opportunity for him to work alongside goalie coach Sean Burke without a lot of pressure to perform, and really work on his game. He had spent the offseason working on his game, and it didn't take long to see that, although it wasn't in the plans, he was the better goalie in Arizona.

He started in 16 games with the Coyotes, and achieved 9 wins and a .916 sv%. The consistency had returned, he was playing with confidence and more than anything, he just seemed he was having fun. The Coyotes found themselves at a crossroads, and rather than ride the hot goalie into an organizational downward spiral, they traded Dubnyk to Minnesota where Goaltender struggles were at an all-time high.

If Devan Dubnyk could come into Mike Yeo's world and somehow replicate his 2012-2013 Edmonton Success, and early season Arizona victories, the Wild would at least find themselves vying for a playoff spot towards the end of the season. This was an opportunity that Dubnyk welcomed heartily, but what actually happened has sent the hockey world in a tailspin.

Devan Dubnyk, who was playing in the AHL 6 months ago, has started in 15 games straight for the Minnesota Wild. He has allowed only 25 goals in that time, and has stopped 93% of shots attempted. He has also notched 4 shutout performances. For comparison, in the prior 15 games, the Minnesota Wild goaltending had allowed 58 goals in the same window.

Tonight, he will face the team that drafted him for the 5th time this season with the last 4 meetings resulting in victory for the former Oilers goaltender. Minnesota is now just 1 point out of a playoff spot, and with a win tonight, they would find themselves in contention for the postseason. You have to think that Devan Dubnyk would love to get them there against the team that showed so little faith in him after doing everything he could to earn it.

No matter what happens in his return to Rexall, when Dubnyk exits the ice that he once called home, amidst cheers or boos (they all sound the same) he will probably still be able to look up to the pressbox and see the egg dripping off of Craig MacTavish's face. Meanwhile the fans throughout Oil Country will be wondering if it was the wrong move to give up on the man who they so fondly remember by the giraffe on his mask.