| | |
| --- | --- |
| | |
Oilers: The Best of Both Worlds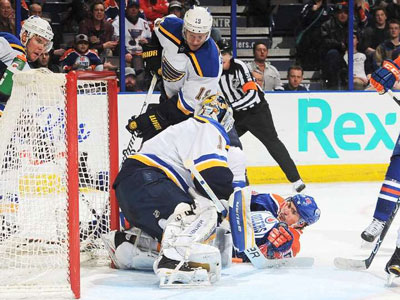 It may have been closer than some were expecting but last night's 2-1 loss to the St. Louis Blues was essentially the perfect outcome for the Edmonton Oilers. Keep from getting embarrassed but continue to hold your spot in the Draft Lottery. It may not be overly sexy but it is exactly what this team needs to do over the final six weeks of the 2014-15 season.
Edmonton - March 1, 2015 - With the NHL Trade Deadline just around the corner, the Edmonton Oilers can finally see the finish line on what has been yet another disappointing season in good ol' Oilers Nation. After last night's 2-1 loss to the St. Louis Blues, the Oilers have just nineteen games remaining on their schedule and the end frankly can't come soon enough.

Considering the Blues have essentially toyed with the Oilers since Ken Hitchcock took over as their coach, Edmonton still managed to hold their own with what was a rather depleted lineup. To no one's surprise, Todd Nelson was informed he would not have Jeff Petry at his disposal on Saturday night, as the twenty-six year old will certainly be moved prior to Monday's deadline.

Even at the best of times this roster was not very deep but at the moment, it is arguably as bad as it has looked in sometime. With that said, this group is at least forcing teams to put in some sort of effort before leaving Rexall Place with two points in their pocket. While in the past, the likes of a St. Louis would have had this game sewn up prior to the first intermission, they are now being forced to score late in games to ensure they get the job done on what is essentially guaranteed win night for any half-decent National Hockey League squad.

Now don't get me wrong, just like the Anaheim Ducks's 2-1 win over the Oilers last Saturday, the Blues coasted through much of yesterday's contest but still did what was necessary to get the win. Was it an overly exciting game to watch? Not so much but expectations have to be realistic and if Edmonton can at least find a way to stay in games for the remainder of their schedule and still lose as many as possible in regulation time, no one should be disappointed.

Outside of a terrible give away from Derek Roy that led directly to Dmitrij Jaskin giving the Blues a 1-0 lead midway through the first, Hitchcock's crew did not generate much in the way of offence over the opening forty minutes of play. However, that changed in the third and Ben Scrivens was up to the challenge. The twenty-eight year old made a handful of big stops to keep it a tie game but as per usual, their netminder allowed a stinker to get past him at the worst possible moment.

There is no question that Scrivens should have had Paul Stastny's eventual game-winner but in the grand scheme of things, it helped deliver the exact outcome this team needed. Let's be honest here. Whether this team wins a couple of their remaining games or manages to continue to find ways to earn points as they have during much of their current head coach's tenure, it will ultimately have no bearing on how they will fair in 2015-16. Contrary to what some think, one has absolutely nothing to do with the other.

Now should the Oilers finish off the year getting pumped on a nightly basis and losing games by four or five goals, it would likely add to the scar tissue that has already accumulated over the years for the core of this team. That being said, these players are not stupid. They realize they are going to out there night in and night out, with a third of a lineup that has no business being up at this level and that changes everything.

When it comes to the Edmonton Oilers, the final six weeks of the 2014-15 season should be about nothing more than limiting damage. Losing games should not matter because to be perfectly honest, survival is about all anyone should be expecting from this roster. It really is quite simple. Keep from being embarrassed on a nightly basis and secure your spot in the Draft Lottery.


---

---
---

---
3,468 Hockey Stories so far,
and Growing Daily!

#
PLAYER
GP
PTS
PPG
97&nbsp
McDavid, Connor&nbsp
80
123
1.54
29&nbsp
Draisaitl, Leon&nbsp
80
110
1.38
18&nbsp
Hyman, Zach&nbsp
76
54
0.71
93&nbsp
Nugent-Hopkins, Ryan&nbsp
63
50
0.79
75&nbsp
Bouchard, Evan&nbsp
81
43
0.53
22&nbsp
Barrie, Tyson&nbsp
73
41
0.56
56&nbsp
Yamamoto, Kailer&nbsp
81
41
0.51
91&nbsp
Kane, Evander&nbsp
43
39
0.91
13&nbsp
Puljujarvi, Jesse&nbsp
65
36
0.55
25&nbsp
Nurse, Darnell&nbsp
71
35
0.49
HH Stat Database Last Updated:
May. 02, 2022 @ 7:48 AM EDT