| | |
| --- | --- |
| | |
Oilers: Life without Jeff Petry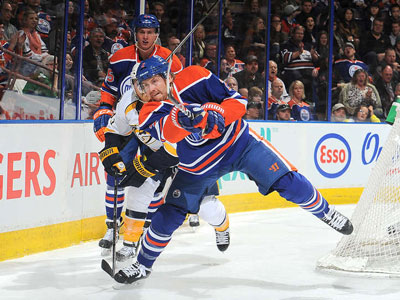 While it was bound to happen, it certainly did not make the trading of Jeff Petry any easier to stomach. To make matters worse, the return the Edmonton Oilers were able to pry out of the Montreal Canadiens for the pending unrestricted free agent was something which will not help this organization in any way shape or form over the next few years.
Edmonton - March 2, 2015 - While it was bound to happen, it certainly did not make the trading of Jeff Petry any easier to stomach. To make matter worse, the eventual return was something which will not help the Edmonton Oilers in any way shape or form over the next few years.

That is of course, unless Craig MacTavish finds a way to use the Montreal Canadiens 2015 second round pick and a conditional fifth rounder to his advantage at this summer's upcoming NHL Entry Draft. While it is obviously far too early to tell whether or not he will be able to make such a move, there is no question the Oilers blueline is far weaker at this moment than it was earlier today.

In the here and now, moving Petry should actually help Edmonton in their "fight" to secure as good a chance as possible at winning the McEichel Sweepstakes, it creates yet another whole on this roster. God knows it is not as if this organization does not already have enough on its plate to deal with.

Just take a look at this blueline and you quickly realize just how bad it could be in 2015-16. Players who are on the current roster that will likely be here next season would be Mark Fayne, Andrew Ference, Oscar Klefbom, Martin Marincin, Nikita Nikitin and Justin Schultz. That is a rather underwhelming group of six defenceman and there is no one currently on the Oklahoma City Barons roster that has a hope in hell of making this team come next October.

Outside of Darnell Nurse, who had better start the year in the American Hockey League, there is absolutely nothing else coming in the immediate future on the backend. Now considering four of the names mentioned belong to guys who are currently between the ages of twenty and twenty-four, that really should not be that big of deal. Problem being, the fact Fayne is the only one of the remaining three who is actually a legitimate bottom pairing defender is a major concern.

As we have seen over the last number years, finding top four defencemen via trade or the unrestricted free agent market is not easy and looking at that list of names, Edmonton is going to have to go out and find at least two, if not three such defencemen. With that being the case, would it even be realistic to expect this general manager to go out and pull that sort of magic trick out of his hat?

With the cap expected to be going down as early as next season, the chances of a Johnny Boychuk and Nick Leddy situation occurring for a second consecutive off-season is possible, but does anyone honestly believe Craig MacTavish can be next year's version of Garth Snow? While the Edmonton Oilers will certainly have the necessary picks in place to make that sort of splash, it guarantees them absolutely nothing…which makes the 2015-16 campaign a very scary proposition for this franchise.


---

---
---

---
3,468 Hockey Stories so far,
and Growing Daily!

#
PLAYER
GP
PTS
PPG
97&nbsp
McDavid, Connor&nbsp
80
123
1.54
29&nbsp
Draisaitl, Leon&nbsp
80
110
1.38
18&nbsp
Hyman, Zach&nbsp
76
54
0.71
93&nbsp
Nugent-Hopkins, Ryan&nbsp
63
50
0.79
75&nbsp
Bouchard, Evan&nbsp
81
43
0.53
22&nbsp
Barrie, Tyson&nbsp
73
41
0.56
56&nbsp
Yamamoto, Kailer&nbsp
81
41
0.51
91&nbsp
Kane, Evander&nbsp
43
39
0.91
13&nbsp
Puljujarvi, Jesse&nbsp
65
36
0.55
25&nbsp
Nurse, Darnell&nbsp
71
35
0.49
HH Stat Database Last Updated:
May. 02, 2022 @ 7:48 AM EDT