| | |
| --- | --- |
| | |
Oilers Beat Maple Leafs, Catch Coyotes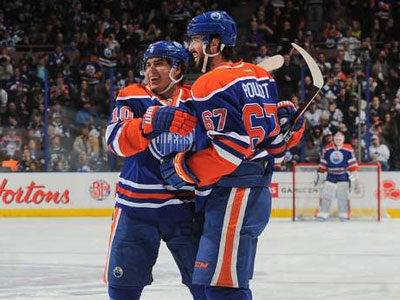 While it is rather difficult for most hockey fans to not take some enjoyment from watching their favourite team lay the boots to the Toronto Maple Leafs, last night's 4-1 win proved to be a rather costly one for the Edmonton Oilers. When you couple last night's victory with the Arizona Coyotes loss to the Los Angeles Kings, the two teams now find themselves deadlocked at fifty points apiece with only twelve games remaining on their respective schedules.
Edmonton - March 17, 2015 - Despite stringing together a handful of decent efforts on their recent five game road swing, the Edmonton Oilers returned home with nothing more than a couple of loser points in their back pocket and owners of seven game losing skid for their troubles.

While most teams tend to struggle upon their return home following any sort of extended trip, Todd Nelson's side had the good fortune of facing the Toronto Maple Leafs on Monday night in their first game at Rexall Place since March 2nd.

To their credit, the Oilers wasted little time in jumping all over Jonathan Bernier and the visiting Leafs, scoring four times in the opening eleven minutes en route to a rather comfortable 4-1 win over what was essentially a lifeless effort from Peter Horachek's crew.

Toronto's so-called No. 1 netminder continued to struggle in between the pipes, allowing three of the four shots he faced to get in behind him before being replaced in favour of backup James Reimer at the 8:08 mark of period one. With the loss, the Maple Leafs "improved" to a "perfect" 0-3 on their three game Canadian Western road swing.

As if dropping three games in four nights to the Calgary Flames, Vancouver Canucks and Oilers wasn't already bad enough, they managed to accomplish the feat while being outscored to the tune of 14-5. Clearly those in charge of the organization have thoroughly embraced the notion of tanking and it has unquestionably trickled down to the players on the ice.

Edmonton's top line of Jordan Eberle, Ryan Nugent-Hopkins and Benoit Pouliot led the charge upfront, combining for a total of seven points between them in ending a six losing skid against the woeful Leafs. Eberle continued to carry the hot hand upfront with his second three point effort in just over a week, extending the talented winger's most recent scoring streak to five straight games.

While the Oilers leading scorer has managed to pick up eleven points in those games, Nugent-Hopkins has actually done one better, after registering his third consecutive two assist performance. With that said, it was Pouliot who played the biggest role of all in sending Bernier to the showers early, scoring two of the Oilers first three goals.

The former fourth overall pick is now just one goal shy of matching his career-high of seventeen set back in 2009-10, a season in which he played for both the Minnesota Wild and Montreal Canadiens. While the twenty-eight year old accomplished the feat in fifty-three games with the Habs and Wild, he has now lit the lamp sixteen times in forty-six appearances with the Oilers and seems poised to finally reach that elusive twenty goal plateau.

Not too shabby for a guy who scored all of one goal during his first fourteen games in Orange and Blue.

With the win, Edmonton has company at the bottom of the Western Conference standings for the first time in what truly feels like an eternity. As bad as the Oilers have been this season, the Arizona Coyotes have been downright dreadful for some time now and after dropping a 1-0 decision to the Los Angeles Kings on Monday night, the two teams now find themselves deadlocked at fifty points apiece in the standings.

That is right Oilers fans, despite suffering through the most disappointing campaign in what is now nearing a decade of futility, this team has put themselves in a position where their chances of securing either one of Connor McDavid or Jack Eichel at this summer's NHL Entry Draft appears to be highly unlikely. Something tells me this was not how things were supposed to play out and yet here we are.


---

---
---

---
3,468 Hockey Stories so far,
and Growing Daily!

#
PLAYER
GP
PTS
PPG
97&nbsp
McDavid, Connor&nbsp
80
123
1.54
29&nbsp
Draisaitl, Leon&nbsp
80
110
1.38
18&nbsp
Hyman, Zach&nbsp
76
54
0.71
93&nbsp
Nugent-Hopkins, Ryan&nbsp
63
50
0.79
75&nbsp
Bouchard, Evan&nbsp
81
43
0.53
22&nbsp
Barrie, Tyson&nbsp
73
41
0.56
56&nbsp
Yamamoto, Kailer&nbsp
81
41
0.51
91&nbsp
Kane, Evander&nbsp
43
39
0.91
13&nbsp
Puljujarvi, Jesse&nbsp
65
36
0.55
25&nbsp
Nurse, Darnell&nbsp
71
35
0.49
HH Stat Database Last Updated:
May. 02, 2022 @ 7:48 AM EDT