| | |
| --- | --- |
| | |
Oilers: The Problem That Simply Won't Go Away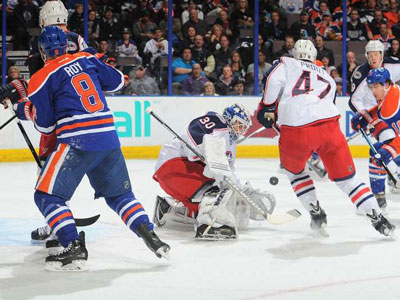 While the Edmonton Oilers were by far and away the superior team over at Rexall Place on Wednesday night, it ultimately meant little when it came to the actual outcome. On the strength of a 44 save performance from journeyman netminder Curtis McElhinney, the Columbus Blue Jackets managed to waltz out of town with a 4-3 shootout victory they had no business getting.
Edmonton - March 19, 2015 - When you look up the National Hockey League career numbers of Curtis McElhinney, what you see is essentially the resume of backup goaltender.

It has been eight long years since the now thirty-one year old netminder made his debut with the Calgary Flames and heading into yesterday's game between the Columbus Blue Jackets and Edmonton Oilers, the former 2002 sixth round pick had a grand total of thirty-eight wins to his name.

Following last night's 4-3 shootout victory over the Oilers, McElhinney has seen that total grow by one and while some may have been taken aback by his forty-four save performance over at Rexall Place, it was a result no one should have been overly surprised with.

For a goalie with a career mark of 39-51-7 in his one hundred and twenty-eight appearances, the fact he owns a 5-0 record in his eight appearances against Edmonton speaks volumes. For whatever reason, teams who start McElhinney against the Oilers find a way to get their two points and last night was no exception.

From start to finish, Todd Nelson's crew was the superior team but in the end, it came down to the play of the two netminders and the native of London, Ontario was by far and away the superior of the two. While Ben Scrivens was far from terrible, he was simply incapable of coming up with that one save when his teammates needed it most.

There is no question that the Oilers inability to defend in their own end of the rink played major role in two of the Blue Jackets three goals but when a team badly out chances the opposition and outshoots them by a 47-20 margin, picking up a loser point should not be how things ultimately play out. Despite being nowhere near as good during the actual game, Scrivens still had the chance to be a difference maker in the shootout but as per usual, the twenty-eight year old was unable to deliver at crunch time.

After watching his team come back from two goals down to not only catch Columbus but actually give him the lead with just over ten minutes to go, Scrivens managed to hold it for a grand total of fifty-four seconds. Now is that all on him? Of course not but again, at some point you need that stop.

With all due respect to Curtis McElhinney, it is not as though we are talking about the likes of a Jonathan Quick or Pekka Rinne here. On a night in which Columbus decided to sit their No. 1 goalie in Sergei Bobrovsky, there is no excuse for this team to have walked out of Rexall Place on Wednesday evening with anything other than two points in their back pocket.

While it may have only been one game, the Edmonton Oilers have become all too familiar with being forced to settle for second best when it comes to the nightly duel between the two men in goal. Unfortunately, it is a situation which has come back to bite this organization far too often over the last number of seasons and makes it all the more difficult to stomach when the guy who is outplaying your supposed No.1 is nothing more than a career backup.


---

---
---

---
3,468 Hockey Stories so far,
and Growing Daily!

#
PLAYER
GP
PTS
PPG
97&nbsp
McDavid, Connor&nbsp
80
123
1.54
29&nbsp
Draisaitl, Leon&nbsp
80
110
1.38
18&nbsp
Hyman, Zach&nbsp
76
54
0.71
93&nbsp
Nugent-Hopkins, Ryan&nbsp
63
50
0.79
75&nbsp
Bouchard, Evan&nbsp
81
43
0.53
22&nbsp
Barrie, Tyson&nbsp
73
41
0.56
56&nbsp
Yamamoto, Kailer&nbsp
81
41
0.51
91&nbsp
Kane, Evander&nbsp
43
39
0.91
13&nbsp
Puljujarvi, Jesse&nbsp
65
36
0.55
25&nbsp
Nurse, Darnell&nbsp
71
35
0.49
HH Stat Database Last Updated:
May. 02, 2022 @ 7:48 AM EDT