| | |
| --- | --- |
| | |
Oilers: Goaltending and Special Teams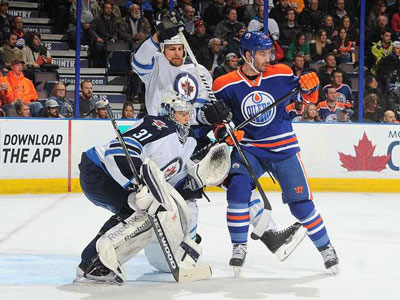 While losing a game on your home-ice by three goals might suggest a team was badly outplayed, the Edmonton Oilers actually managed to hold their own against the Winnipeg Jets on Monday night over at Rexall Place. Unfortunately for the Oilers, it was the play of their starting goaltender and special teams that ultimately turned this one into an easy win for the visiting Jets.
Edmonton - March 24, 2015 - From an effort standpoint, it would be rather difficult to have any issue with the performance we saw from the Edmonton Oilers during last night's tilt with the Winnipeg Jets. While Todd Nelson's side essentially played the visitors to a standstill for much of the evening, it ultimately came down to a couple of things…special teams and goaltending.

While it may not have felt like a 4-1 game, once you mix in a couple of iffy goals against from Ben Scrivens, a solid effort from Ondrej Pavelec down at the other end of the rink, remove Boyd Gordon from the equation due to his wonky back acting up and suddenly what should have been a one goal game turned into a bit of a cakewalk for Paul Maurice's crew.

The shot clock may have read 34-24 in favour of the Oilers but in all honesty, the Jets made the most of their opportunities and played a rather solid road game. They did need their goaltender to make a handful of crucial stops but contrary to what those shot totals might suggest, it was not as though Pavelec had to stand on his head. Ryan Nugent-Hopkins continued to carry the hot-hand, scoring for the third straight game, but at no point did you get the feeling Winnipeg was in any sort of real danger.

In fact, after Drew Stafford opened the scoring at the 7:32 mark of the first, the Jets were off and running. Yes Oscar Klefbom made a horrible decision that ultimately allowed the former Buffalo Sabre to skate in on a partial breakaway with the game still scoreless but that shot had absolutely no business reaching the back of the net. Giveaway aside, that goal was on Scrivens and as per usual, it put the Oilers in chase mode.

While Edmonton's power play has been fairly productive of late, they were held off the scoresheet for a second straight game. Unfortunately for them, the Jets were able to convert on two of their four chances and much of that can directly be linked to the absence of Gordon. Winnipeg owned the Oilers in the faceoff dot and their two power play markers came mere moments after winning the draw in the Oilers end.

Obviously, Gordon's presence would not have guaranteed either one of those pucks from crossing the goal line but it likely would have given them a punchers chance. There is no question the veteran centre is this team's premier faceoff guy and top penalty killer. Remove that from the equation, mix in a goaltender who was not exactly feeling it, and chances are this group is going to struggle and that is exactly how things played out.

Keep in mind this was a Jets lineup that was missing two of its better and most prominent players in Bryan Little and Dustin Byfuglien, yet they were still plenty good enough to get the job done against what was a fairly engaged group of Edmonton Oilers. In order for this group to have any hope against a team like Winnipeg, the Oilers would typically need their goaltender and/or special teams to carry the load and all three fell well short of holding up their end of the bargain on Monday evening.


---

---
---

---
3,470 Hockey Stories so far,
and Growing Daily!

#
PLAYER
GP
PTS
PPG
97&nbsp
McDavid, Connor&nbsp
27
52
1.93
29&nbsp
Draisaitl, Leon&nbsp
27
44
1.63
93&nbsp
Nugent-Hopkins, Ryan&nbsp
27
30
1.11
18&nbsp
Hyman, Zach&nbsp
26
27
1.04
22&nbsp
Barrie, Tyson&nbsp
27
17
0.63
25&nbsp
Nurse, Darnell&nbsp
27
15
0.56
91&nbsp
Kane, Evander&nbsp
14
13
0.93
2&nbsp
Bouchard, Evan&nbsp
27
11
0.41
27&nbsp
Kulak, Brett&nbsp
27
8
0.30
10&nbsp
Ryan, Derek&nbsp
26
6
0.23
HH Stat Database Last Updated:
Dec. 08, 2022 @ 11:04 AM EST