| | |
| --- | --- |
| | |
Oilers: Meaningless Wins vs Generational Talent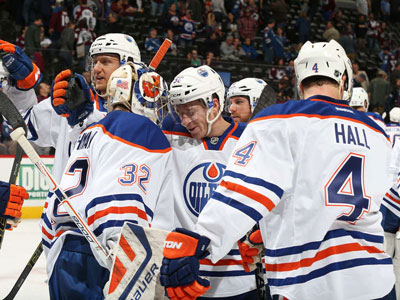 So here we are. Following last night's 4-1 win over the Colorado Avalanche, the Edmonton Oilers find themselves with six games left on their schedule in what has truly been a wasted year for this once storied franchise. Yet with the chance of improving the possibility of being given the right to draft Connor McDavid at this summer's NHL Entry Draft staring them in the face, the Oilers have inexplicably gone 5-1-2 in their last eight games.
Edmonton - March 31, 2015 - So here we are. Following last night's 4-1 win over the Colorado Avalanche, the Edmonton Oilers find themselves with six games left on their schedule in what has truly been a wasted year for this once storied franchise.

While few were expecting this team to take some sort of monumental step forward in the standings, even fewer predicted them self-destructing in the manner they did during 2014-15.

Blame whomever you would like, be it the players, coaching, management or owner, but in the end there is certainly plenty of blame to go around.

With that said, this was the year in which this organization could have given themselves a far better shot at getting that franchise player that has eluded them since blowing this thing up and yet they have inexplicably been heading in the opposite direction over the last couple of weeks.

While it is all well and good to see the likes of an Andrew Miller put up six points in his first six games in the National Hockey League or Richard Bachman pick up a pair of victories at the NHL level for the first time since 2013, the fact the Oilers have gone 5-1-2 in their past eight games is frankly mind-boggling. Barring the hockey gods handing them gift from above, Edmonton has essentially taken themselves out of the running for Connor McDavid or Jack Eichel.

This recent run has not only allowed the Buffalo Sabres and Arizona Coyotes to run and hide in the McEichel Sweepstakes but it has also left the Oilers just three points back of the Toronto Maple Leafs in the overall league standings. That is right folks, as bad as this season has been this organization is now in the midst of walking away from the opportunity of acquiring a generational talent…all for the sake of a handful of meaningless wins, and make no mistake…they are meaningless, over the final month of the season.

While no one can expect players to go out and try to purposely lose hockey games, sitting key guys every now and again over the last couple of weeks should have been priority one. In their defence, the fact the Oilers have been hit by the injury bug of late has made accomplishing that a little more difficult but far from impossible. At this stage of the game, all that should matter is positioning for the lottery draft. If one of Jordan Eberle, Ryan Nugent-Hopkins, Benoit Pouliot or whomever else need to sit a game here or there, so be it.

Winning last year's season finale ultimately cost this franchise Aaron Ekblad and in the eyes of many, it was risk worth taking just to see Ryan Smyth end his career on a "wining note". With all due respect, are you kidding me? Correct me if I am wrong but Smyth's second go-around in Orange and Blue was filled with nothing but losing. Whether or not that final game was a "W" or "L" was completely irrelevant to his legacy or anything else. Let's not kid ourselves, the reaction to seeing No. 94 skate around Rexall Place with tears flowing from his eyes would have been no different had the Oilers lost to the Vancouver Canucks.

The celebration that ensued would have still taken place and it would have been just as special. Instead, we all got to watch the Florida Panthers win the draft lottery and be handed a franchise defenceman in the spot Edmonton handed them on the final day of the 2013-14 regular season. That decision ultimately came back too bite this franchise in the ass and they may very well accomplish something very similar for a second consecutive year.

And please spare the nonsense about this team needing to learn how to win hockey games because it is asinine argument. The Oilers have won many a meaningless game late in seasons over the last number years and it has translated into absolutely nothing the following season. You know why that is? It is actually pretty darn simple….ONE HAS NOTHING TO DO WITH THE OTHER!!!!

While that may be hard for some to digest, it still does not change the reality of the situation. The chances of Connor McDavid not turning out to be a generational talent would appear to be highly unlikely. By the sounds of it, Jack Eichel has all the makings of being a pretty special player in his own right and yet the Edmonton Oilers seem to be more than ok with allowing the likes of Buffalo, Arizona and Toronto to dictate how this thing could possibly unfold and it is rather perplexing to understand.


---

---
---

---
3,468 Hockey Stories so far,
and Growing Daily!

#
PLAYER
GP
PTS
PPG
97&nbsp
McDavid, Connor&nbsp
80
123
1.54
29&nbsp
Draisaitl, Leon&nbsp
80
110
1.38
18&nbsp
Hyman, Zach&nbsp
76
54
0.71
93&nbsp
Nugent-Hopkins, Ryan&nbsp
63
50
0.79
75&nbsp
Bouchard, Evan&nbsp
81
43
0.53
22&nbsp
Barrie, Tyson&nbsp
73
41
0.56
56&nbsp
Yamamoto, Kailer&nbsp
81
41
0.51
91&nbsp
Kane, Evander&nbsp
43
39
0.91
13&nbsp
Puljujarvi, Jesse&nbsp
65
36
0.55
25&nbsp
Nurse, Darnell&nbsp
71
35
0.49
HH Stat Database Last Updated:
May. 02, 2022 @ 7:48 AM EDT