| | |
| --- | --- |
| | |
Oilers: Brossoit Hands Fans A Night To Remember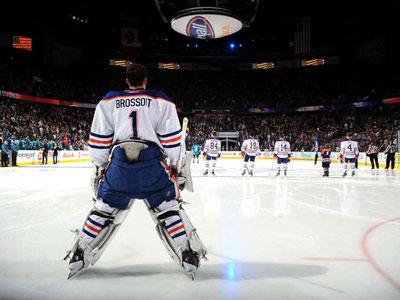 While the Edmonton Oilers may have dropped a 3-1 decision to the San Jose Sharks in what was their final home game of the 2014-15 season, it was an evening rookie Laurent Brossoit won't soon forget. The former Edmonton Oil Kings netminder was simply fantastic in his NHL debut and at the very least, handed Oilers fans a memory they won't soon forget.
Edmonton - April 10, 2015 - As far as NHL debuts go, Laurent Brossoit could not have asked for things to have gone much better than they did on Thursday night against the San Jose Sharks.

While his preference would have certainly been to skate off with his first career win, having to settle for a 3-1 loss in which the twenty-two year old was by far and away the best player on the ice could not have been overly disappointing.

In a perfect world, allowing the kid to slowly acclimatize himself to the National Hockey League with a solid defensive effort in front of him would have likely been Todd Nelson's preferred game plan but in typical Oilers fashion, that is not how things played out.

Instead of giving the former Calgary Flames draft pick time to work his way into his debut, his new teammates promptly threw him to wolves and to his credit, the youngster used it the moment to his advantage.

One would think being bombarded with nineteen shots in the first period would have left Brossoit a little shell-shocked but, if anything, it had the complete opposite effect. Instead of worrying and hoping he could deliver in the biggest moment of his career, the former Edmonton Oil Kings star netminder was forced into simply keeping his head above water and it clearly worked to his favour when it came to stopping pucks.

He made forty-nine saves in all and if not for a couple of late goals from Patrick Marleau and Bryan Lerg, Brossoit could have easily started off his career with shutout. While he was far from perfect, kicking out an almost obscene amount of rebounds into the slot, it hardly mattered because Edmonton's top goaltending prospect was in the zone. The sheer volume of highlight reel stops he made was frankly absurd and from a positional standpoint, he was rock solid from start to finish.

While many an Oiler fan are likely now sold on this kid being "the answer" in goal, reading too much into a handful of games is never a good idea…never mind one game. As previously mentioned, Brossoit was left to fend for himself for much of the evening but there were certainly a couple of things working in his favour. The fact he was playing at Rexall Place, the building in which he has played more games in than any other arena in his career, likely made the entire experience that much easier for him to deal with.

There was no need to worry about sight lines or trying to read pucks coming off the end bounces boards or the state of the ice surface, as Brossoit likely could let Richard Bachman, Viktor Fasth and Ben Scrivens in on a secret or two when it comes to Rexall Place. Add to that the fact these fans are starving to get behind a goaltender and it certainly did not take much for this building to become pro-Brossoit.

Also, let us not forget that was the same exact reaction Scrivens received following his record-setting fifty-nine save performance against, ironically enough, these same Sharks back on January 29th, 2014.

Having said all of that, with only one more game left on the Edmonton Oilers 2014-15 schedule, having what has arguably been the most disappointing season in franchise history finish up with what we saw from Laurent Brossoit on Thursday night is one heck of nice story…and god knows fans in this neck of the woods have more than earned the right of watching this season come to a close on a positive note.


---

---
---

---
3,468 Hockey Stories so far,
and Growing Daily!

#
PLAYER
GP
PTS
PPG
97&nbsp
McDavid, Connor&nbsp
80
123
1.54
29&nbsp
Draisaitl, Leon&nbsp
80
110
1.38
18&nbsp
Hyman, Zach&nbsp
76
54
0.71
93&nbsp
Nugent-Hopkins, Ryan&nbsp
63
50
0.79
75&nbsp
Bouchard, Evan&nbsp
81
43
0.53
22&nbsp
Barrie, Tyson&nbsp
73
41
0.56
56&nbsp
Yamamoto, Kailer&nbsp
81
41
0.51
91&nbsp
Kane, Evander&nbsp
43
39
0.91
13&nbsp
Puljujarvi, Jesse&nbsp
65
36
0.55
25&nbsp
Nurse, Darnell&nbsp
71
35
0.49
HH Stat Database Last Updated:
May. 02, 2022 @ 7:48 AM EDT