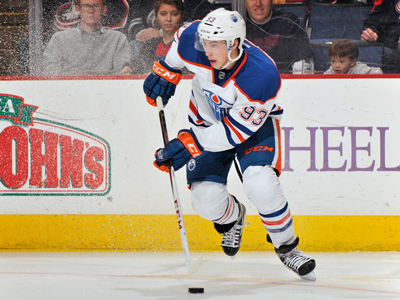 Edmonton - September 19, 2013 - It wasn't that long ago that some were suggesting the Edmonton Oilers were actually taking a "huge risk" in signing a player like Taylor Hall to seven year extension.

The non-believers argued the club were crazy to give out that sort of money and term to a supposed "injury prone" guy like Hall.

Just over a calendar year later, how do you think the masses view Mr. Hall's 7 year/ $42 million extension?

Sure looks like a steal of a deal from here and my guess, is we will be saying the same exact thing about the Oilers decision to ink centre Ryan Nugent-Hopkins to an identical 7 year/ $42 million deal on Thursday afternoon.

While the former first overall pick is currently recouping from off-season shoulder surgery, the chances of this kid not turning into the superstar player many feel he will ultimately become, in my mind, are absolutely zero.

Just because the Nuge wears an Oilers logo on his chest, rather than some team's crest from out East, doesn't discount the type of talent #93 is.The idea that some felt general manager Craig MacTavish would have been wise to try and sign RNH to some sort of bridge contract, a la P.K. Subban, is frankly absurd.

If an organization can sign a legitimate franchise player to the sort of term Edmonton has been able to secure both Hall and Nugent-Hopkins at, not to mention Jordan Eberle, that would be crazy to not jump at the chance. We are not talking about some good young players here but rather two #1 picks that are on the verge of becoming some of the finest players in the game today.

Could they have played it safe, as they did with a guy like Sam Gagner, and offered the former Red Deer Rebels star a short term deal? Of course but unlike Gagner, I'm convinced going down that road would have cost this club far more money in the long run. How about you go and ask Montreal Canadiens GM Marc Bergevin if he would like a mulligan on the "hard-ball" negotiating tactics he used on Subban prior to the start of last season. If he were being completely honest, I am pretty sure we all know the answer to that question.

Heading into this past summer, there were many who felt the St.Louis Blues had defenceman Alex Pietrangelo right where they wanted him, after the twenty-three year old had himself an inconsistent campaign in 2013. Some felt they could get him signed to a "bridge deal" in the neighbourhood of $4-$5 million a season. Yet the Blues decided to ink Pietrangelo to a 7 year/ $45.5 million deal. Sound familiar?

Just like his counterpart over in Edmonton, GM Doug Armstrong was smart enough to tie up his future all world blueliner to a long term pact, before having to possibly pay out an even bigger number, in order to get the youngster's name on the dotted line in two or three years time. Is it an overpay in the short term? Probably but over the lifetime of the deal, it's not even a discussion worth having. Sames goes for Mr. Nugent-Hopkins.

People tend to forget, RNH just turned twenty years of age this past April and as Tyler Dellow pointed out during his appearance on Tuesday's edition of Oilers NOW with Bob Stauffer, since 1990, only Sidney Crosby, Jaromir Jagr, Ilya Kovalchuk and Steven Stamkos have scored more points than Nugent-Hopkins during their teenage years in the National Hockey League.

Obviously, not many players crack the NHL as eighteen year old kids and even fewer make an impact at such an early age. However, what makes the fact Nuge cracked the list even more astounding, is he played just 102 games combined over his rookie and sophomore seasons and did so with bad shoulder.

Just think of what the he might accomplish once he is fully healthy and ready to go. In my mind, Ryan Nugent-Hopkins will register a 100 point season at some point during his career and when that day eventually comes, we can all look back at today's signing and simply chuckle at the thought of this being anything other than a brilliant move on the part of Craig MacTavish and the Edmonton Oilers organization.