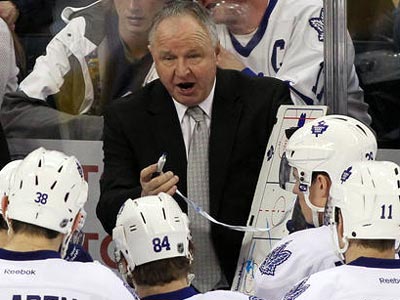 Stoney Point - September 24, 2013 - Yesterday, I wrote a column stating that Head Coach Randy Carlyle was to blame for the Gong Show that took place at the Air Canada Centre Sunday night in the pre-season game between the Toronto Maple Leafs and Buffalo Sabres.

For those who have been living under a rock, the Sabres were unhappy that Jamie Devane of the Leafs pounded Corey Tropp in the third period. On the ensuing shift, Sabres coach Ron Rolston put out John Scott, a 6'8", 270 pound tough guy who had just finished chirping the Toronto bench. Carlyle, in what he described as an attempt to "defuse" the situation countered by putting his best player out next to Scott.

Scott jumped Kessel. Kessel two-handed Scott a couple of times and all hell broke loose. David Clarkson, is now suspended for ten regular season games for leaving the bench and Kessel has a disciplinary hearing this afternoon at 4:00 pm.

Yesterday, I took a great deal of heat from readers for my assertion that this falls on Carlyle's shoes. I still believe that it was a volatile situation in a pre-season game – so why risk putting your superstar on the ice, in a meaningless game? Carlyle didn't have his usual truculent line-up on Sunday, but clearly he could have sent a bigger, AHL type player out instead of Kessel.

Somehow, I think Clarkson agrees with my assertion on this one.

Today, on TSN1050 radio Carlyle admitted that he made a mistake. "Obviously, I made a mistake. Never in a million years did I assume this would happen. I was wrong," stated the coach.

Good for him. A stand-up approach to his role in the whole situation. Without saying it, he also makes it very clear that he expected Scott to honour the unwritten hockey code that tough guys don't go attack skilled players. Clearly, Scott and the Sabres don't subscribe to that code.

Hall of Famer Scotty Bowman provided some support to Carlyle. "I am not here to defend one coach or any player. When I coached in Montreal and we had the Philadelphia Flyers on our hands, they had real tough players. When a team like the Flyers would put out players that could fight, I always put my skilled players out. I put out Guy Lafleur. Lafleur is not going to fight and who knows he might score a goal."

Bowman went on to say, "Randy Carlyle is getting criticized about why he put Phil Kessel on the ice. I can assure you that I did that many times."

I guess the difference between the two eras, is that Bowman could effectively count on the Philadelphia tough guys to adhere the "code". Watching what happened in Toronto and in Edmonton over the weekend, it is clear that today's players don't seem to follow that same code.

Carlyle made a mistake - he underestimated how low Scott's conduct would fall. He admitted that mistake and I am sure he will change his approach the next time he finds his team in a similar situation.