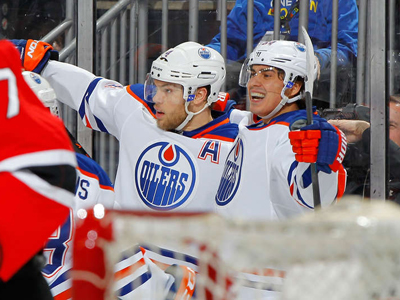 Edmonton - February 8, 2014 - Despite Friday night's 2-1 overtime loss to the New Jersey Devils, it finally appears as though the Edmonton Oilers have started to turn the corner.

Losing in OT is never fun but doing so on what was an obvious blown call against makes it even tougher to stomach.

That said, for a team that currently sits in basement of the Western Conference standings, last night's defeat wasn't exactly a season changing moment.

While this year came off the rails long ago, it appears as though Dallas Eakins and his coaching staff's message has finally started to make an impact.

Unfortunately, it has taken roughly three quarters of their 2013-14 schedule for it to start sinking in.

After going 2-8-1 to start the month of January, no one could have seen the Oilers going 5-1-1 over their next seven games. While much of their most recent stretch can be attributed to the play of Ilya Bryzgalov and Ben Scrivens, this group has shown a marked improvement in various aspects of their overall game.

Obviously, they still have their shortcomings as a collective group but watching the likes of a Martin Marincin improve on a nightly basis or the emergence of a somewhat functional bottom six upfront, can't and frankly shouldn't be ignored. Add to that a new and improved Nail Yakupov and suddenly things don't look nearly as bleak.

This team's shortcomings are what they are and that can't be fixed over night. However, watching a guy like Yakupov make the necessary adjustments after being slotted on the top line with Taylor Hall and Ryan Nugent-Hopkins, has to be a huge relief to both the coaching staff and Oilers management. With the way the former first overall pick has performed during his first full NHL season, one couldn't help but wonder if his days in Edmonton would be short-lived.

Between his poor play and his head coach being less than enamoured with his unwillingness to try and improve in all areas of his game, things could not have gone much worse for the young Russian sniper during his sophomore campaign. That said, he has done a complete 180 since being promoted to the #1 line on Thursday night against the New York Rangers.

Perhaps the youngster has seen the light at the end of the tunnel and finally realized he needed to change his approach. Fortunately, he isn't the only one that has made that connection. Be it the Oilers key players or their role guys, for one of the few times this season, everyone looks to be pulling in the same direction.

Now that doesn't guarantee the final twenty-two games of this season will go the way the Edmonton Oilers hope but at least it is a step in the right direction. After watching this group chase their collective tails for the last few years, the time has arrived for these players to either buy in or get out of town.

At least for the time being, it looks as though all hands are on deck and ready to get their hands a little dirty over the final month and a half of the year. Mailing it in will no longer be acceptable...which is something we haven't seen for sometime around these parts.