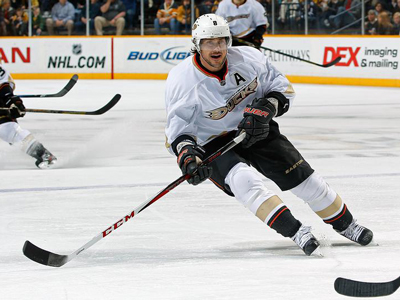 Anaheim - August 16, 2013 - Teemu Selanne could be nearing a decision whether he'll return to the Anaheim Ducks for another season, the Orange County Register reported Thursday.

According to Eric Stephens, the Finnish wing recently met with Ducks general manager Bob Murray, and a team spokesman said the meeting was positive and Murray and Selanne agreed to talk again soon.

Selanne, 43, has yet to make a decision on his future. The Register also reported Selanne is skating in Southern California and training with Craig Johnson, who played for the Ducks in 2003-04.

Selanne had 12 goals and 12 assists in 46 regular-season games last season and a goal and two assists during Anaheim's first-round loss to the Detroit Red Wings in the 2013 Stanley Cup Playoffs. He has spent the past eight seasons with Anaheim, winning the Stanley Cup with the Ducks in 2007.

"This is the biggest decision of my career. I have three options," Selanne recently told Iltalehti (a newspaper in Finland), which was translated by NHL.fin correspondent Risto Pakarinen. "It's up to me, if I feel like it, I can focus on golf."

Selanne's options include returning to the Ducks or signing with another NHL team, returning to Finland to play a season in SM-liiga (which would almost certainly mean playing for Jokerit in Helsinki given his ties to the franchise), or retiring, which would make him a virtual lock for the Hockey Hall of Fame Class of 2016.

"The only answer I need is he's 100-percent sure he wants to play," Murray told NHL.com earlier this month. "That's the only answer I need. I told him that the other day. I don't care when he tells me. We'll find a way. We've got lots of cap space, we have enough contracts."