SNAPSHOT - Premier Wynne and Fellow Premiers at the 2013 Council of the Federation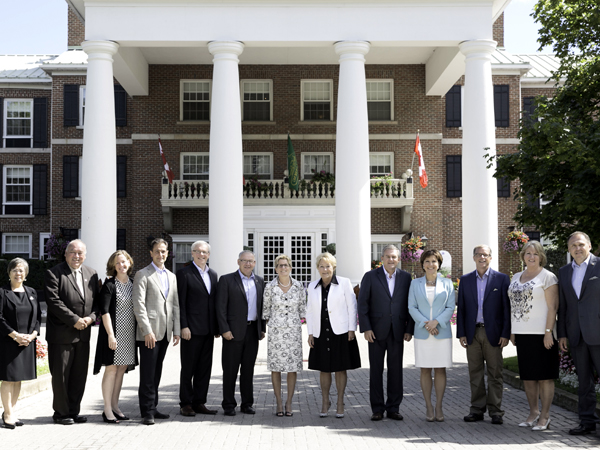 Niagara-on-the-Lake - Jul. 25, 2013 - Today marked the opening of the 2013 Council of the Federation (CoF) in beautiful Niagara-on-the-Lake, Ontario.

Please find a photo of Premier Wynne and her fellow Premiers standing outside the Queen's Landing Hotel, the site of this year's CoF meeting.

In the photo are (L to R): Premier Eva Aariak (Nunavut), Premier Bob McLeod (Northwest Territories), Premier Alison Redford (Alberta), Premier Robert Ghiz (P.E.I.), Premier Greg Selinger (Manitoba), Premier Darrell Dexter (Nova Scotia), Premier and Chair of the Council of the Federation Kathleen Wynne (Ontario), Premier Pauline Marois (Quebec), Premier David Alward (New Brunswick), Premier Christy Clark (British Columbia), Premier Brad Wall (Saskatchewan), Premier Kathy Dunderdale (Newfoundland and Labrador) and Premier Darren Pasloski (Yukon).


7,750 Stories & Growing Daily...
To date OurHometown.ca has posted a total of 7,750 stories! News, sports, hockey, lifestyle, opinion and more!

Be sure to check out our Columnists archives or, why not Contribute a Story yourself!


OurHometown.ca
offers a very generous revenue sharing opportunity for our Columnists. If you are interested in learning more details about writing for us, please send us an
EMAIL.

Click on Photo or Story Title for more info
OurHometown.ca News Database Last Updated:
Mar. 27, 2018 @ 12:24 PM EDT